Acura (Honda) Manuals >
Acura (Honda) Legend Workshop Service and Repair Manuals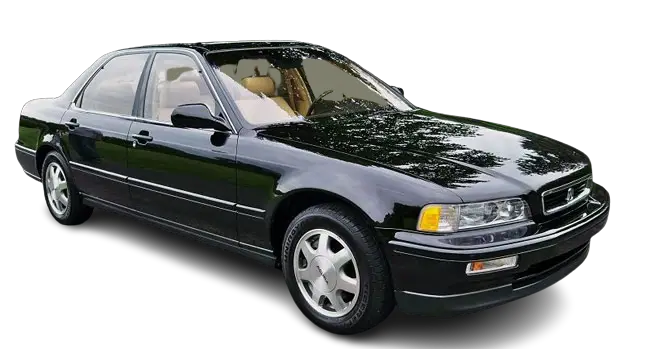 Acura Legend: Pioneering Luxury and Performance
The Acura Legend stands as a cornerstone in Acura's rich history, embodying the brand's vision of luxury and performance. As one of Acura's inaugural models, the Legend set the tone for the brand's future endeavors in the luxury automobile segment. This introduction delves into the origins, evolution, and legacy of the Acura Legend.
The Birth of a Legend
Launched in 1986 alongside the sporty Integra, the Acura Legend was envisioned as a luxury sedan that would redefine the segment. It was Acura's flagship model, designed to compete with European luxury brands by offering a compelling blend of performance, technology, and refinement at a competitive price point.
Evolution and Milestones
The first-generation Acura Legend, available in both coupe and sedan body styles, was powered by a V6 engine, a rarity for Japanese luxury cars at the time. Its sophisticated design, advanced features, and impressive performance quickly garnered attention, establishing Acura as a serious contender in the luxury market.
The second-generation Legend, introduced in the early 1990s, elevated the brand's luxury credentials even further. With a more powerful engine, refined aesthetics, and cutting-edge technology, the Legend continued to challenge the conventions of luxury motoring. It was during this era that the Legend truly lived up to its name, setting sales records and earning accolades from automotive critics and enthusiasts alike.
Legacy of the Legend
While the Acura Legend was eventually succeeded by the Acura RL in the mid-1990s, its impact on the brand and the luxury car market is undeniable. The Legend was more than just a car; it was a statement of Acura's commitment to pushing the boundaries of luxury and performance. Its success laid the foundation for Acura's future models and solidified the brand's reputation as a luxury car manufacturer.
Driving Experience and Innovation
The Acura Legend was not just about luxury; it was about the entire driving experience. From its responsive V6 engine to its advanced suspension system, every aspect of the Legend was meticulously crafted to deliver a driving experience that was both exhilarating and comfortable. Innovations such as the VTEC (Variable Valve Timing and Lift Electronic Control) system showcased Acura's commitment to engineering excellence, ensuring that the Legend was always at the forefront of automotive technology.
Conclusion
The Acura Legend, with its blend of luxury, performance, and innovation, remains an iconic model in Acura's history. It serves as a testament to Acura's vision and dedication to creating vehicles that challenge conventions and set new standards. As we look back at the Legend's storied journey, it's clear that it was not just a car but a legend in its own right, paving the way for Acura's continued success in the luxury automobile segment.
Acura (Honda) Manuals >