< PREV PAGE
NEXT PAGE >
3 Series E46 316i (M43TU) SAL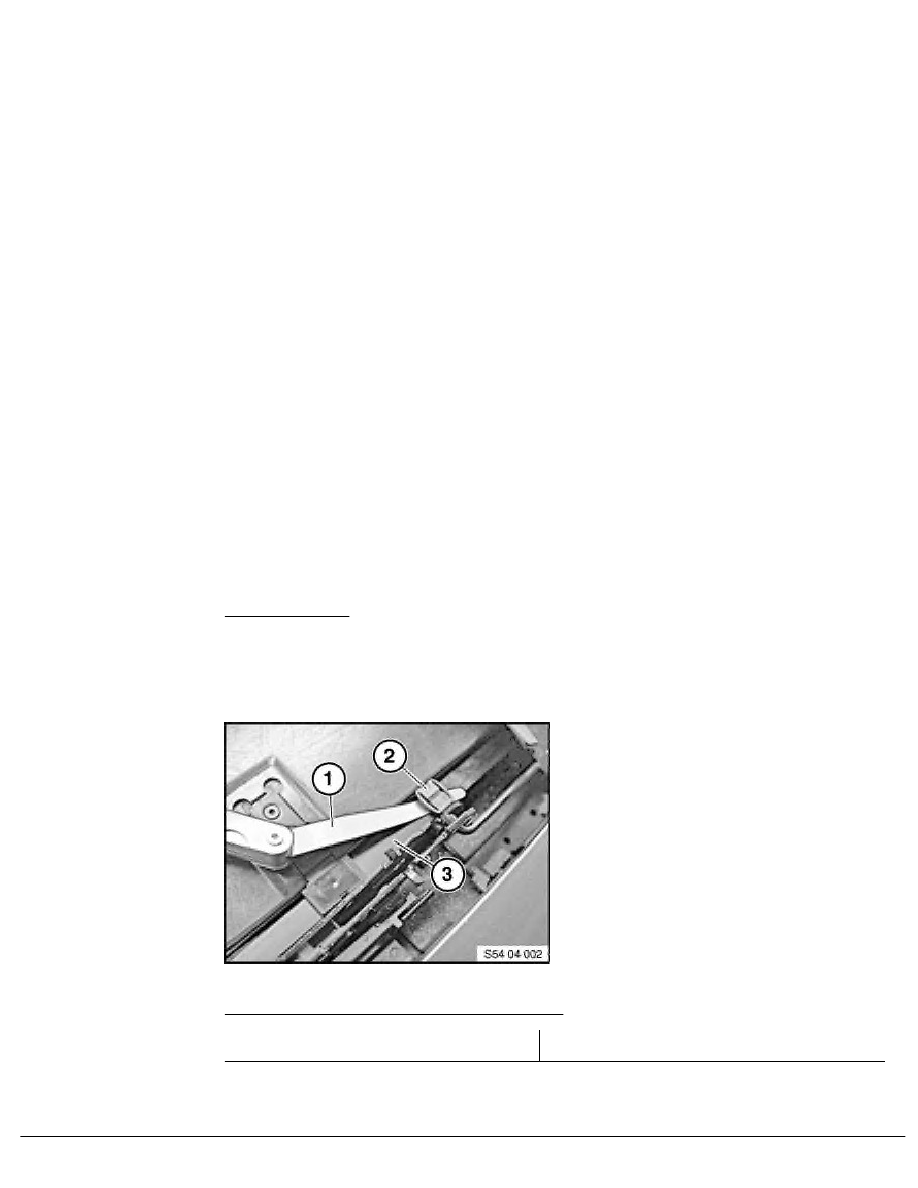 VS-22/Rothenstein
Baugruppe/Group: 54
54 03 03 (023)
weltweit
all countries
Datum/Date:
10/2003 
Update: 06/2004
Update: 06/2005
Update: 09/2005
Sliding/tilting sunroof cassette - repair solution
E46/2, E46/3, E46/4, E46/5
Complaint:
Failure of sliding/tilting sunroof and/or roof panel headlining.
Cause:
•
Slide elements on left of sunroof visor broken.
•
Driver in casing bent, broken or strong vertical clearance.
Important!
The driver may be slightly out of line with the left-hand sliding member.
Affected vehicles:
E46 with sliding/tilting sunroof (option 403)
Manufacturing period: from start of series production until August 2003
Remedy:
In the event of a customer complaint, there is now a repair solution, so that if the driver is
damaged, the complete sliding/tilting sunroof casing does not have to be replaced.
Note:
Modified drivers and a modified roof panel headlining with sliding members have
been in use in series production since September 2003.
Procedure:
Remove the glass sliding/tilting sunroof cover.
Check the driver:
•
Check the driver for damage.
•
If no damage is visible on the driver, check the vertical clearance as follows:
Carefully lift the driver (2). 
Use the feeler gauge (1) to check the
vertical clearance between the
driver (2) and the guide rail (3).
Necessary measures after checking the driver:
Test result
Necessary measures
Driver not damaged and vertical
clearance less than 2.5 mm
Check sunroof visor as well as left
and right slide elements. 
SI  Sliding/tilting sunroof cassette - repair solution E46/2 E46/3 E46/4 E46/5
BMW AG - TIS
19.01.2013  09:39
Issue status (12/2007) Valid only until next DVD is issued
Copyright
Page  - 1 -
< PREV PAGE
NEXT PAGE >