< PREV PAGE
NEXT PAGE >
5 Series E60 520d (N47) SAL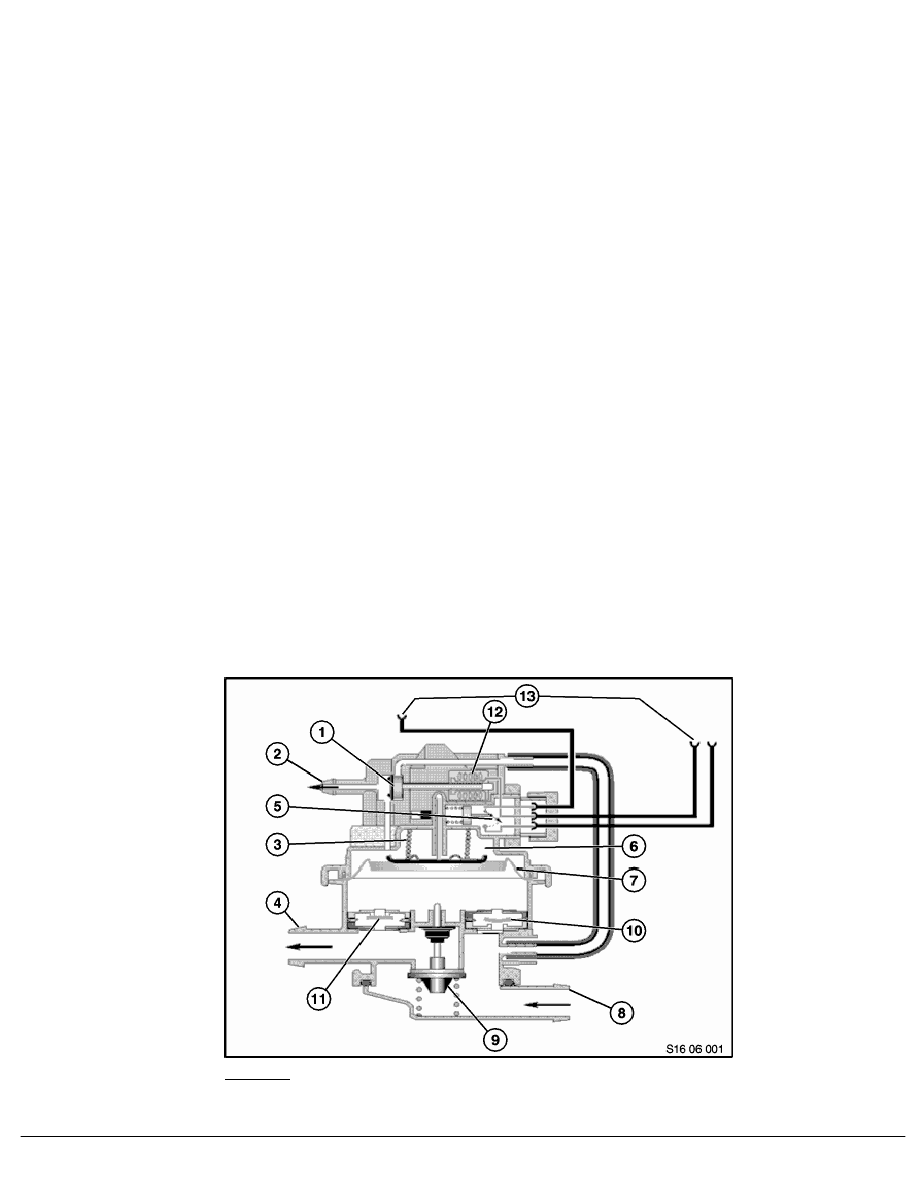 3
Expansion tank
13
Return line
4
Activated carbon filter
14
Solenoid valve in DMTL
5
Fuel filter with pressure regulator
15
Dust filter
6
Injection rail
16
Charge/vent line
7
Intake manifold
17
Fuel tank vent line I
8
Fuel filler cap
18
Fuel tank vent line II
9
LDP / DMTL
19
Fuel tank vent line III
1. Leakage test with leak-diagnosis pump (LDP)
US vehicles have an AKF cutoff valve and a tank pressure sensor that are used by the tank
vent system diagnosis to enable the DME control unit to detect leaks > 1 mm in the tank
and tank vent system.
With this system, a vacuum is formed and used to detect a leak. From Model Year 1998
(US 05.97), the vacuum system was replaced by a compression system.
The depression or compression is generated by a leak diagnosis pump bolted to the
activated charcoal filter and is approx. 25 hPa. Leak diagnosis takes approx.
100 seconds, depending on the individual vehicle and is performed after nearly every cold
start. The air filter at the LDP inlet is also new.
Note:
If this filter becomes extremely soiled, you may encounter problems when
refuelling the vehicle. Diagnosis is guaranteed on the complete system (fuel circuit,
leak diagnosis pump and reed contact).
1.1 Function description of pressure-leak diagnosis
When the DME control unit performs leak diagnosis, the DME control unit actuates the
solenoid valve in the LDP unit. The intake manifold vacuum not reaches the level of the
upper pump chamber (6, Fig. 2) and pulls the diaphragm (7, Fig. 2) up against the
springs (3, Fig. 2).
Figure 2: Leak-diagnosis pump (LDP)
1
Vacuum valve
8
SI  Diagnosis of fuel tank systems with fuel tank leak diagnosis module (DMTL) All U
BMW AG - TIS
23.01.2013  15:32
Issue status (12/2007) Valid only until next DVD is issued
Copyright
Page  - 2 -
< PREV PAGE
NEXT PAGE >