< PREV PAGE
NEXT PAGE >
5 Series E60 530d (M57T2) SAL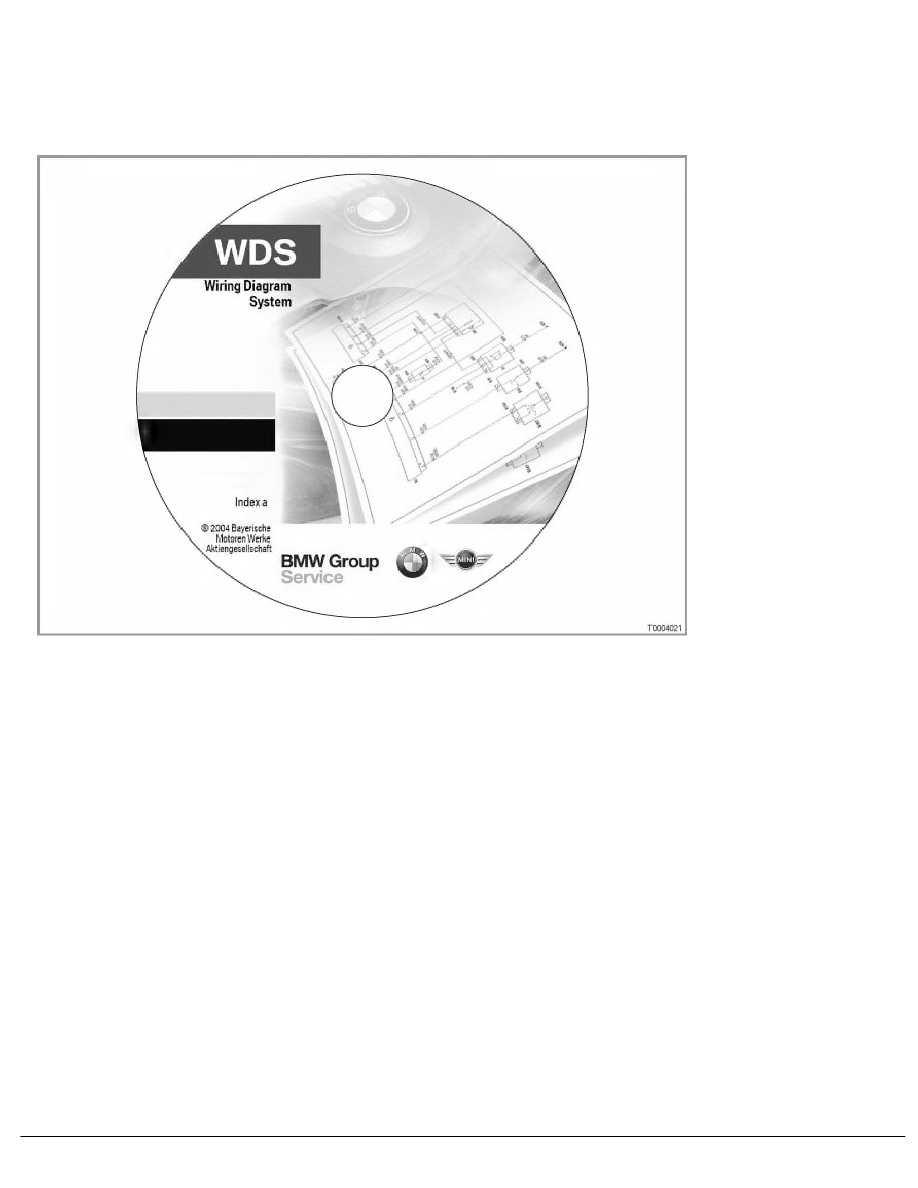 VS-22 ra
Baugruppe/Group: 00
00 07 04 (084)
weltweit
Datum/Date:
03/2004
BMW wiring diagrams on DVD: Wiring Diagram System
E46, E60, E61, E63, E64, E65, E66, E83, E85
Introduction
Wiring diagrams are the most important aid for diagnosis. 
They are displayed in the BMW diagnostic system (on DISplus and on GT1).
Since the DIS (Diagnostic and Information System) BMW diagnostic system was introduced in 1994, the dealer
organisation has requested that the wiring diagrams be displayed on a commercially available PC. For a long time,
this was not possible due to technical reasons. The newly developed BMW Wiring Diagram System (WDS) now
finally allows us to fulfil the dealer organisation's request. All current wiring diagrams from the BMW diagnostic
system can now also be displayed on a commercially available PC using Microsoft Internet Explorer.
The BMW Wiring Diagram System is supplied on a DVD. The WDS DVD contains exactly the same wiring
diagrams as the DIS BMW diagnostic system. The structure and the appearance of the wiring diagrams are also the
same. This means that orientation is easy, because the DIS BMW diagnostic system is well known.
Advantage of the WDS DVD: The staff in the workshop (mechanics, vehicle electricians and mechatronicians) can all
look at the wiring diagrams if all the DIS testers are already in use.
The first WDS DVD will be supplied shortly after DIS CD 37 is published in March 2004.
[System overview...]
The WDS DVD will be updated four times a year.
The WDS DVD contains the following diagrams:
- 
Wiring diagrams 
- 
Connector views 
SBT  BMW wiring diagrams on DVD: Wiring Diagram System E46, E60, E61, E63, E64, E65,
BMW AG - TIS
22.02.2013  13:35
Issue status (12/2007) Valid only until next DVD is issued
Copyright
Page  - 1 -
< PREV PAGE
NEXT PAGE >