< PREV PAGE
NEXT PAGE >
Skylark V6-173 2.8L VIN X 2-bbl (1984)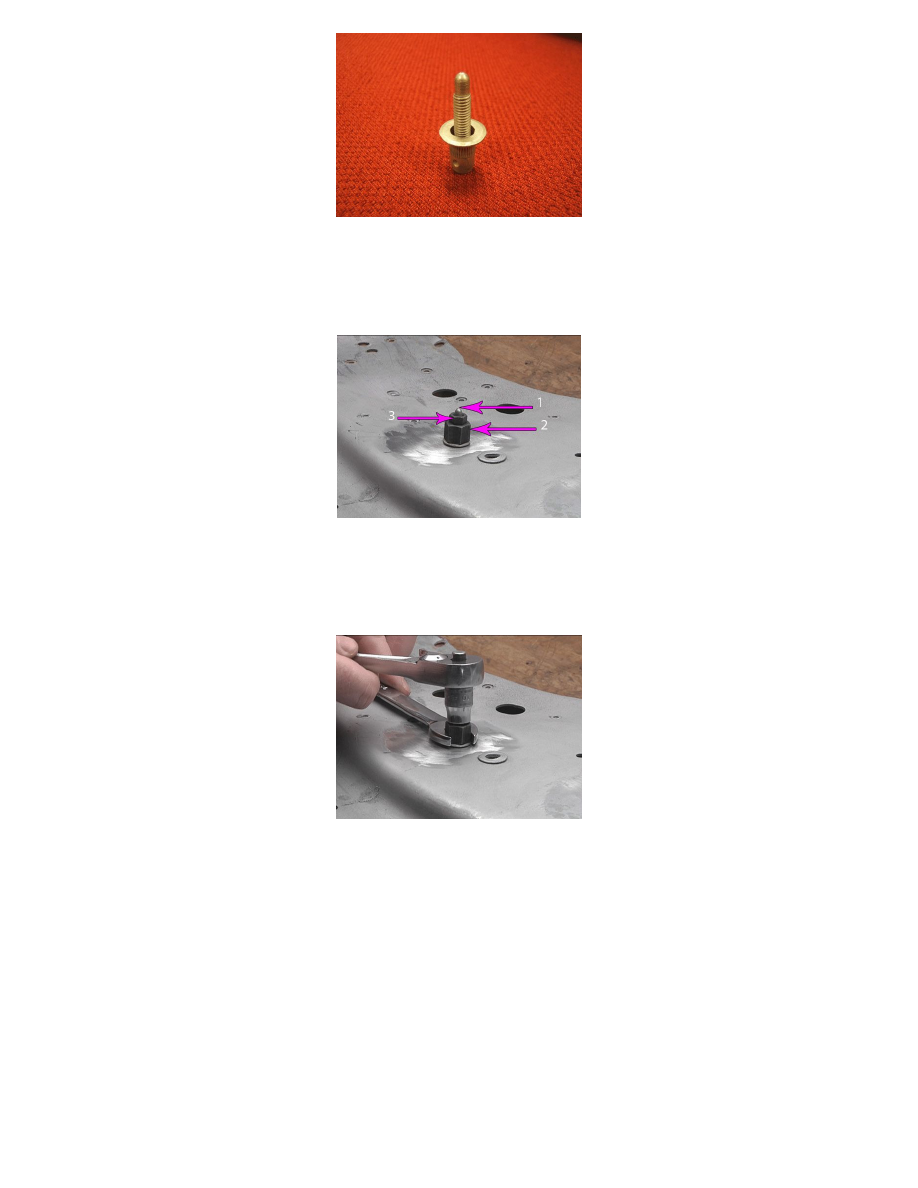 Important
The M6 conductive rivet stud as shown, can accommodate a panel thickness range of 0.7-4.2 mm (0.03-0.17 in). If there are layers of sheet
metal, they should be touching without any air gaps to ensure a good ground.
5. Select a M6 conductive rivet stud. Refer to the Parts Information section of this bulletin.
Note
Use the GE-50317 rivet stud tool kit. 
6. Place the M6 conductive rivet stud (1) in the 10 mm (0.40 in) hole. Assemble the rivet stud tool (2) with the groove and flare side facing the rivet
stud, then the washer and the M6 nut (3). 
7. Using a wrench on the rivet stud tool, and a socket on the M6 nut, secure the M6 conductive rivet stud.
8. Ensure the rivet stud is securely fastened, WITHOUT ANY detectable movement.
9. Completely wrap the threads of the rivet stud with painters tape or equivalent.
Note
The rivet stud and surrounding panel area MUST BE properly refinished PRIOR to the installation of the ground wire terminal and conductive
nut to maintain a secure, stable and corrosion-free electrical ground.
10. Refinish the repair area using an anti-corrosion primer. Refer to Anti-Corrosion Treatment and Repair in SI.
11. Allow the refinished repair area to cure sufficiently before removing the protective material applied to the rivet stud threads.
12. Remove the painters tape or equivalent from the rivet stud threads.
13. Using GM approved residue-free solvent or equivalent, thoroughly clean the rivet stud threads to remove any adhesive and allow to dry.
14. Using a small brush, apply Dielectric Lubricant GM P/N 12377900 (Canadian P/N 10953529) to the threads of the M6 conductive rivet stud.
Note
Fretting corrosion is a build-up of insulating, oxidized wear debris that can form when there is a small motion between electrical contacts. The
oxidized wear debris can accumulate at the electrical contact points causing the electrical resistance across the connection to increase. 
< PREV PAGE
NEXT PAGE >