< PREV PAGE
NEXT PAGE >
Skylark V6-3100 3.1L VIN M SFI (1996)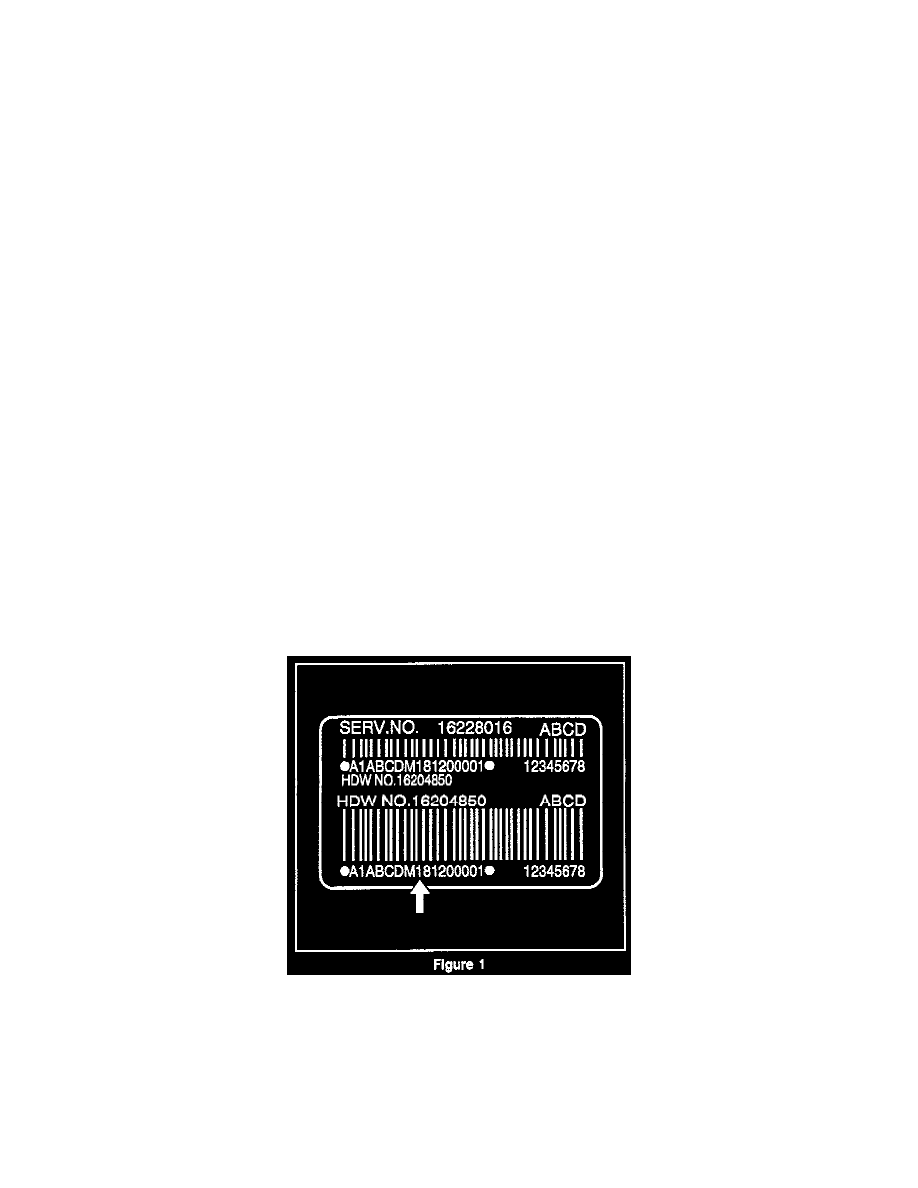 Powertrain Control Module: Customer Interest
MIL is ON, Hard or No Start Condition, DTC P0601 Set
File In Section: 6E - Engine Fuel & Emission
Bulletin No.: 67-65-2
Date: August, 1996
Subject: 
Diagnostic Trouble Code P0601 is Set in the Powertrain Control Module (PCM) (install New PCM)
Models: 
1996
Buick Century, LeSabre, Park Avenue, Regal, Riviera, Skylark
1996
Chevrolet Beretta, Corsica, Camaro, Lumina, Monte Carlo, Lumina APV
1996
Oldsmobile Achieva, Cutlass Ciera, Cutlass Supreme, 88 Royale, LSS,
98 Regency, Silhouette
1996
Pontiac Bonneville SE, SSE, SSEi, Firebird, Grand Am, Grand Prix,
Trans Sport
with 3800, 3100, 3400, 3.4L Twin DOHC Engine (VINs X, M, E, K, 1 - RPOs LQ1, L82, LA1, L36, L67)
Condition
Owners may comment that the Malfunction Indicator Lamp (MIL) is illuminated on the instrument panel of their vehicle. It is also possible that the
owner may have experienced a hard or no start condition.
Cause
An internal resonant frequency induced by a set of diodes causes the PCM to fail the self test (checksum error).
Correction
The PCM diodes were changed so that they operate with a different resonant frequency which eliminates the checksum error. PCM's which have an
eighth digit of five or less (as outlined below) will have to be replaced.
Parts Information
GMSPO inventory has been purged and restocked. Dealer parts inventory of Powertrain Control Modules can be sorted by looking at the label on the
case of the PCM. There is a 16 digit number under the bar code. The 8th digit in should be a 6 or greater (Figure 1). PCM's built with an 8th digit of 6 or
greater will contain the internal changes which will prevent a code P0601 from being erroneously set.
Parts are expected to be available on August 5, 1996 from GMSPO.
Warranty Information
For vehicles repaired under warranty, use:
< PREV PAGE
NEXT PAGE >