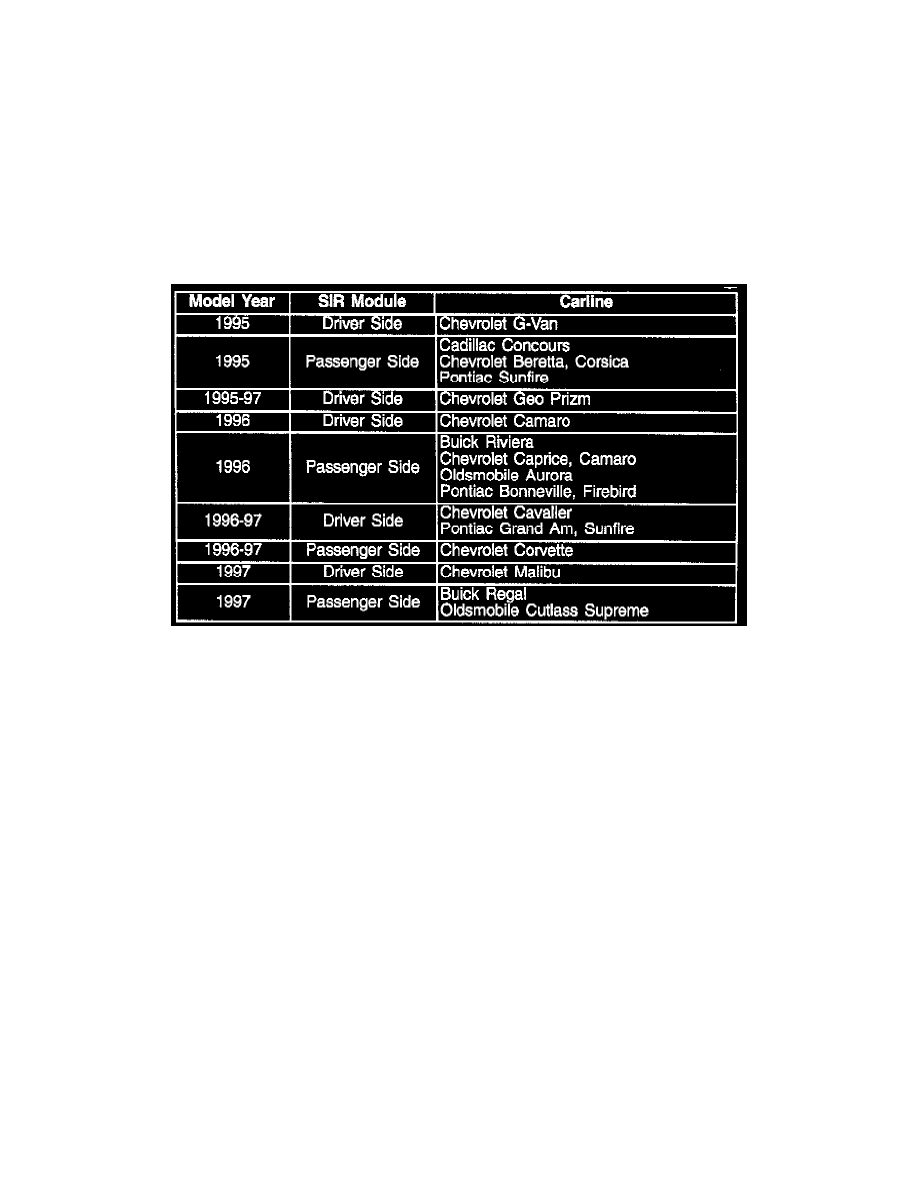 Air Bag: Technical Service Bulletins
Air Bag - Module Shipping/Return Procedure
File In Section: 9 - Accessories
Bulletin No.: 31-90-04A
Date: September, 1996
Subject: 
Supplemental Inflatable Restraint (SIR) Module Shipping/Return Procedure
Models: 
1993-97 Passenger Cars and Trucks - Equipped with Supplemental Inflatable Restraint (SIR) Modules
EXCEPT THE MODELS AND YEARS AS LISTED
This bulletin is being revised to update the: models and years affected, the contact telephone numbers and the hazardous classification rating. Various
areas of the text and the attachments have also been revised. Please discard Corporate Bulletin Number 319004 (Group Reference - Accessories).
This bulletin outlines the return procedure for undeployed Supplemental Inflatable Restraint (SIR) modules. Undeployed SIR modules in all vehicles
(except models indicated), removed for warranty purposes, are to be returned to Delphi Interior and Lighting Systems, General Motors Corporation. This
bulletin outlines procedures that all dealers must follow for shipping undeployed airbag modules. This bulletin is in effect and should be retained at all
times at the dealership until superseded by a subsequent bulletin.
This return program does NOT apply to dealers in Alaska, Hawaii, US Territories, and foreign countries. SIR modules replaced outside the continental
United States should be deployed and disposed of following the procedure outlined in Corporate Bulletin Number 319003R. All other modules (i.e., out
of warranty or car scrapped) should be disposed of per Corporate Bulletin Number 319003R.
Important: 
If a vehicle is the subject of a Preliminary Investigation (GM-1241), DO NOT ALTER the SIR system until cleared by the Zone Service
Representative. An SIR module returned following a 1241 investigation must be clearly designated by:
1.
Indicating on the REPAIR ORDER copy inside the box "SUBJECT TO 1241".
2.
Indicating the VIN and vehicle owner on the REPAIR ORDER.
3.
Sending photocopies of the REPAIR ORDER to:
a.
The appropriate Zone service Representative
b.
Cigna Company 
GM Central Claims Unit 
485 W. Milwaukee Suite 690 
Detroit, MI 48202