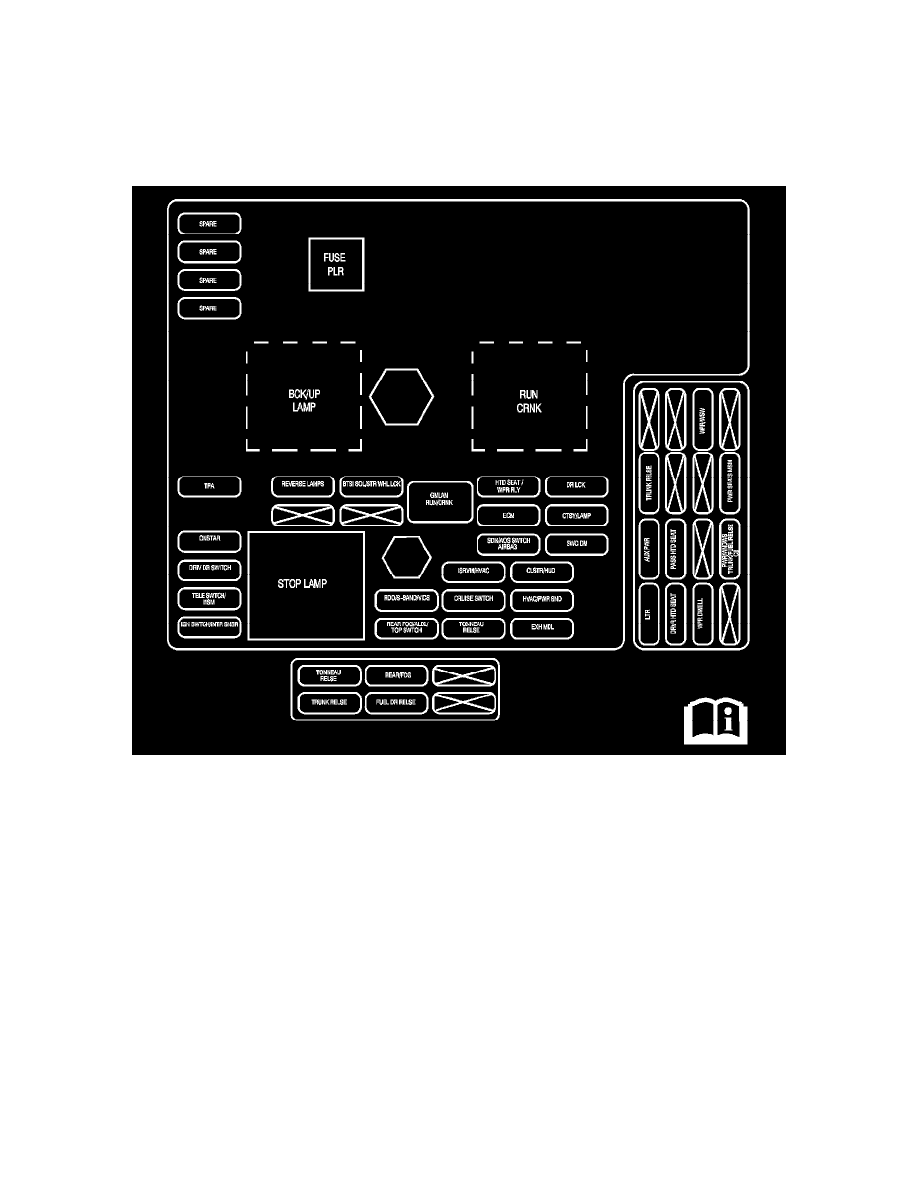 INSTRUMENT PANEL FUSE BLOCK
The instrument panel fuse block is located on the passenger side of the vehicle, under the instrument panel and under the toe-board.
Remove the carpet and toe-board covering to access the fuse block by pulling at the top of each corner of the panel. Open the fuse block cover to
access the fuses.
You can remove fuses using the fuse puller.
FUSES ....................................................................................................................................................................................................................... USAGE
SPARE ..............................................................................................................................................................................................................  Spare Fuse
SPARE ..............................................................................................................................................................................................................  Spare Fuse
SPARE ..............................................................................................................................................................................................................  Spare Fuse
SPARE ..............................................................................................................................................................................................................  Spare Fuse
TPA .......................................................................................................................................................................................  Tonneau Pulldown Actuator
ONSTAR .............................................................................................................................................................................................................  OnStar®
DRIV DR SWITCH ............................................................................................................................................................................  Driver Door Switch
TELE SWTCH/MSM ........................................................................................................................................  Telescope Switch, Memory Seat Module
IGN SWTCH/INTR SNSR ............................................................................................................................................  Ignition Switch, Intrusion Sensor
BCK/UP LAMP .........................................................................................................................................................................................  Reverse Lamps
REVERSE LAMPS ...................................................................................................................................................................................  Reverse Lamps
Blank ...................................................................................................................................................................................................................  Not Used
STOP LAMP ...................................................................................................................................................................................................   Stop Lamp
BTSI SOL/STR WHL LCK ......................................................................................  Brake Transmission Shift Interlock, Steering Wheel Column Lock
BLANK ...............................................................................................................................................................................................................  Not Used
RDO/S-BAND/VICS .......................................................................................................................................................................  Radio, S-Band, VICS
REAR FOG/ALDL/TOP SWTCH ..............................................  Rear Fog Lamp, Assembly Line Diagnostic Link Connector, Convertible Top Switch
GM LAN RUN/CRNK .........................................................................................................................................................................  GM LAN Devices
ISRVM/ HVAC .................................................................................................  Electric Inside Rearview Mirror, Heating Ventilation, Air Conditioning
CRUISE SWTCH ...........................................................................................................................................................................  Cruise Control Switch
TONNEAU RELSE ................................................................................................................................................................................  Tonneau Release