< PREV PAGE
NEXT PAGE >
Corvette V8-6.2L (2008)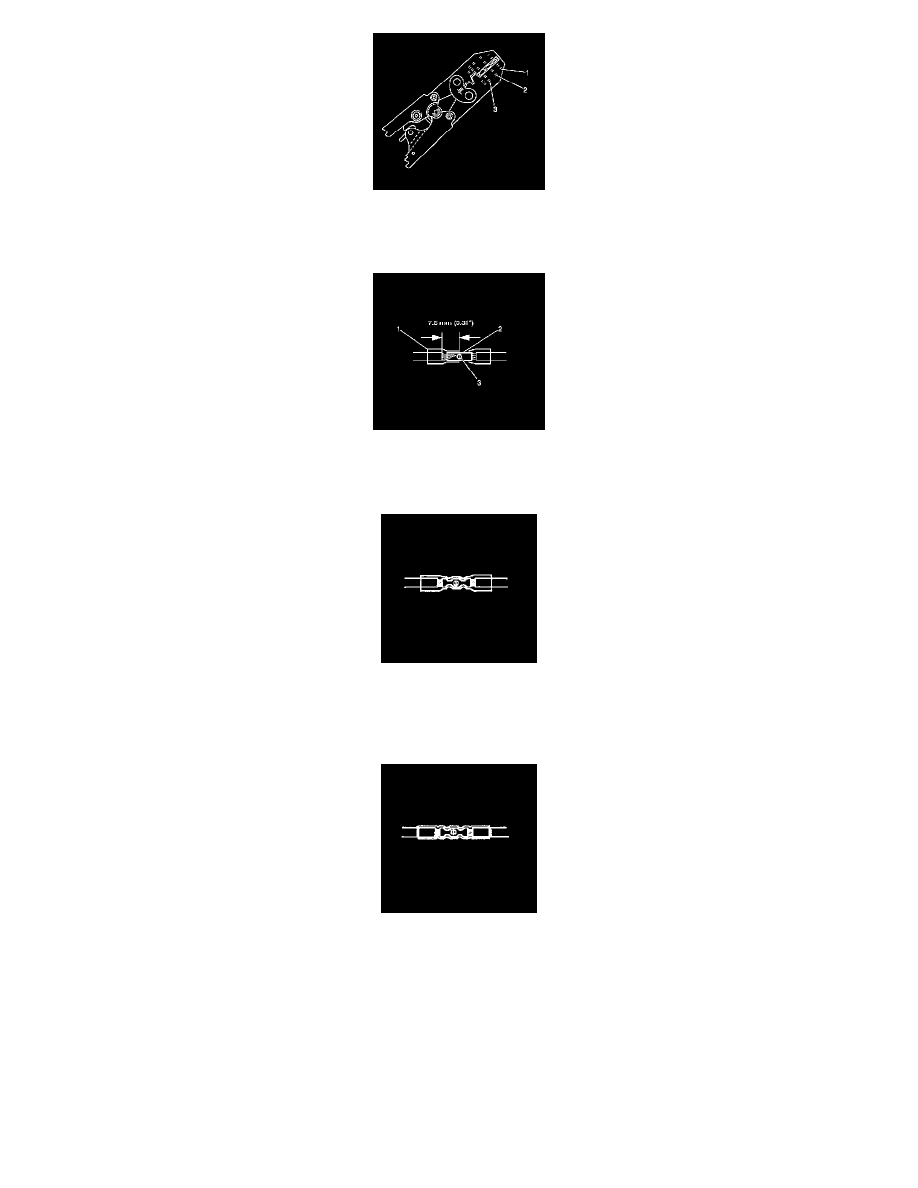 5. Use the Splice Crimp Tool from the J-38125  to crimp DuraSeal splice sleeve. In order to position the DuraSeal splice sleeve in the proper color
nest of the Splice Crimp Tool. The crimp tool has three nests, 1 is for the salmon and green splice sleeve, 2 is for the blue splice sleeve, and 3 is
for the yellow splice sleeve.
6. Place the DuraSeal splice sleeve in the nest. Ensure that the crimp falls midway between the end of the barrel and the stop. The sleeve has a stop
(3) in the middle of the barrel (2) in order to prevent the wire (1) from going further. Close the hand crimper handles slightly in order to firmly
hold the DuraSeal splice sleeve in the proper nest.
7. Insert the wire into the splice sleeve barrel until the wire hits the barrel stop. 
8. Tightly close the handles of the crimp tool until the crimper handles open when released.
The crimper handles will not open until you apply the proper amount of pressure to the DuraSeal splice sleeve. Repeat steps 4 and 5 for the
opposite end of the splice.
9. Using the heat torch, apply heat to the crimped area of the barrel.
10. Gradually move the heat barrel to the open end of the tubing:
*
The tubing will shrink completely as the heat is moved along the insulation.
*
A small amount of sealant will come out of the end of the tubing when sufficient shrinkage is achieved.
Connector Position Assurance (CPA)
The connector position assurance (CPA) is a small plastic insert that fits through the locking tabs of a connector. CPAs are used in all SIR System
connectors and also in some connectors of other systems. The CPA ensures that the connector halves cannot vibrate apart. You must have the CPA in
place in order to ensure good contact between the mating terminals of a connection.
Terminal Position Assurance (TPA)
< PREV PAGE
NEXT PAGE >