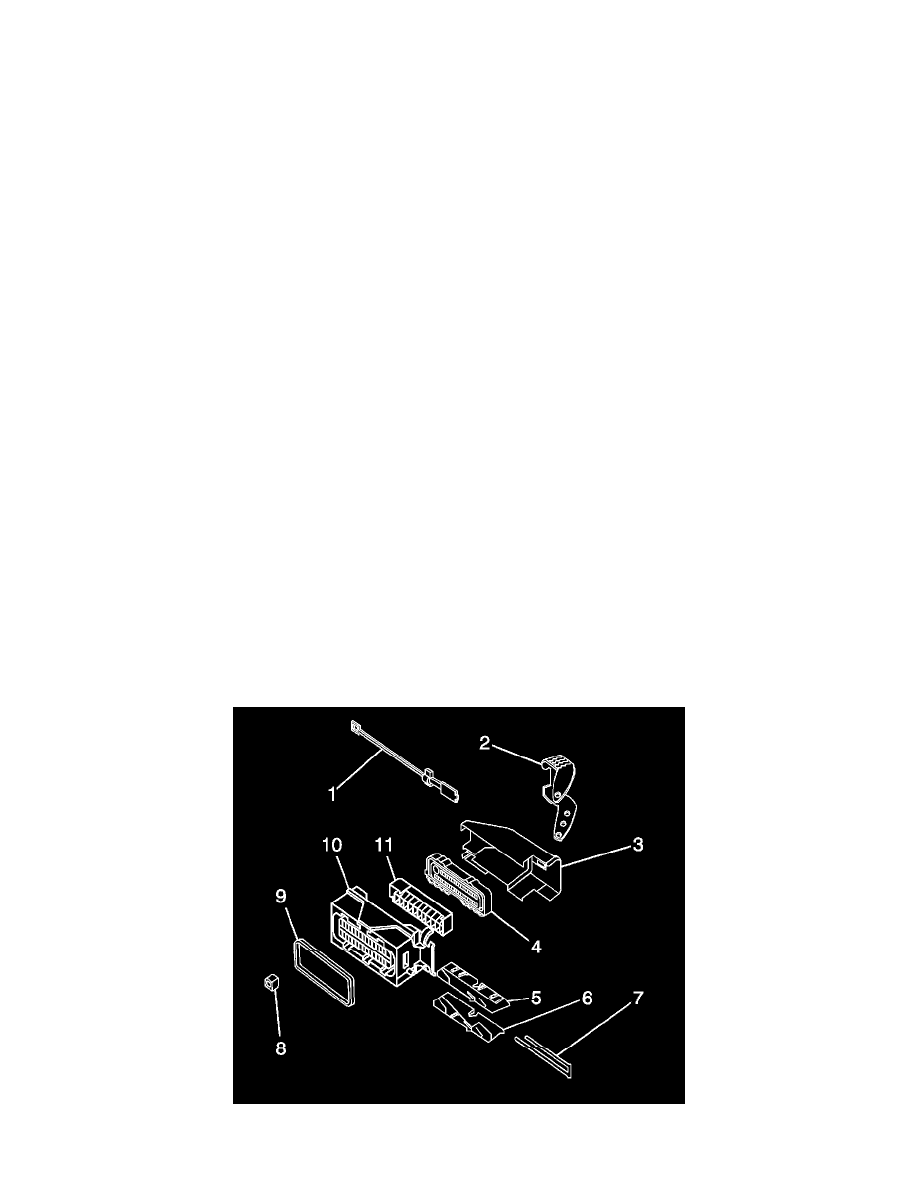 Use the appropriate terminal and follow the instructions in the J-38125  .
Connector Position Assurance Locks
Connector Position Assurance Locks
The connector position assurance (CPA) is a small plastic insert that fits through the locking tabs of the connector. CPAs are used in various connectors
throughout the vehicle. CPAs are also used in all SIR system electrical connectors. The CPA ensures that the connector halves cannot vibrate apart. You
must have the CPA in place in order to ensure good contact between the mating terminals, of the connector.
Connector Repairs
Connector Repairs
Connector Repairs contains a list of all connector repairs. The connector repairs are listed by the connector manufacturer and then by connector type. If
the technician cannot identify the manufacturer of the connector, refer to Identifying Connectors below. Knowing the connector manufacturer will assist
in finding the correct connector repair from the following list: 
*
Connector Position Assurance Locks  (See: Testing and Inspection/Component Tests and General Diagnostics)
*
Terminal Position Assurance Locks  (See: Testing and Inspection/Component Tests and General Diagnostics)
*
Bosch Connectors (BSK)  (See: Testing and Inspection/Component Tests and General Diagnostics)Bosch Connectors (0.64)  (See: Testing and
Inspection/Component Tests and General Diagnostics)Bosch Connectors (2.8 JPT)  (See: Testing and Inspection/Component Tests and General
Diagnostics)Bosch Connectors (ECM)  (See: Testing and Inspection/Component Tests and General Diagnostics)
*
Delphi Connectors (Weather Pack)  (See: Testing and Inspection/Component Tests and General Diagnostics)Delphi Connectors (Push To Seat)  (
See: Testing and Inspection/Component Tests and General Diagnostics)Delphi Connectors (Pull To Seat)  (See: Testing and
Inspection/Component Tests and General Diagnostics)Delphi Connectors (See: Testing and Inspection/Component Tests and General Diagnostics)
 Delphi Connectors (Micro .64)  (See: Testing and Inspection/Component Tests and General Diagnostics)Delphi Connectors (12-Way)  (See:
Testing and Inspection/Component Tests and General Diagnostics)
*
Tyco/AMP Connectors (CM 42-Way)  (See: Testing and Inspection/Component Tests and General Diagnostics)Tyco/AMP Connectors (Sensor)  (
See: Testing and Inspection/Component Tests and General Diagnostics)Tyco/AMP Connectors (0.25 Cap)  (See: Testing and
Inspection/Component Tests and General Diagnostics)Tyco/AMP Connectors (43-Way)  (See: Testing and Inspection/Component Tests and
General Diagnostics)Tyco/AMP Connectors (Door Module)  (See: Testing and Inspection/Component Tests and General Diagnostics)
*
Yazaki Connectors (2-Way)  (See: Testing and Inspection/Component Tests and General Diagnostics)Yazaki Connectors (16-Way)  (See: Testing
and Inspection/Component Tests and General Diagnostics)
*
Repairing Connector Terminals  (See: Testing and Inspection/Component Tests and General Diagnostics)
Connector Anatomy
1 - Connector Positive Assurance (CPA)