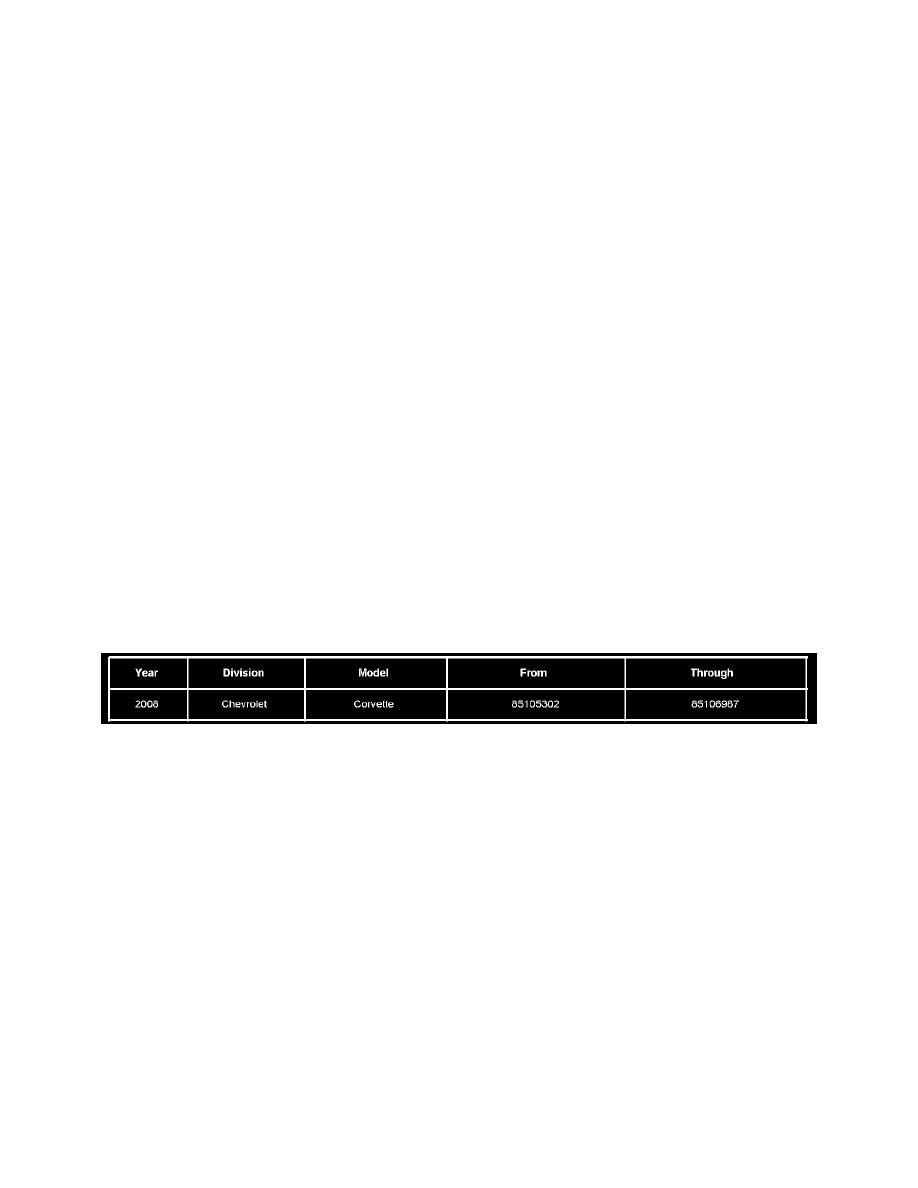 Technical Service Bulletin # 07260A
Date: 080130
Campaign - Keyless Entry System Inoperative
Bulletin No.: 07260A
Date: January 30, 2008
CUSTOMER SATISFACTION
Subject:
07260A - Keyless Access System Inoperative
Models:
2008 Chevrolet Corvette
Supercede:
The Parts Information section in this bulletin has been revised. The receiver required to perform the service procedure is no longer on restriction. The
receiver can now be obtained through GMSPO. Please discard all copies of bulletin 07260, dated October 2007.
THIS PROGRAM IS IN EFFECT UNTIL OCTOBER 31, 2008.
Condition
On certain 2008 model year Chevrolet Corvette vehicles, the keyless access system may become inoperative at times. The doors may not automatically
lock or unlock, and the vehicle may not start. The DIC will also display a "NO FOBS DETECTED" message.
If this condition occurs, the driver can lock or unlock the doors by pushing the buttons on the keyless access transmitter. The vehicle can be started by
placing the transmitter in the glove box transmitter pocket with the buttons facing towards the passengers side. Then, with the vehicle in PARK (P) for an
automatic transmission, press the brake pedal and the START button. If the vehicle has a manual transmission, press the clutch and the START button.
Correction
Dealers are to install a new module for the keyless access system.
Vehicles Involved
Involved are certain 2008 model year Chevrolet Corvette built within the VIN breakpoints shown.
Dealers are to confirm vehicle eligibility prior to beginning repairs by using the GM Vehicle Inquiry System (GMVIS). Not all vehicles within the above
breakpoints may be involved.
For dealers with involved vehicles, a listing with involved vehicles containing the complete vehicle identification number, customer name, and address
information has been prepared and will be provided through the applicable system listed below. Dealers will not have a report available if they have no
involved vehicles currently assigned.
-
US dealers - GM DealerWorld Recall Information
-
Canadian dealers - GMinfoNet Recall Reports
-
Export dealers - sent directly to dealers
The listing may contain customer names and addresses obtained from Motor Vehicle Registration Records. The use of such motor vehicle registration
data for any purpose other than follow-up necessary to complete this program is a violation of law in several states/provinces/countries. Accordingly, you
are urged to limit the use of this report to the follow-up necessary to complete this program.