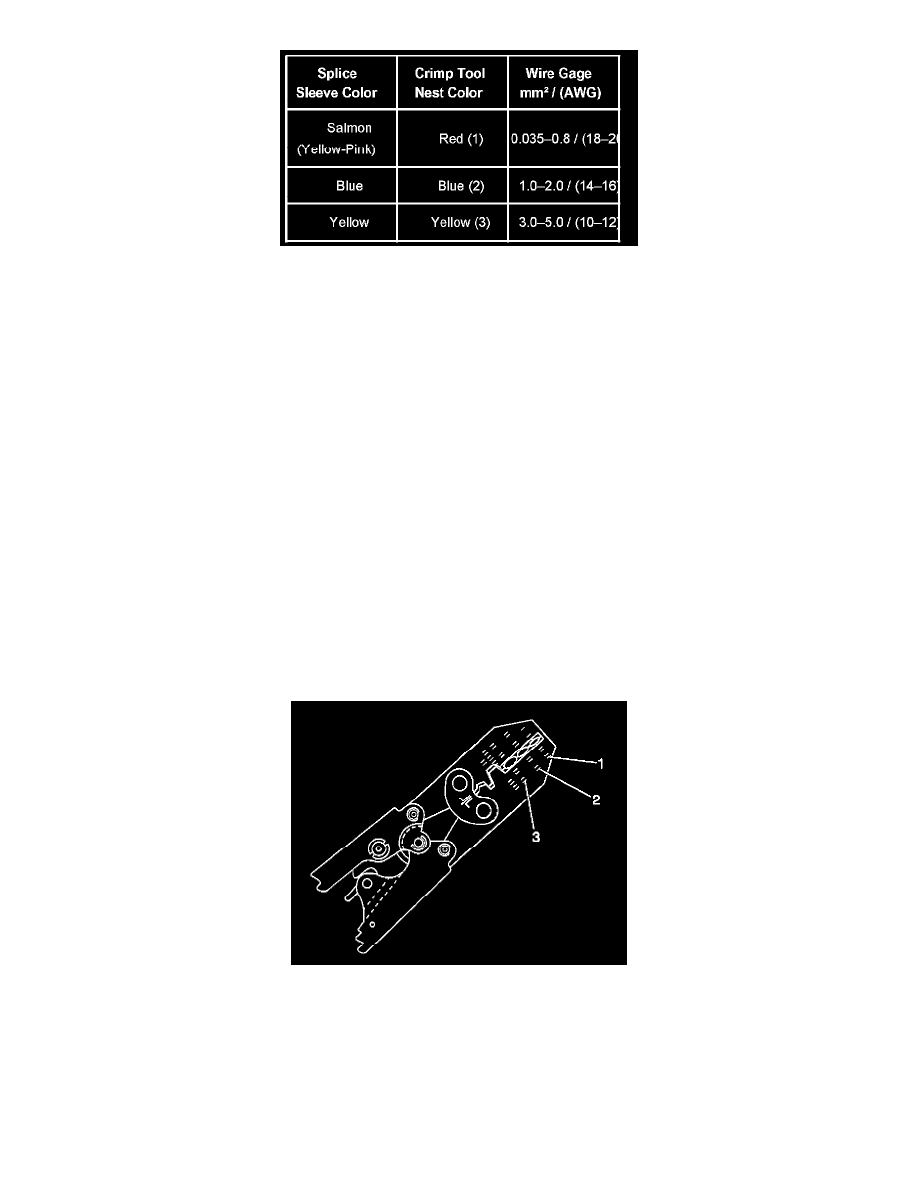 If any wire except the pigtail is damaged, repair the wire by splicing in a new section of wire of the same gage size (0.5 mm, 0.8 mm, 1.0 mm etc.).
Use the sealed splices and splice crimping tool from the J 38125-D. Use the following wiring repair procedures in order to ensure the integrity of the
sealed splice.
IMPORTANT:  You must perform the following procedures in the listed order. Repeat the procedure if any wire strands are damaged. You must
obtain a clean strip with all of the wire strands intact.
1. Open the harness by removing any tape:
-
Use a sewing seam ripper (available from sewing supply stores) in order to cut open the harness in order to avoid wire insulation damage.
-
Use the crimp and sealed splice sleeves on all types of insulation except tefzel and coaxial.
-
Do not use the crimp and sealed splice sleeve to form a splice with more than 2 wires coming together.
2. Cut as little wire off the harness as possible. You may need the extra length of wire in order to change the location of a splice.
Adjust splice locations so that each splice is at least 40 mm (1.5 in) away from the other splices, harness branches, or connectors.
3. Strip the insulation:
-
When adding a length of wire to the existing harness, use the same size wire as the original wire.
-
Perform one of the following items in order to find the correct wire size:
-
Find the wire on the schematic and convert the metric size to the equivalent AWG size.
-
Use an AWG wire gage.
-
If you are unsure of the wire size, begin with the largest opening in the wire stripper and work down until achieving a clean strip of the
insulation.
-
Strip approximately 7.5 mm (0.313 in) of insulation from each wire to be spliced.
-
Do not nick or cut any of the strands. Inspect the stripped wire for nicks or cut strands.
-
If the wire is damaged, repeat this procedure after removing the damaged section.
4. Select the proper sealed splice sleeve according to the wire size. Refer to the table at the beginning of the repair procedure for the color coding of
the splice sleeves and the crimp tool nests.
5. Use the Splice Crimp Tool from the J 38125-D to crimp splice sleeve. In order to position the splice sleeve in the proper color nest of the Splice
Crimp Tool, refer to the table at the beginning of this repair procedure.