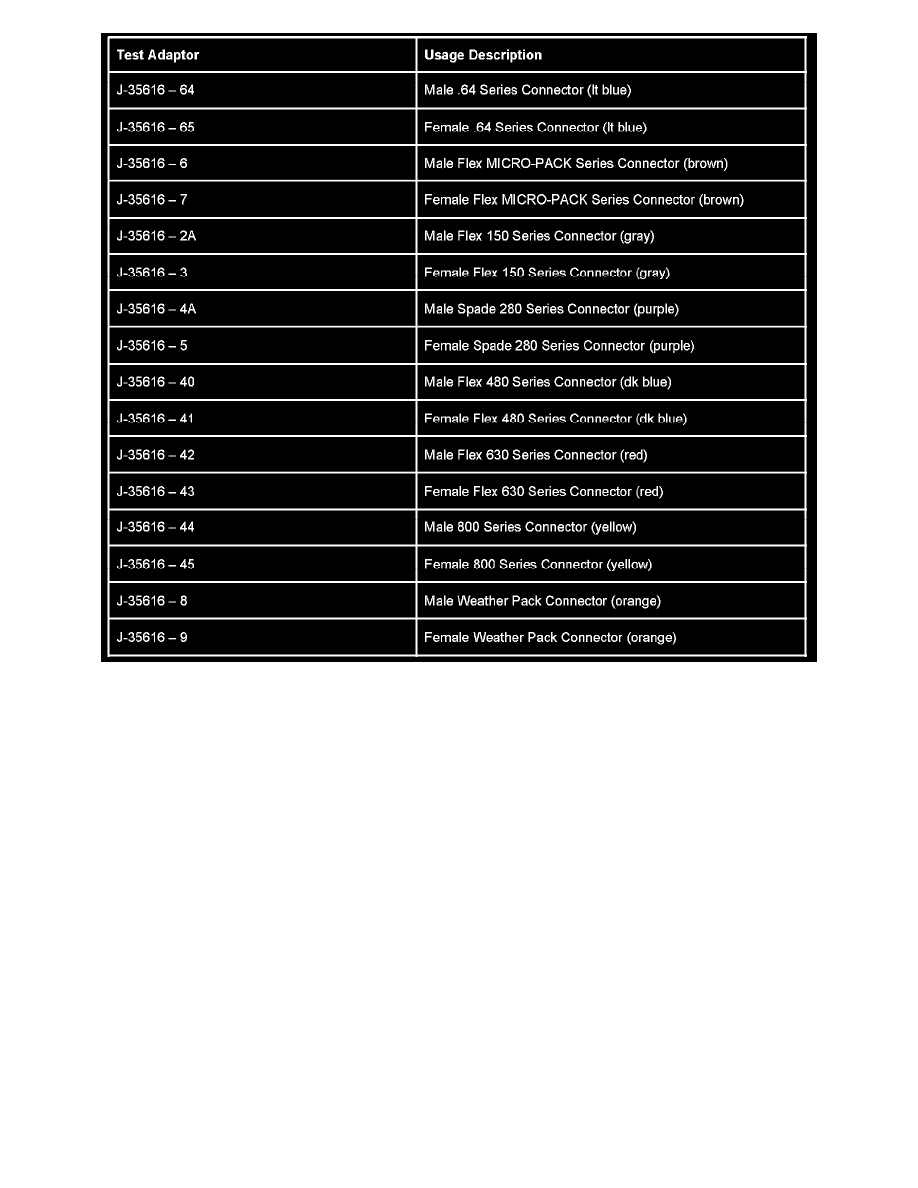 Refer to the table as a guide in selecting the correct test adapter for frontprobing connectors:
Backprobe
IMPORTANT:
-
Backprobe connector terminals only when specifically required in diagnostic procedures.
-
Do not backprobe a sealed (Weather Pack(R)) connector, less than a 280 series Metri-Pack connector, a Micro-Pack connector, or a flat wire
(dock and lock) connector.
-
Backprobing can be a source of damage to connector terminals. Use care in order to avoid deforming the terminal, either by forcing the test probe
too far into the cavity or by using too large of a test probe.
-
After backprobing any connector, inspect for terminal damage. If terminal damage is suspected, test for proper terminal contact.
Do not disconnect the connector and probe the terminals from the harness side (back) of the connector.
Scan Tool Snapshot Procedure
SCAN TOOL SNAPSHOT PROCEDURE
Snapshot is a recording of what a control module on the vehicle was receiving for information while the snapshot is being made. A snapshot may be used
to analyze the data during the time a vehicle condition is current. This allows you to concentrate on making the condition occur, rather than trying to
view all the data in anticipation of the fault. The snapshot contains information around a trigger point that you have determined. Only a single data list
may be recorded in each snapshot. The Scan Tool has the ability to store 2 snapshots. The ability to record 2 snapshots allows comparing hot versus cold
and good versus bad vehicle scenarios. The snapshots are stored on a first-in, first-out basis. If a third snapshot is taken, the first snapshot stored in the
memory will be lost.
Snapshots can be 1 of 2 types:
-
Snapshot - taken from the Snapshot menu choice
-
Quick Snapshot - taken from the Data Display soft key choice, does not contain DTC information