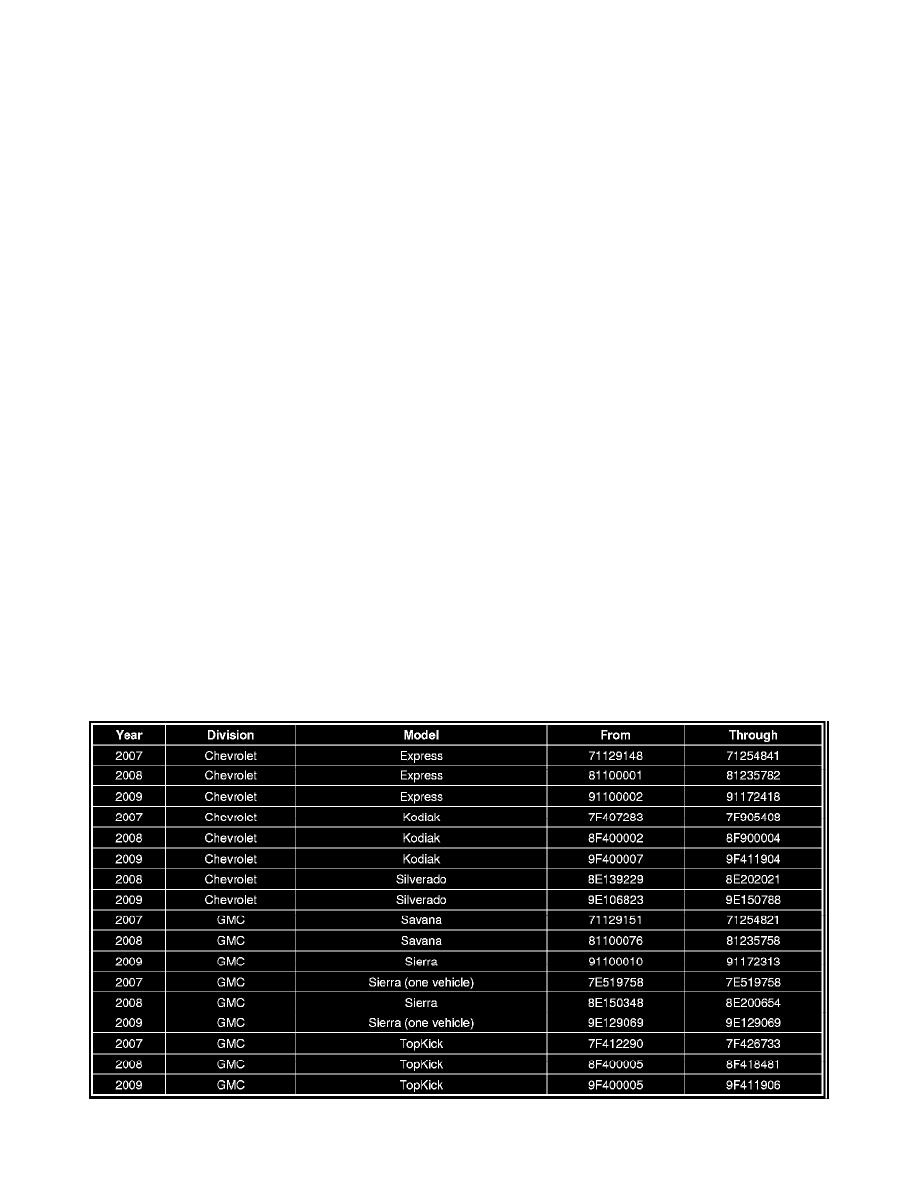 Technical Service Bulletin # 09285
Date: 091123
Recall - ECM/TCM Update For EGR Cooler Performance
PRODUCT EMISSION
Bulletin No.: 09285
Date: November 23, 2009
Subject: 09285 - Service Engine Soon Light Illuminated - Exhaust Gas Recirculation (EGR) Cooler Plugging Prevention
Models:
2007-2009 Chevrolet Express, Kodiak 
2008-2009 Chevrolet Silverado 
2007-2009 GMC Savana, Sierra, TopKick 
Equipped with a Duramax 6.6L Diesel Engine (LMM) 
Condition
General Motors has decided to conduct an emission recall involving certain 2007-2009 model year Chevrolet Express and Kodiak; 2008-2009 model
year Chevrolet Silverado; and 2007-2009 model year GMC Savana, Sierra, and TopKick vehicles equipped with a Duramax 6.6L diesel engine (LMM).
During engine operation, exhaust gases containing particulate matter flow through the exhaust gas recirculation (EGR) cooler and valve into the air
intake manifold. Engine operation at idle or vehicle operation at low vehicle speeds/loads create low exhaust gas temperatures and low exhaust gas flow
through these components, promoting the formation of wet/sticky particulate matter which can accumulate on the fins of the EGR cooler. If enough
particulate matter accumulates on the fins inside the EGR cooler, the Service Engine Soon light will illuminate, diagnostic trouble code (DTC) P0401
may set, and the EGR cooler may require cleaning or replacement. Vehicle drive cycles that include extended idle times and/or slow average vehicle
speeds can accelerate this condition.
Correction
Dealers are to reprogram the ECM only on TopKick/Kodiak (All), Silverado/Sierra (ambulance applications only), and some Express/Savana
(non-ambulance, non-shuttle bus), and are to reprogram the ECM and TCM on some Express/Savana (ambulance and shuttle bus). This reprogramming
will reduce the likelihood of particulate matter accumulation in the EGR cooler during prolonged idle operation, and will reduce the incidence of EGR
cooler fouling.
Vehicles Involved
Involved are certain 2007-2009 model year Chevrolet Express and Kodiak; 2008-2009 model year Chevrolet Silverado; and 2007-2009 model year
GMC Savana, Sierra, and TopKick vehicles equipped with a Duramax 6.6L diesel engine (LMM), and built within these VIN breakpoints:
Important
Dealers are to confirm vehicle eligibility prior to beginning repairs by using GMVIS (dealers using WINS) or Investigate Vehicle History