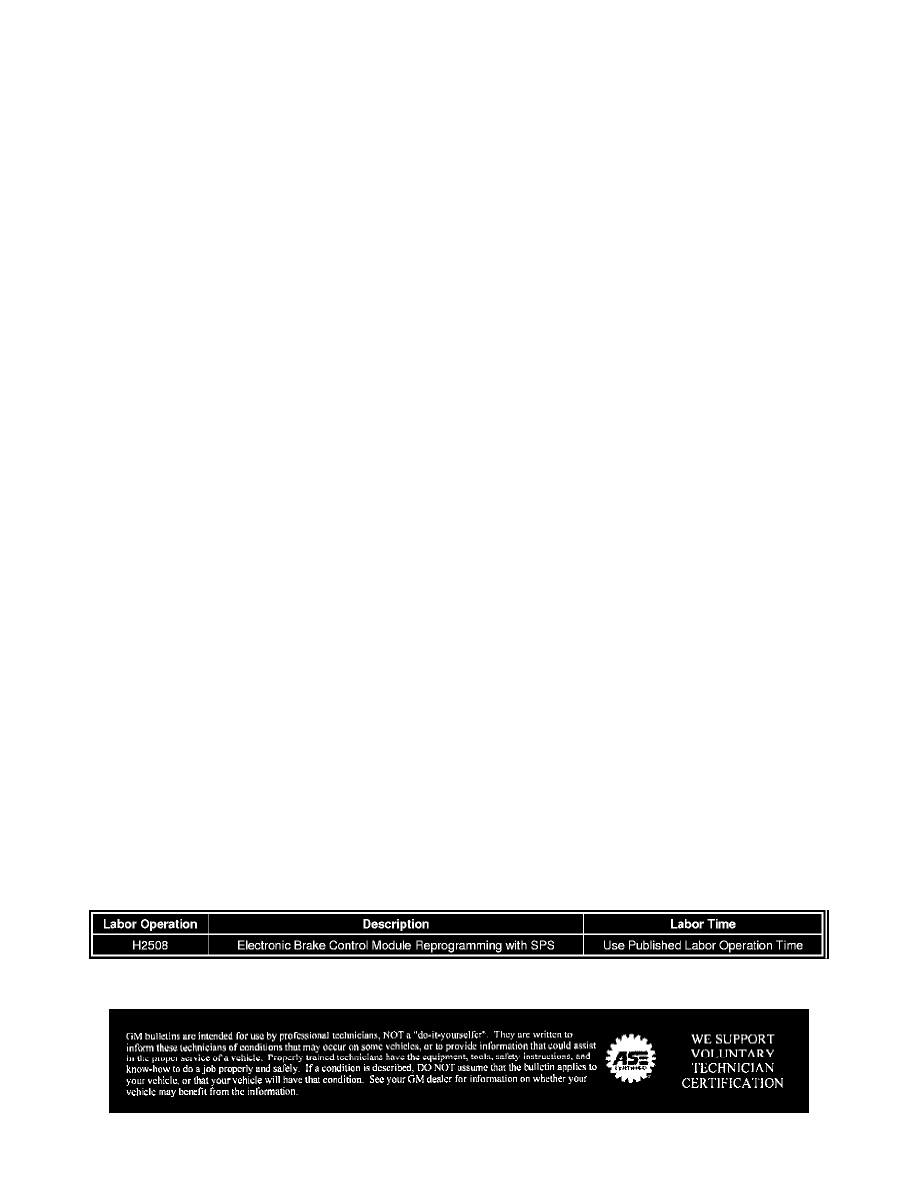 Electronic Brake Control Module: Customer Interest
ABS/TCS - Stabiltrak Message/DTC C0292
TECHNICAL
Bulletin No.: 09-05-25-001
Date: June 02, 2009
Subject: Intermittent Service Stabilitrak Message After Key Cycle, DTC C0292 Set (Reprogram Electronic Brake Control Module)
Models:
2008-2009 Chevrolet Impala
Condition
Some customers may comment that the Service Stabilitrak message is displayed intermittently after the vehicle is first started. The Electronic Stability
Control (ESC) Indicator and Traction Control System (TCS) Warning lights may also come on the Instrument Panel Cluster (IPC) intermittently. This
may be the result of setting DTC C0292. The DTC will appear as a history code. This condition can be very intermittent (every ten key cycles or more)
and would occur before the gear selector is taken out of Park.
Cause
The Service Stabilitrak message and the DTC is a result of the Electronic Brake Control Module (EBCM) software not updated to the latest version.
Some additional key factors that trigger the occurrences of this condition and the EBCM DTC C0292 include the following:
-
Initial battery voltage is less than 11.8 volts going into CRANK mode.
-
When starting the vehicle, the customer quickly enters CRANK and then releases to allow for the starter relay control to take over engine start.
This quick return to RUN allows the EBCM diagnostics to start monitoring for diagnostic faults. In the case of DTC C0292 , the low voltage is
measured at the Yaw/Lateral Accelerometer sensor and the Service StabiliTrak message is then displayed on the Driver Information Center (DIC).
Correction
Important
The TECH 2(R) can provide some additional information or aid during diagnosis. 
Using a TECH 2(R), interrogate the EBCM Freeze Frame Data or Additional DTC Information to confirm the DTC SUB-CODE is 6A. If the DTC
SUB-CODE is 6A, the revised EBCM software calibration improvement will reduce the occurrence of the DTC C0292 diagnostic fault from setting.
Reprogram the EBCM with the latest software calibration.
Important
Select the correct calibration files for the appropriate vehicle configuration (body style) and RPO codes.
A revised calibration has been developed to address this condition. Technicians are to reprogram the EBCM using the Service Programming System
(SPS) with the latest software available on TIS2WEB. Refer to Electronic Brake Control Module Programming and Setup procedures in SI. As always,
make sure your Tech 2(R) is updated with the latest software version.
Warranty Information
For vehicles repaired under warranty, use the table above.
Disclaimer