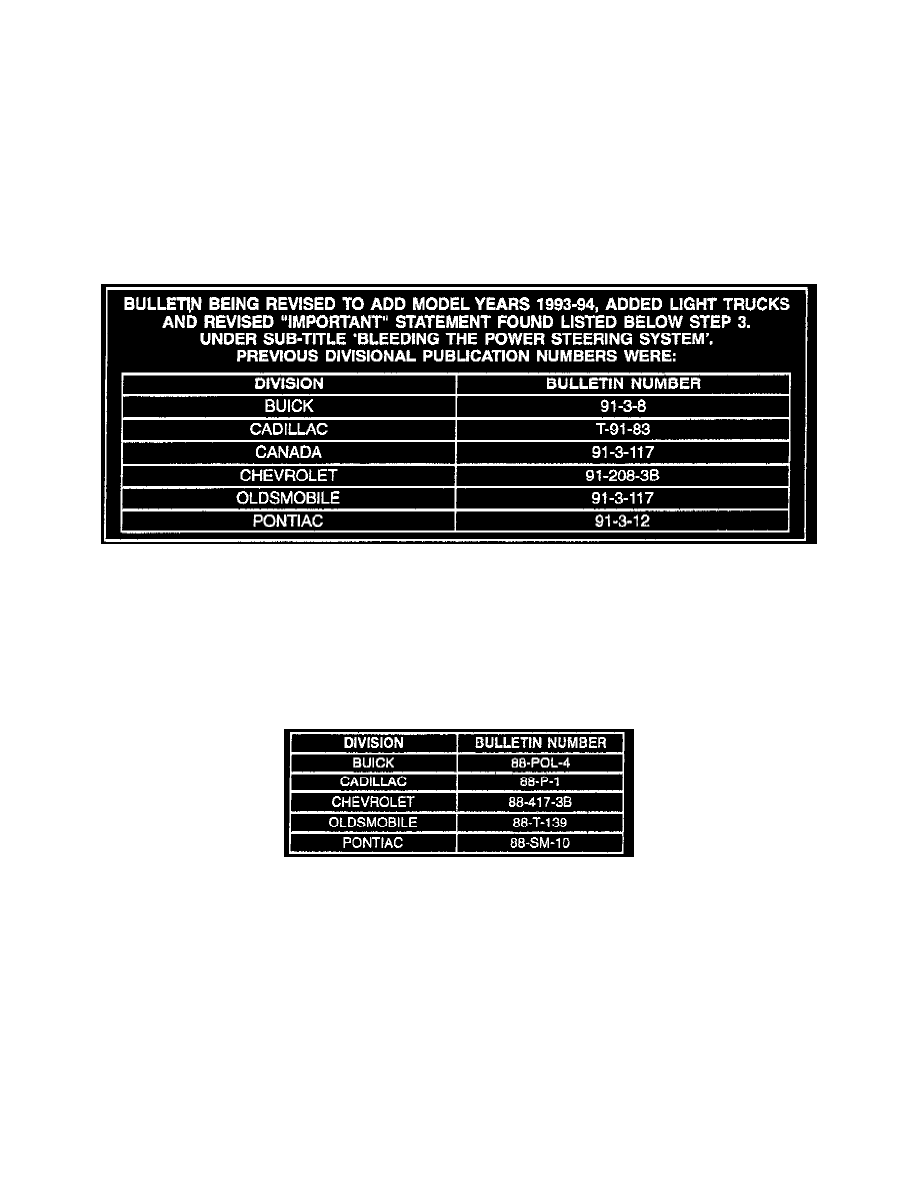 Power Steering Fluid: Customer Interest
P/S - Reduced Assist When Cold
Group Ref.: Steering/Suspension
Bulletin No.: 033206
Date: March 1994
SUBJECT:
REDUCED POWER STEERING ASSIST AT LOW AMBIENT TEMPERATURES (NEW POWER STEERING FLUID)
MODELS:
1994 AND PRIOR PASSENGER CARS AND LIGHT DUTY TRUCKS
Applications:
Appropriate for all passenger vehicles, but particularly beneficial in 1980 and later FWD Models equipped with Power Rack and Pinion Steering.
CONDITION:
Comments of reduced power steering assist at low ambient temperatures (approximately 10°F and lower) may be noted by some vehicle operators when
turning the steering wheel in BOTH the right and left direction during warm-up after cold start. All vehicles with power steering exhibit this condition to
varying degrees, but condition may be more noticeable with power rack and pinion steering systems that typically have longer hoses and cooler lines.
Note:
This condition, which is related to power steering fluid viscosity, should not, however, be confused with conditions having similar symptoms such as
that described divisional Special Policy numbers listed:
CAUSE:
In cold weather, power steering fluid thickens in the same manner as any other petroleum-based oil or fluid. Upon cold starting, the fluid resists
movement through the system and the driver senses reduced power assist (sometimes referred to as "stiff steer"). As the vehicle operates and fluid
circulates through the power steering system, the fluid warms and thins to its normal operating viscosity.
CORRECTION:
Saginaw Division has developed a new Low Temperature Climate Service Fluid for use in cold climates. Compared with conventional power steering
fluid, this new fluid flows better at low temperatures and resists the thickening which contributes to reduced power assist upon start up.
RACK AND PINION STEERING SYSTEMS
Reduced power assist upon cold weather starting may be more noticeable in Power Rack and Pinion steering systems that may contain six or more feet of