< PREV PAGE
NEXT PAGE >
Silverado 3500 2WD V8-6.0L (2007)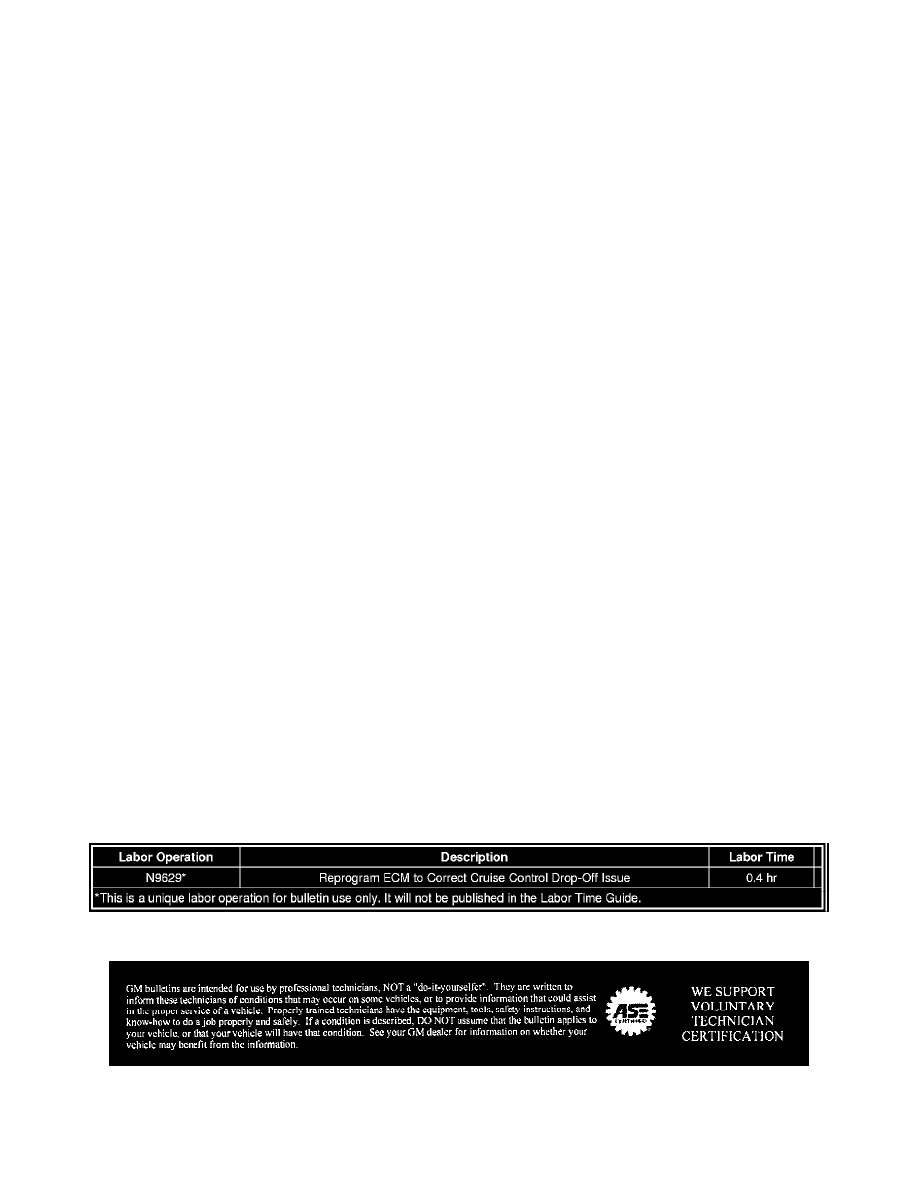 Cruise Control: Customer Interest
Engine Controls - Cruise Control Turns Off When Operated
TECHNICAL
Bulletin No.: 09-08-68-001
Date: November 13, 2009
Subject: Cruise Control Turns Off During Operation (Reprogram ECM)
Models:
2008-2009 Cadillac Escalade, Escalade ESV, Escalade EXT
2007-2009 Chevrolet Silverado
2008-2009 Chevrolet Avalanche, Suburban, Tahoe
2007-2009 GMC Sierra
2008-2009 GMC Yukon, Yukon Denali, Yukon XL, Yukon Denali XL
2008-2009 HUMMER H2
Condition
On rare occasions, some customers may comment that the cruise control turned off. This typically occurs during operation and while pulling up and
releasing both driver door window switches or activating the heated windshield washer fluid system in cold weather conditions with a battery charge
below 80%.
Cause
Cruise control command cancellation is caused by a voltage spike that occurs when the driver door window switches are released or when the heated
washer fluid system is activated.
Correction
A revised calibration has been developed to address this condition. Technicians are to reprogram the ECM with the latest calibrations available. This
new service calibration is available on TIS2WEB using the Service Programming System (SPS). Refer to the SPS procedures in SI. SPS may require the
technician to select the calibration from the ECM calibration screen.
Note
This calibration update should only be used when this loss of cruise control condition is experienced.
When using a Tech 2(R) or a multiple diagnostic interface (MDI) for reprogramming, ensure that it is updated with the latest software version.
During programming, the battery voltage must be maintained within the proper range of 12-15 volts. Only use the approved Midtronics(R) PSC 550
Battery Maintainer (SPS Programming Support Tool EL-49642) or equivalent during programming.
Warranty Information
For vehicles repaired under warranty, use the table above.
Disclaimer
< PREV PAGE
NEXT PAGE >