NEXT PAGE >
< PREV PAGE
Lanos S Hatchback L4-1.6L DOHC D-TEC MFI (1999)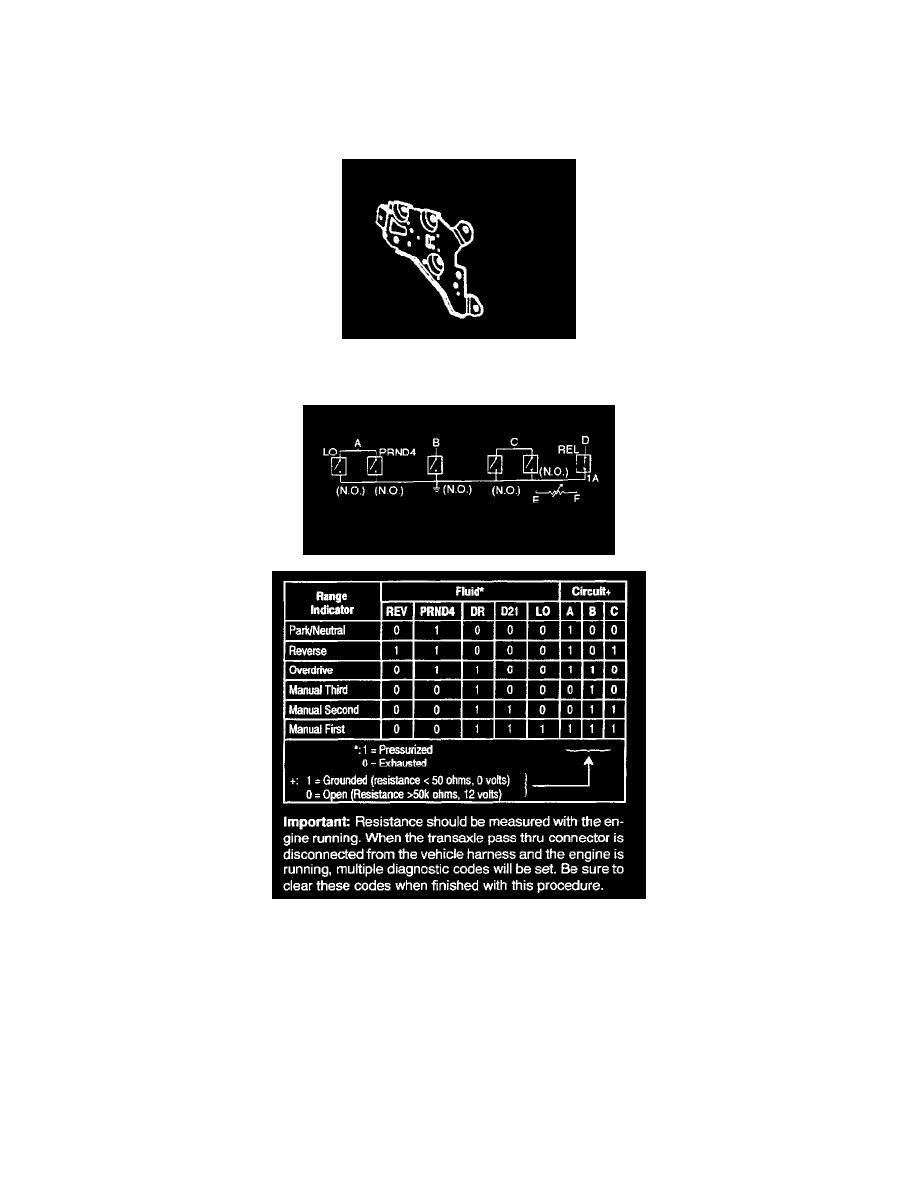 Fluid Pressure Sensor/Switch: Description and Operation
AUTOMATIC TRANSMISSION FLUID PRESSURE MANUAL VALVE POSITION SWITCH (TFP VAL. POSITION SW.) 
The Pressure Switch Assembly (TFP val. position sw.) is attached to the valve body and contains six fluid pressure switches and the transaxle
temperature sensor (refer to the separate description of the temperature sensor). Five of the fluid pressure switches (PRND4, DRIVE, LO, D21, REV)
are normally open and are used to indicate the position of the manual valve. The Powertrain Control Module (PCM) uses this information to control
line pressure, Torque Converter Clutch (TCC) apply and release and shift solenoid operation.
The RELEASE pressure switch is a normally closed pressure switch. This switch is used as a diagnostic tool to confirm that the TCC is actually OFF
when it has been commanded OFF by the PCM.
Each fluid pressure switch produces either an open or ground to the PCM depending on the presence of fluid pressure at the switches. The sequence of
open and closed switches produces a combination of voltage readings that are monitored by the PCM.
The PCM measures TFP val. position sw. signal voltage from each pin to ground and compares the voltage to a TFP val position sw. combination
chart stored in the PCM memory. If the PCM does not recognize the switch sequence a diagnostic code will be set as a result. A diagnostic code may
also be set if the TFP val. position sw. switch sequence indicates a gear range selection that conflicts with other sensory inputs to the PCM.
Important:  Resistance should be measured with the engine running. When the transaxle pass thru connector is disconnected from the vehicle harness
and the engine is running, multiple diagnostic codes will be set. Be sure to clear these codes when finished with this procedure.
NEXT PAGE >
< PREV PAGE