< PREV PAGE
NEXT PAGE >
Avenger V6-2.7L (2008)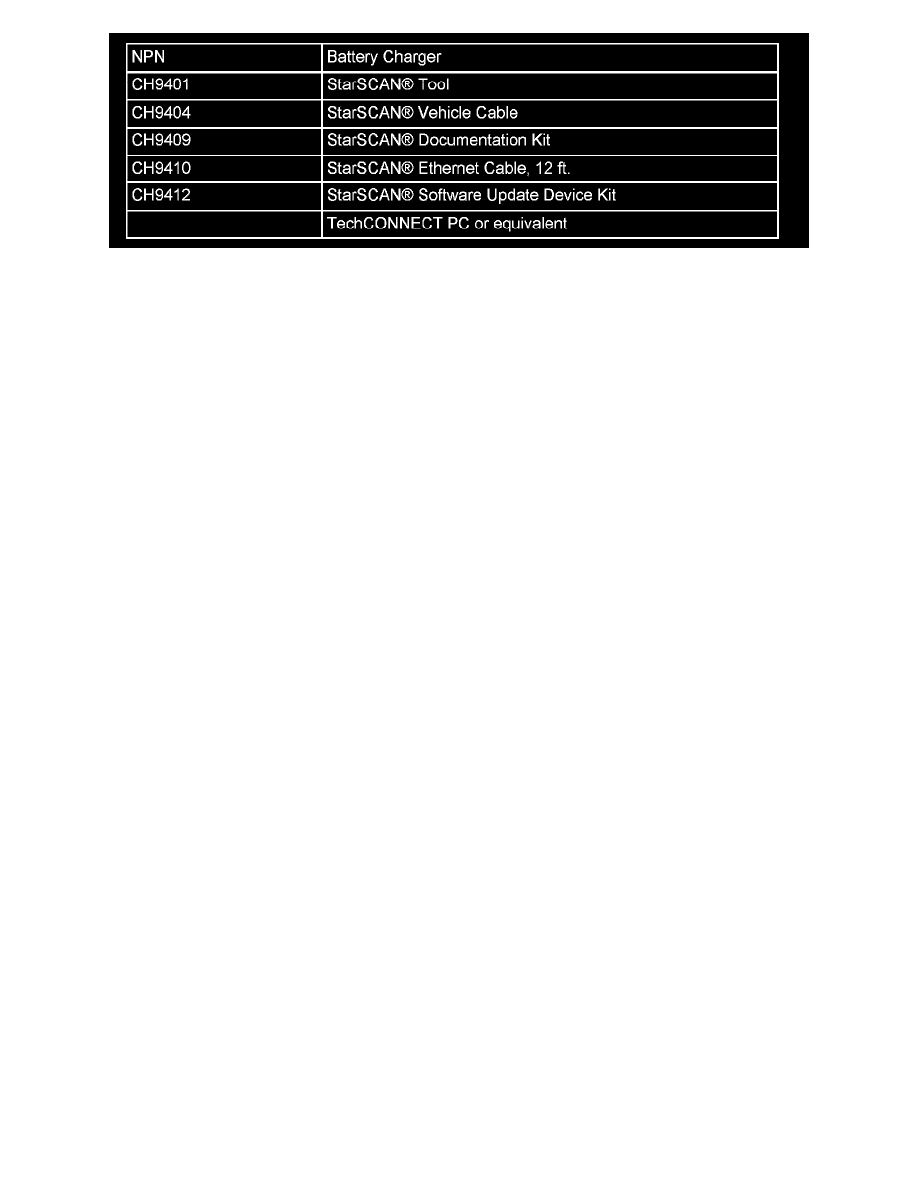 SPECIAL TOOLS / EQUIPMENT REQUIRED:
REPAIR PROCEDURE - USING THE INTERNET TO RETRIEVE THE FLASH FILE:
NOTE:
Before performing this Repair Procedure, the operating software in the StarSCAN(R) must be programmed with software release level 8.03 or
higher.
The software release level is visible in the blue header at the top of the StarSCAN(R) screen.
NOTE:
The StarSCAN(R) diagnostic scan tool fully supports Internet connectivity. However, to take advantage of this feature you must first configure the
StarSCAN(R) for your dealership's network. Make sure the StarSCAN(R) is configured to the dealership's network before proceeding. For
instruction on setting up your StarSCAN(R) for the dealer's network refer to either:
"DealerCONNECT > Service > StarSCAN and StarMOBILE tools > Online Documentation", or refer to the StarSCAN(R) Quick Start Networking
Guide. The StarSCAN(R) Quick Start Networking Guide is also available on the website under the "Download Center".
NOTE:
If this flash process is interrupted/aborted, the flash should be restarted.
1.
Open the hood and install a battery charger. Using a voltmeter, verify that the charging rate provides 13.2 - 13.5 volts. Set the battery charger to
continuous charge. Do not allow the charger to time out during the flash process. Remove the charger from the battery when the flash process is
complete.
NOTE:
Do not allow the charging voltage to climb above 13.5 volts during the flash process.
2.
Connect the GH9410 StarSGAN(R) ethernet cable to the StarSGAN(R) and the dealer's network drop.
3.
Connect the CH9404 StarSCAN(R) vehicle cable to the StarSCAN(R) and the vehicle.
4.
Power ON the StarSCAN(R).
5.
Retrieve the old VES part number. Using the StarSCAN(R) at the "Home screen:
a.
Select "VES View"
b.
Touch the screen to highlight the PCM in the list of modules.
c.
Select "More Options"
d.
Select "ECU Flash".
e.
Record the part number at the top of the "Flash VES" screen for later reference.
f.
Select "Browse for New File". Follow the on screen instructions.
g.
Select "Download to Scantool".
h.
Select "Close" after the download is complete, then select "Back".
< PREV PAGE
NEXT PAGE >