< PREV PAGE
NEXT PAGE >
D 150 Pickup V6-239 3.9L (1992)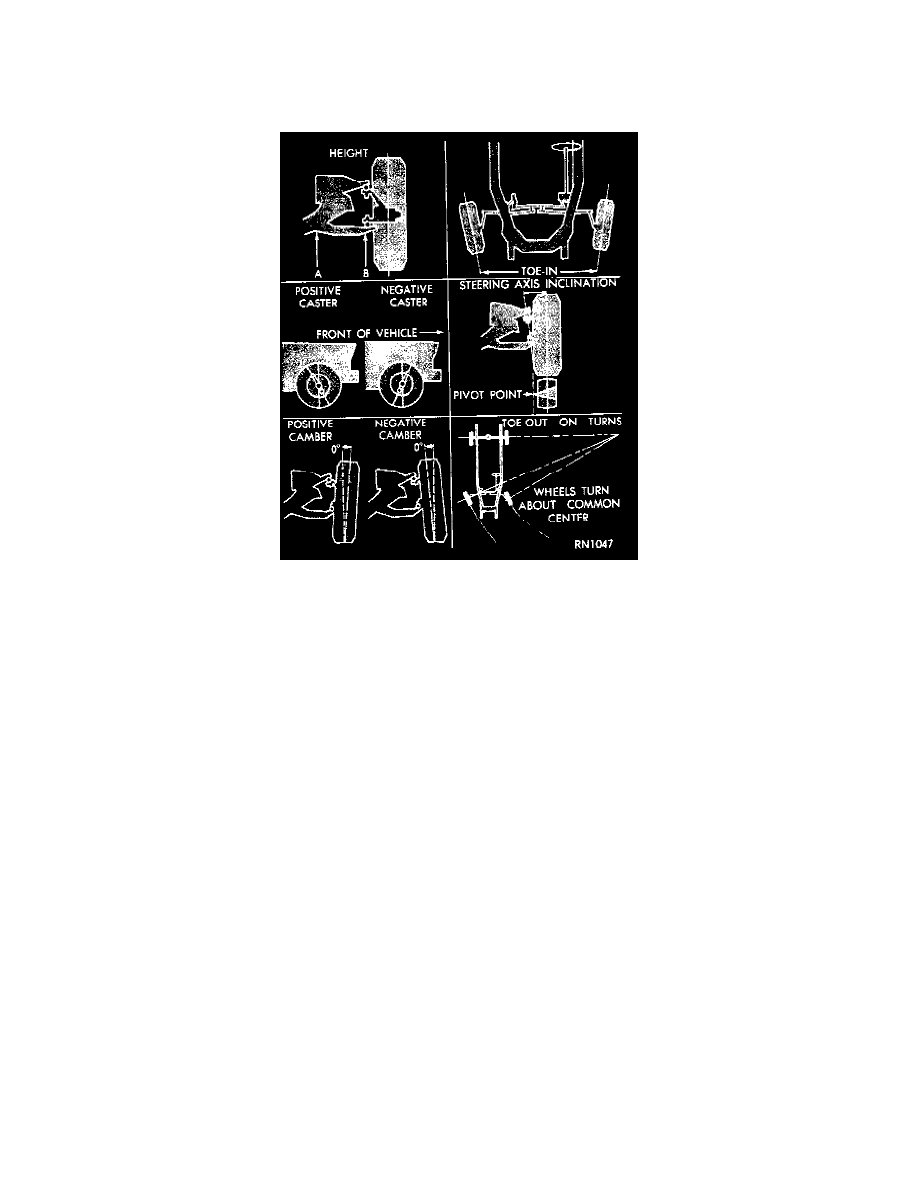 Alignment: Service and Repair
Caster & Camber
Pre-Alignment Inspection
Fig. 1 Wheel Alignment Measurements
Before starting a front wheel alignment, the following inspection and necessary corrections must be completed.
1. Check and inflate all the tires with the same recommended air pressure. All the tires should be the same size, in good condition and have
approximately the same tread wear. If the tread wear is abnormal, note the type of wear. This will aid in fault diagnosis.
2. Inspect and adjust (if necessary) the front wheel bearings.
3. Inspect the front wheels for evidence of excessive radial and lateral runout.
4. Inspect the wheels for evidence of unbalance. Both static and dynamic unbalance can affect the vehicle steering.
5. Inspect the ball studs and all the steering linkage pivot locations for excessive looseness.
6. Inspect the shock absorbers for leaks. Jounce the vehicle to determine if the shock absorbers dampen vehicle motion properly.
7. Inspect the steering gear for roughness, binding or a sticking condition. Adjust/repair as necessary.
8. Inspect the rear springs for damage. Inspect the U-bolt nuts for correct tightness.
Note:  To aid in ensuring accurate measurements, the vehicle should be jounced. Grasp each bumper at the center (rear bumper first) and vigorously
jounce the vehicle up and down several times. Always release the bumper when it's at the down position. During jouncing, it is recommended that the
front bumper elevation (vertical movement) should raise to at least 4 inches above the normal height. Jounce the rear and front ends of the vehicle an
equal number of times.
Wheel Alignment Measurements/Adjustments
The front wheel alignment positions must be set to the specified limits to prevent abnormal tire tread wear, and to ensure steering ease and safe
operation of the vehicle.
Note:  The equipment manufacturer's recommendations for use of their equipment should always be followed. All damaged front suspension system
components should be replaced. Do not attempt to straighten any bent component.
< PREV PAGE
NEXT PAGE >