Sentry Key Immobilizer Module (SKREEM) - Description|Page 8 >
Dakota 2WD V6-3.7L (2009)
Relays and Modules
Relays and Modules - Accessories and Optional Equipment
Alarm Module, (Vehicle Antitheft)
Component Information
Description and Operation
Sentry Key Immobilizer Module (SKREEM) - Description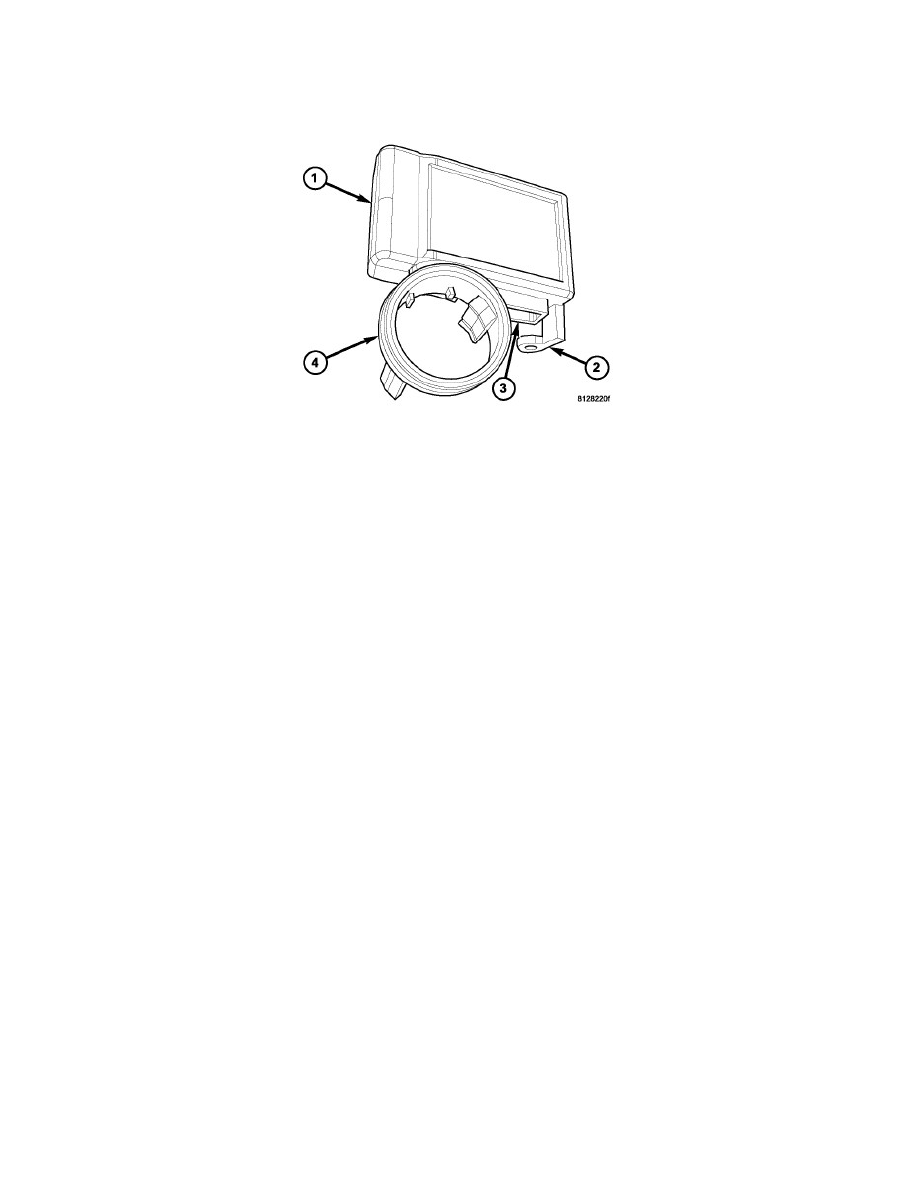 Alarm Module: Description and Operation
Sentry Key Immobilizer Module (SKREEM) - Description
DESCRIPTION
The Sentry Key REmote Entry Module (SKREEM) (1) is sometimes referred to as the Wireless Control Module (WCM), and is also known as the
Sentry Key Immobilizer Module (SKIM). The SKREEM is the primary component of the Sentry Key Immobilizer System (SKIS). It is also the receiver
for the Remote Keyless Entry (RKE) system. The SKREEM is located on the right side of the steering column, near the ignition lock cylinder housing
and is concealed beneath the steering column shrouds. The molded black plastic housing for the SKREEM has an integral molded plastic halo-like
antenna ring (4) that extends from the bottom. When the SKREEM is properly installed on the steering column, the antenna ring is oriented around the
circumference of the ignition lock cylinder housing.
A single integral connector receptacle (3) is located just behind the antenna ring on the bottom of the SKREEM housing. An integral molded plastic
mounting tab (2) on the rear corner of the SKREEM housing has a hole in the center through which a screw passes to secure the unit to the steering
column. The SKREEM is connected to the vehicle electrical system through a single take out and connector of the instrument panel wire harness.
Several unique SKREEM modules are used: one for vehicles equipped with RKE only, one for vehicles equipped with RKE and SKIS, and another
version has an additional coaxial connector receptacle that allows it to receive inputs from the optional remote start antenna module. The SKREEM
cannot be adjusted or repaired. If ineffective or damaged, the entire SKREEM unit must be replaced.
Relays and Modules
Relays and Modules - Accessories and Optional Equipment
Alarm Module, (Vehicle Antitheft)
Component Information
Description and Operation
Sentry Key Immobilizer Module (SKREEM) - Description
Sentry Key Immobilizer Module (SKREEM) - Description|Page 8 >