< PREV PAGE
NEXT PAGE >
Dakota 2WD V8-4.7L VIN J (2005)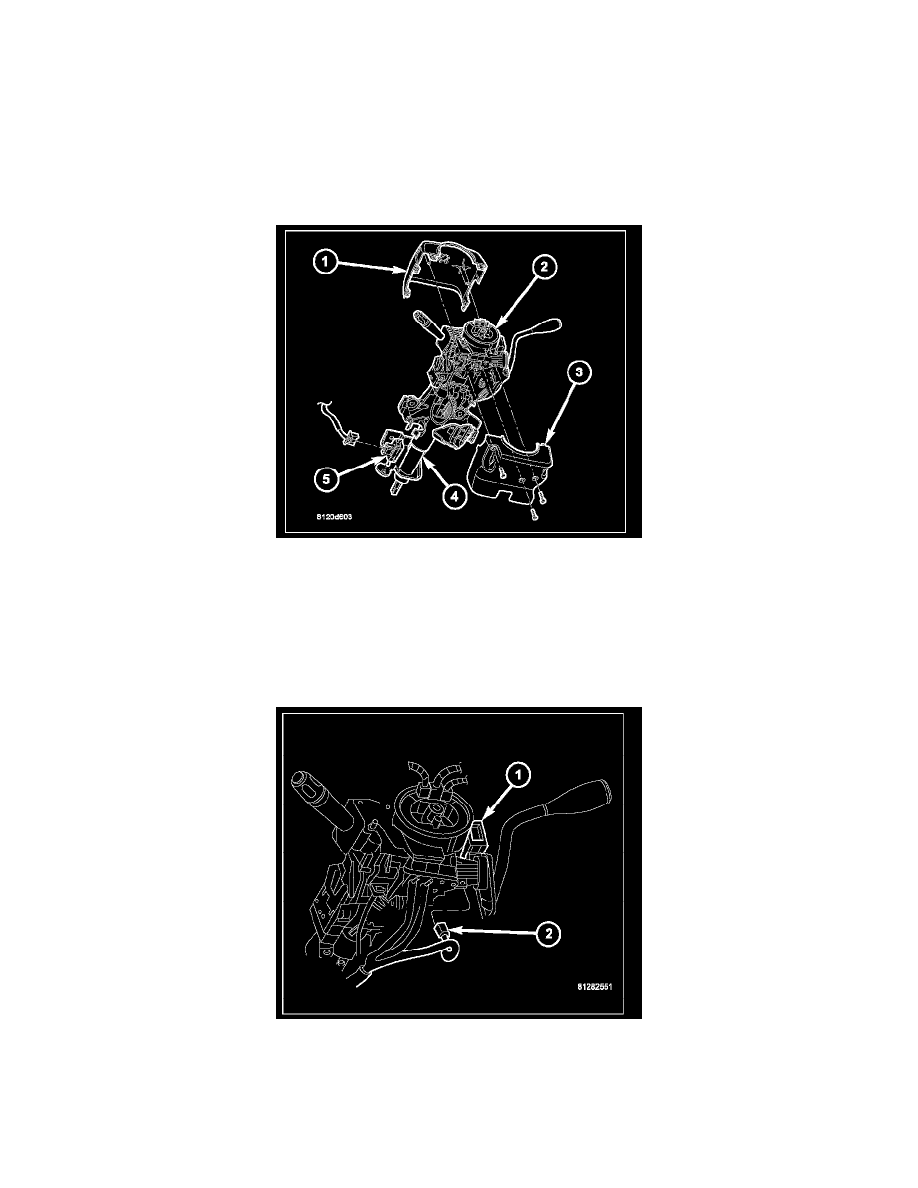 Alarm Module: Service and Repair
WARNING:  TO AVOID PERSONAL INJURY OR DEATH, ON VEHICLES EQUIPPED WITH AIRBAGS, DISABLE THE
SUPPLEMENTAL RESTRAINT SYSTEM BEFORE ATTEMPTING ANY STEERING WHEEL, STEERING COLUMN, AIRBAG,
OCCUPANT CLASSIFICATION SYSTEM, SEAT BELT TENSIONER, IMPACT SENSOR, OR INSTRUMENT PANEL COMPONENT
DIAGNOSIS OR SERVICE. DISCONNECT AND ISOLATE THE BATTERY NEGATIVE (GROUND) CABLE, THEN WAIT TWO
MINUTES FOR THE SYSTEM CAPACITOR TO DISCHARGE BEFORE PERFORMING FURTHER DIAGNOSIS OR SERVICE. THIS IS
THE ONLY SURE WAY TO DISABLE THE SUPPLEMENTAL RESTRAINT SYSTEM. FAILURE TO TAKE THE PROPER
PRECAUTIONS COULD RESULT IN ACCIDENTAL AIRBAG DEPLOYMENT.
REMOVAL
1. Disconnect and isolate the battery negative cable.
2. Grasp the tilt steering column knob firmly and pull it straight rearward to remove it from the tilt adjuster lever on the left side of the column.
3. From below the steering column, remove the two outboard screws that secure the upper column shroud (1) to the lower shroud (3).
4. Using hand pressure, push gently inward on both sides of the upper shroud above the parting line of the lower shroud to release the snap features
that secure the two shroud halves to each other.
5. Remove the upper shroud from the lower shroud and the steering column.
6. Remove the one center screw that secures the lower shroud to the steering column (4).
7. Remove the lower shroud from the steering column.
8. Disconnect the wire harness connector (2) from the Sentry Key REmote Entry Module (SKREEM) (1).
< PREV PAGE
NEXT PAGE >