< PREV PAGE
NEXT PAGE >
Grand Caravan FWD V6-181 3.0L SOHC (1993)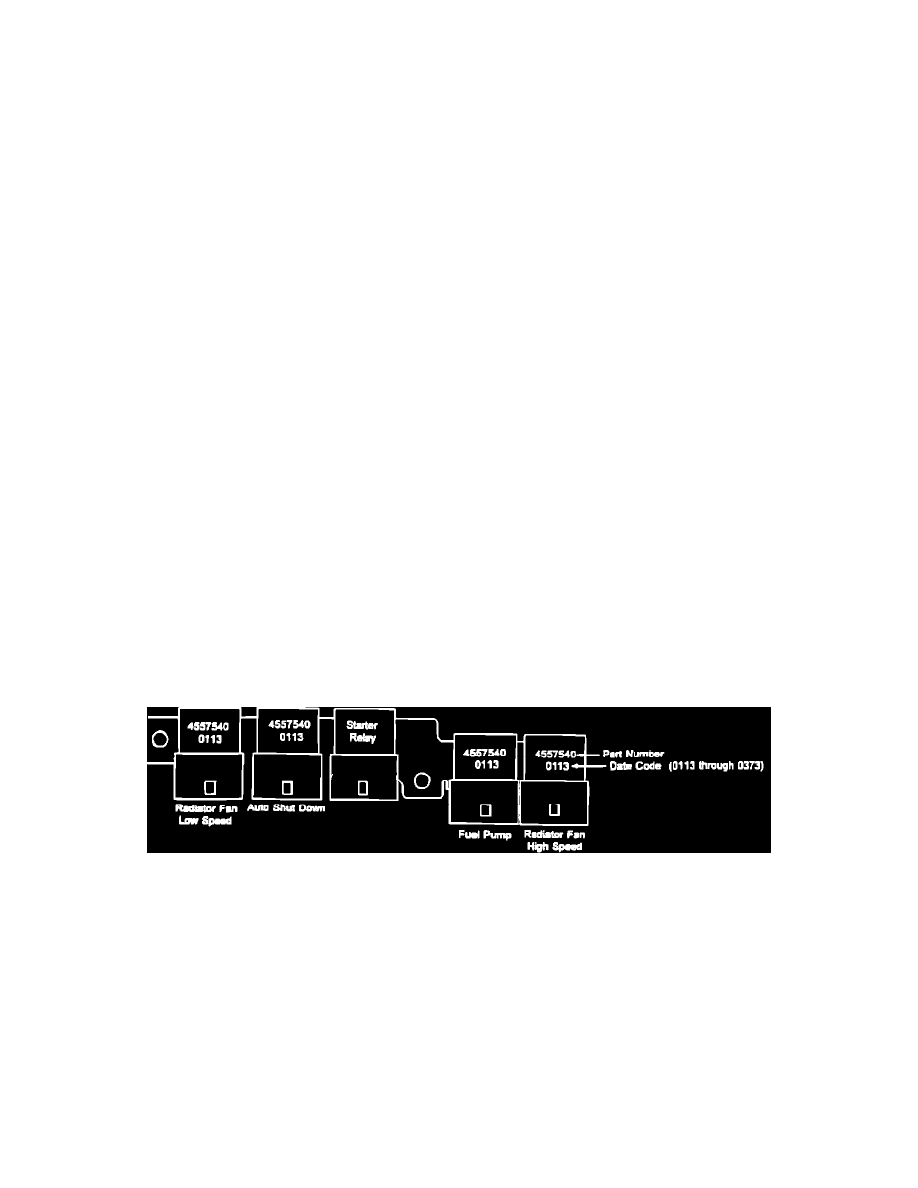 Relay Module: Customer Interest
Multiple Systems Relay - Failures
NO.: 08-50-93
GROUP: Electrical
DATE: Oct. 15, 1993
SUBJECT:
Relay Failures
MODELS:
1993 (AS) Caravan/Grand Caravan/Caravan CV
Voyager/Grand Voyager/Town & Country
NOTE:
THIS BULLETIN APPLIES TO VEHICLES BUILT BETWEEN FEB. 9, 1993 AND MAR. 26, 1993 (MDH 0209xx THROUGH 0326xx).
SYMPTOM/CONDITION:
The relays listed below may become inoperative on AS model vehicles built within the above MDH range. Listed below are the applications and
associated symptom(s) for the suspect relays:
Auto Shutdown Relay
- Engine will not start.
Fuel Pump Relay
- Engine will not start.
Radiator Fan Low Speed Relay
- A/C does not cool (Compressor Clutch does not 
engage), Engine operates at a higher than usual 
temperature but does not overheat (Radiator fan 
does not operate at low speed).
Radiator Fan High Speed Relay
- Engine overheats when under heavy load (Radiator 
fan does not operate at high speed), A/C cuts out 
because of high pressure.
DIAGNOSIS:
Locate the five relays and bracket assembly mounted to the left front inner fender. Inspect the four relays labeled with P/N 4557540 for build date codes
0113 (day 11 of 1993) through 0373 (day 37 of 1993). Refer to the illustration in this bulletin. If one or all of the relays build date codes are within the
range described, perform the repair. If the relays build date codes are outside this date code range, repair the vehicle using normal procedures.
PARTS REQUIRED:
AR
Relay
4557540
REPAIR PROCEDURE:
This bulletin involves replacing all P/N 4557540 relays with a build date code of 0113 through 0373.
1.
Remove the two hex head screws attaching the five relays and bracket assembly to the left inner fender.
2.
Disconnect the wiring connectors to the relay(s) with build date code(s) 0113 through 0373.
< PREV PAGE
NEXT PAGE >