< PREV PAGE
NEXT PAGE >
Intrepid V6-2.7L VIN R (2003)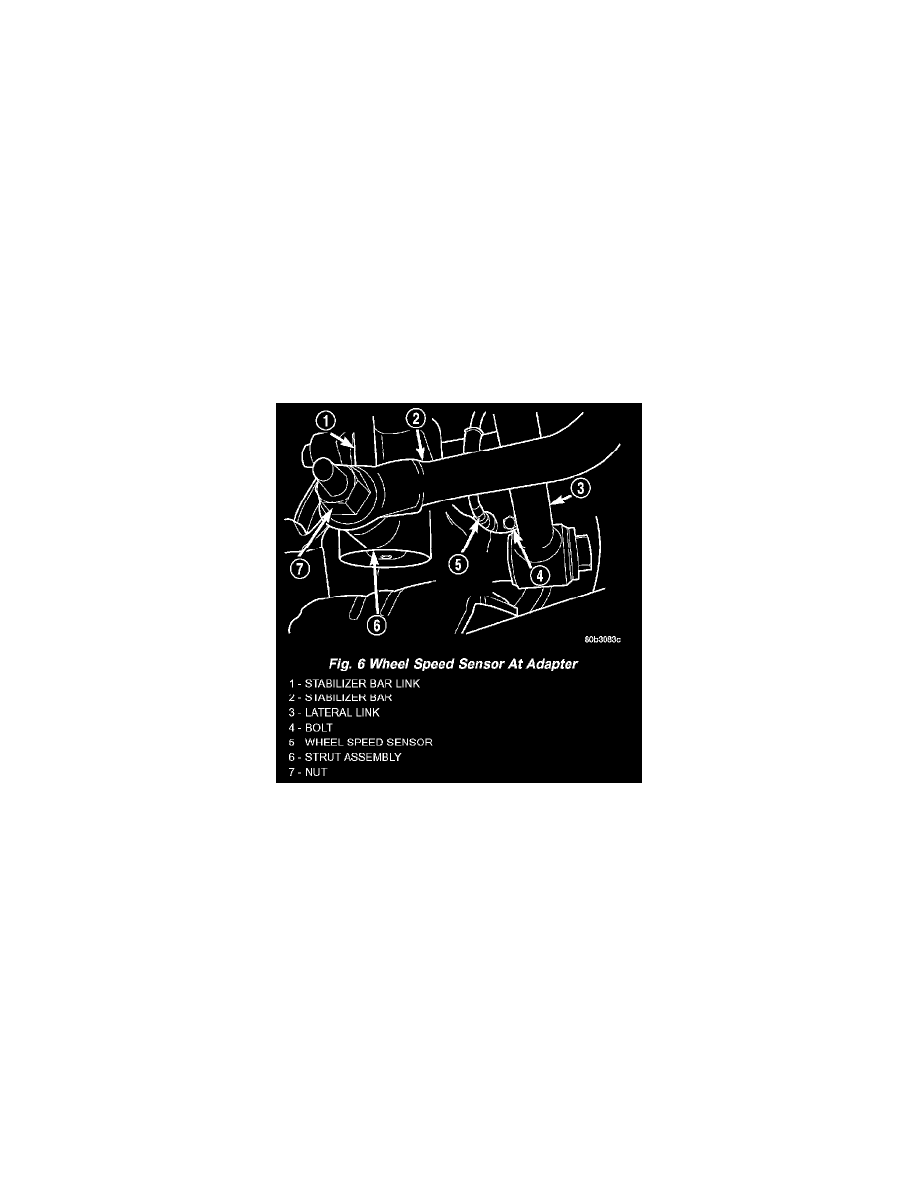 Wheel Speed Sensor: Service and Repair
Rear
REAR WHEEL SPEED SENSOR 
REMOVAL 
NOTE:  When removing rear wheel speed sensor from vehicle, access to the wire harness connector is through the passenger compartment of the
vehicle.
1. Remove the rear seat cushion, and the rear seat back, from the interior of the car.  
2. Disconnect the wheel speed sensor cable from the wire harness
3. Raise vehicle.
4. Remove the rear wheel and tire assembly from the vehicle.
5. Remove the grommet from the floor pan, along with the end of the cable that fastens to the wire harness.
6. Remove the sensor cable from the routing bracket attached to the strut tower flange.
7. Remove the wheel speed sensor head and routing bracket from the disc brake caliper adapter by removing the bolt. then the sensor.
INSTALLATION 
1. Install rear wheel speed sensor and routing bracket into brake caliper adapter. Install head attaching bolt and tighten to 7 Nm (60 inch lbs.). 
2. Install the sensor cable to the routing bracket attached to the strut tower flange.
3. Guide the cable through the hole in the floor pan and install the grommet.
4. Install wheel and tire assembly on vehicle. Then torque all wheel mounting stud nuts in proper sequence until all nuts are torqued to half
specification. Then repeat tightening sequence to full specified torque of 129 Nm (95 ft. lbs.). 
5. Lower vehicle to the ground.
6. Connect the sensor cable to the wiring harness.
7. Reinstall the rear seat back and seat cushion.
8. Road test vehicle to ensure proper operation of the base and ABS systems.
< PREV PAGE
NEXT PAGE >