< PREV PAGE
NEXT PAGE >
Intrepid V6-2.7L VIN R (2003)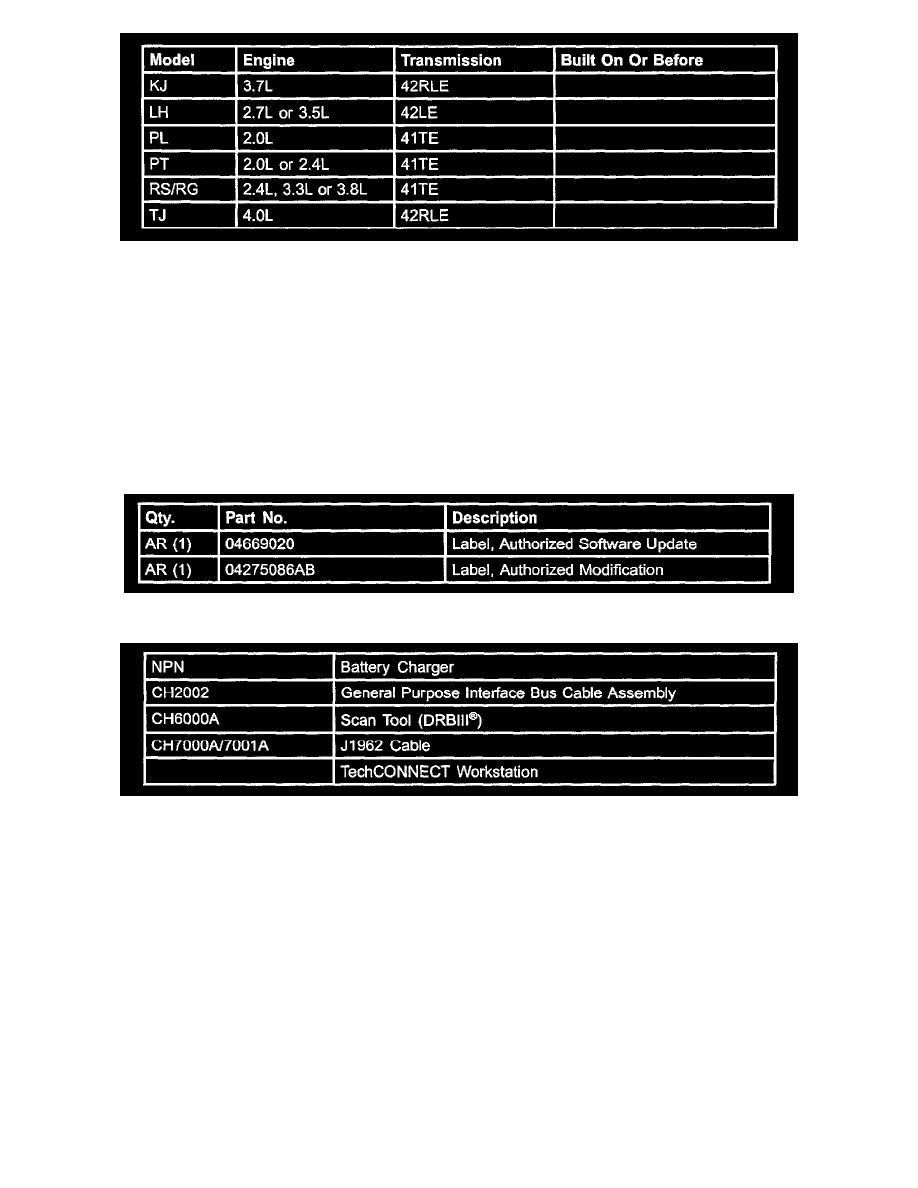 NOTE:
**Refer to the following table for specific applications. **
SYMPTOM/CONDITION:
Vehicle may exhibit, after an extended soak (several hours), a harsh 4-3 downshift.
DIAGNOSIS:
Using a Scan Tool (DRBIII(R)) with the appropriate Diagnostic Procedures, verify all engine systems are functioning as designed. If DTCs are present
record them on the repair order and repair as necessary before proceeding further with this bulletin
If the vehicle operator describes the Symptom/Condition, perform the Repair Procedure.
PARTS REQUIRED:
EQUIPMENT REQUIRED:
NOTE:
**An updated J1962 cable has been released. This cable has a red colored connector at the DRBIII(R) connection. Use this cable whenever a flash is
being preformed.**
REPAIR PROCEDURE:
1.
Check the transmission fluid level. If fluid level is full proceed to step 2. If fluid level is low, diagnose and repair fluid leak. Proceed to step 2.
NOTE:
Whenever a PCM/TCM is replaced or reprogrammed, the software in the controller and DRBIII(R) must be verified as having the latest revision
level. If a controller software update flash is available, complete the flash and labeling requirement as directed in the appropriate service bulletin
identified on the TechCONNECT.
2.
Connect a battery charger and set as close to 14 volts charge as possible.
3.
Flash the controller using the TechCONNECT and DRBIII(R).
< PREV PAGE
NEXT PAGE >