< PREV PAGE
NEXT PAGE >
Magnum V8-5.7L VIN 2 (2007)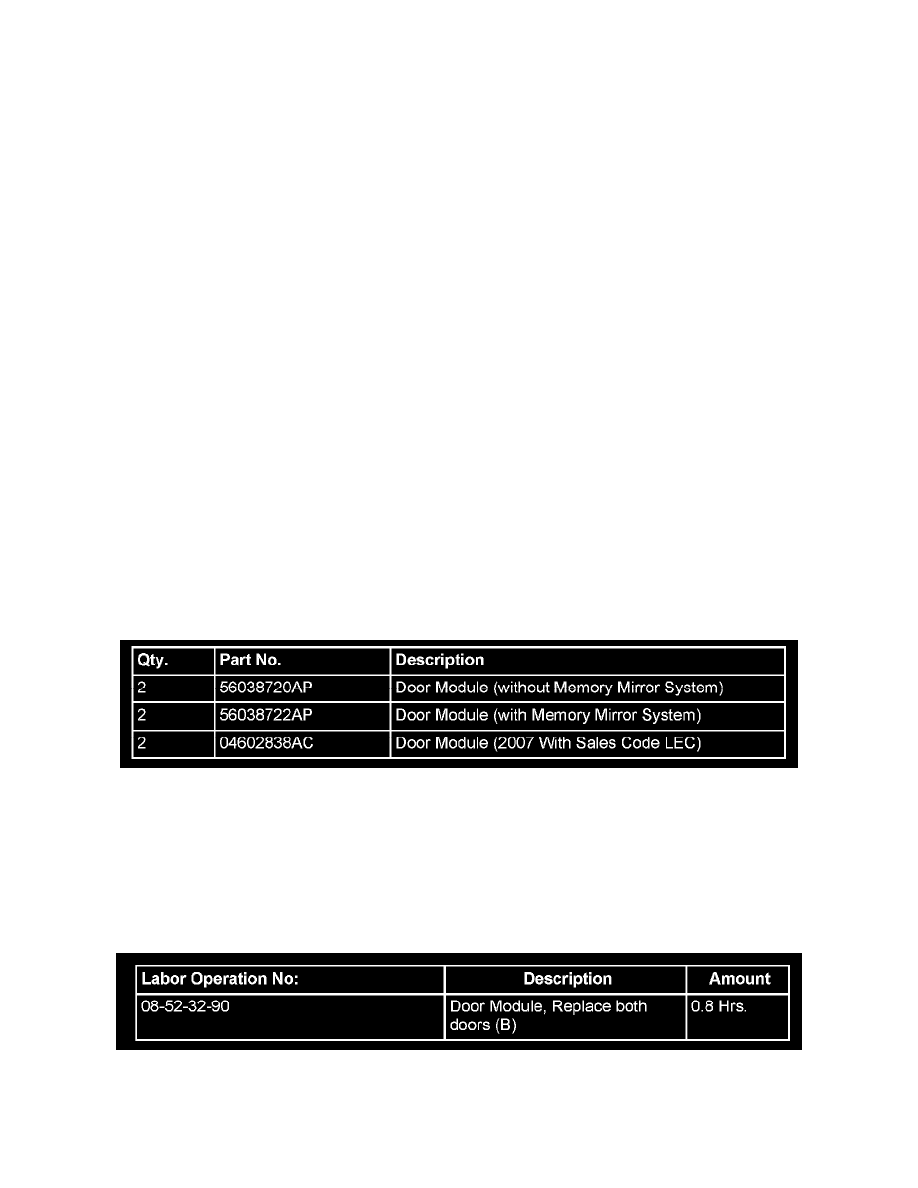 Door Module: Customer Interest
Body - Power Window 'Express Up' Feature Inoperative
NUMBER: 08-011-07 REV. A
GROUP: Electrical
DATE: June 26, 2007
THIS BULLETIN SUPERSEDES TECHNICAL SERVICE BULLETIN 08-011-07, DATED MAY 18, 2007, WHICH SHOULD BE REMOVED
FROM YOUR FILES. ALL REVISIONS ARE HIGHLIGHTED WITH **ASTERISKS** AND INCLUDES AN ADDITIONAL VEHICLE WITH
CLEAN DATES.
SUBJECT:
Inoperative Power Window Express Up Feature
OVERVIEW:
This bulletin involves replacing both door modules.
MODELS:
2005 - 2007
(LX)
Charger/Magnum/300
**2006 - 2007
(LE)
300C/300C Touring (International Markets)**
NOTE:
**This bulletin applies to LX models built before March 1, 2007 (MDH0301XX) and LE models built before May 24, 2007 (MDH0524XX)**.
SYMPTOM/CONDITION:
The express up feature in the power window system may be inoperative or intermittently inoperative.
DIAGNOSIS:
If a customer indicates that the condition is present, perform the Repair Procedure.
PARTS REQUIRED:
REPAIR PROCEDURE:
1.
Using the procedures outlined in the Service Information available on TechCONNECT, Group 8, Electronic Control Modules, remove both door
modules and install the new door modules listed in the "Parts Required section.
POLICY:
Reimbursable within the provisions of the warranty.
TIME ALLOWANCE:
< PREV PAGE
NEXT PAGE >