< PREV PAGE
NEXT PAGE >
Neon L4-2.0L SOHC (1995)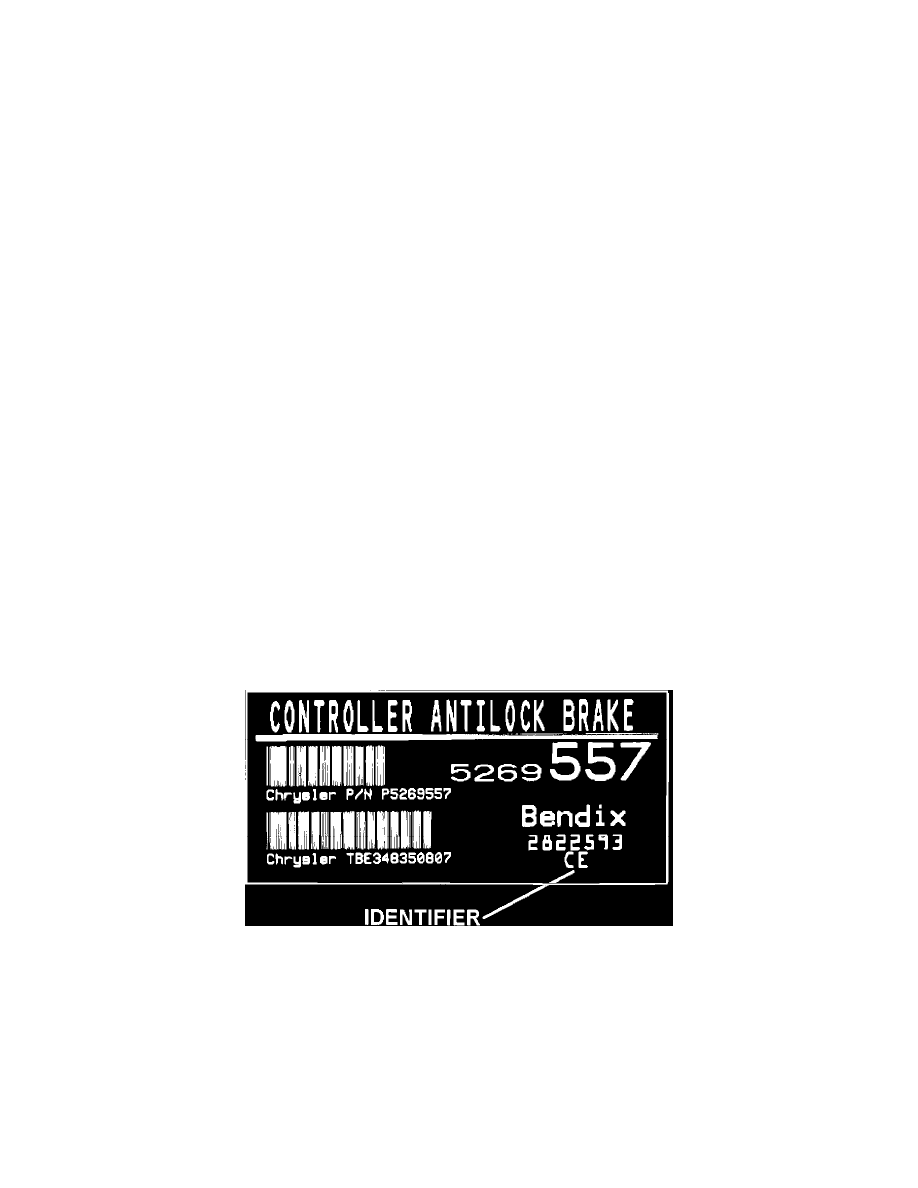 ABS Control Module: Customer Interest
ABS - Warning Lamp ON
NO: 05-02-94
GROUP: Brakes
DATE: Feb. 4, 1994
SUBJECT:
ABS Warning Lamp Illuminated
MODELS:
1995 (PL) Neon
NOTE:
THIS BULLETIN APPLIES TO VEHICLES EQUIPPED WITH ABX-4 ANTILOCK BRAKES BUILT PRIOR TO 1/17/94, MDH 01-17-XX.
SYMPTOM/CONDITION:
Illumination of ABS warning lamp without any prior symptoms of improper antilock brake operation. With the lamp illuminated, the antilock brake
feature is disabled and normal power brake operation will be fully functional. The lamp will stay illuminated until the next key cycle.
DIAGNOSIS:
Using the Mopar Diagnostic System or the Scan Tool (DRB III), with the 1995 Bendix ABX-4 Antilock Brake System Diagnostic Procedure Manual
(Publication No. 81-699-0420), check for Diagnostic Trouble Codes (DTC). If a "Modulator Circuit" code is set, proceed to Test 2A. If no problems are
found, proceed with the following repair procedure.
PARTS REQUIRED:
1
5269557
Controller, Antilock Brake (CAB)
REPAIR PROCEDURE:
This bulletin involves replacing the CAB with a revised part.
1.
Replace the CAB with revised P/N 5269557 as outlined in the 1995 Neon Service Manual (Publication No. 81-270-5025), Pg. 5-89.
NOTE:
THE LABEL ON THE NEW CONTROLLER MUST HAVE THE LETTER "CE" BELOW THE BENDIX PART NUMBER, SEE
ILLUSTRATION.
POLICY:
Reimbursable within the provisions of the warranty.
TIME ALLOWANCE:
Labor Operation No.
08-19-10-91
0.4 Hrs.
FAILURE CODE: P8 - New Part
< PREV PAGE
NEXT PAGE >