NEXT PAGE >
Neon L4-2.0L VIN F HO (2003)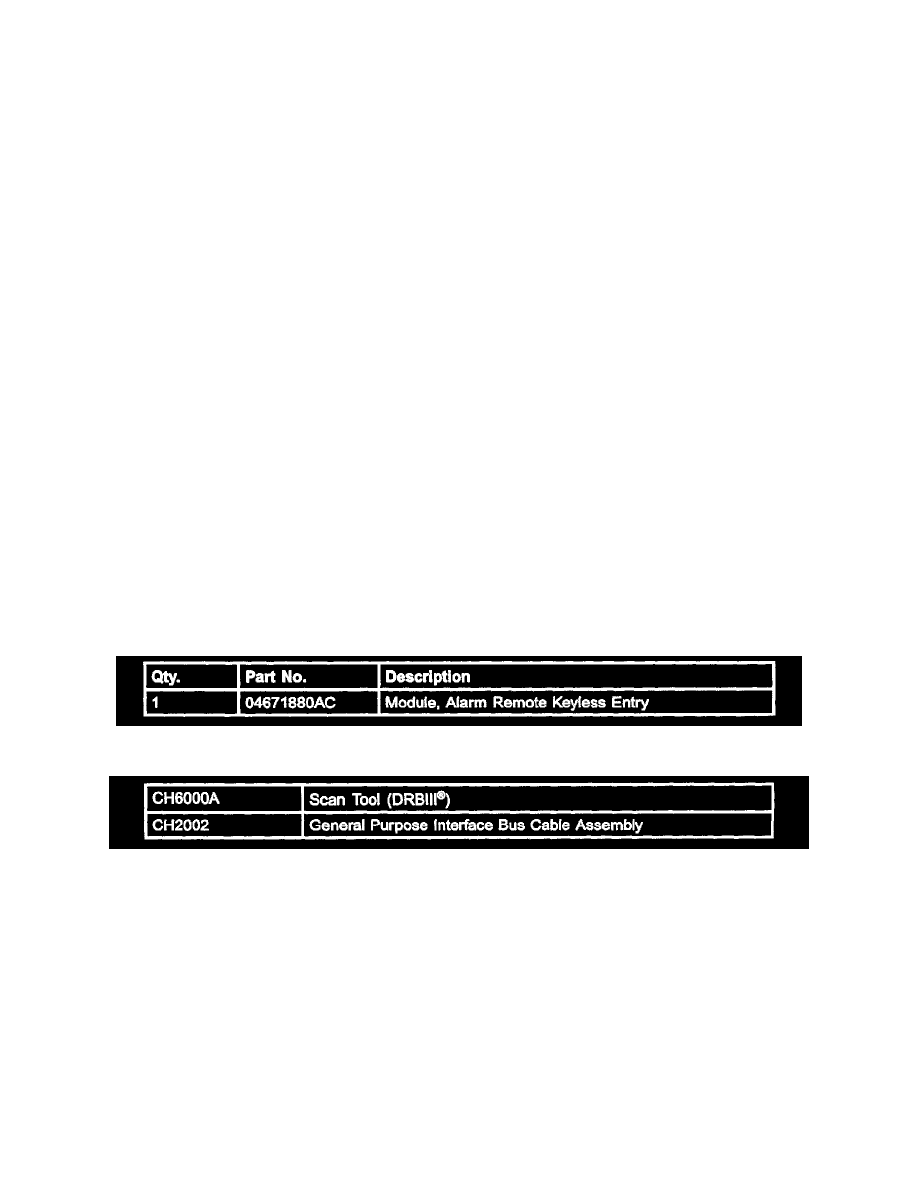 Alarm Module: Customer Interest
Alarm System - Inadvertent Siren Activation
NUMBER: 08-012-03
GROUP: Electrical
DATE: Apr. 25, 2003
THIS BULLETIN IS BEING PROVIDED IN ADVANCE. DO NOT ORDER PARTS OR PERFORM ANY ACTIONS RELATED TO THIS
BULLETIN UNTIL MAY 9, 2003.
SUBJECT:
Inadvertent Siren Activation
OVERVIEW:
This bulletin involves replacing and configuring an Alarm Remote Keyless Entry Module (ARKEM).
MODELS:
2002
(PG)
PT Cruiser (International Markets)
2000 - 2003
(PL)
NEON (International Markets)
2001 - 2003
(PT)
PT Cruiser (International Markets)
NOTE:
THIS BULLETIN APPLIES TO VEHICLES EQUIPPED WITH A THATCHAM ALARM, SALES CODE LSC.
SYMPTOM/CONDITION:
Customer may describe inadvertent siren activation or security alarm activates for no apparent reason, can happen at any time.
DIAGNOSIS:
If this condition can be duplicated or customer describes this condition, perform the Repair Procedure.
PARTS REQUIRED:
EQUIPMENT REQUIRED:
REPAIR PROCEDURE:
NOTE:
AFTER INSTALLING A NEW ARKEM (RKE) MODULE IT MUST BE CONFIGURED USING THE DRBIII(R) SCAN TOOL AS
DESCRIBED BELOW. THE DRBIII(R) SCAN TOOL MUST BE OPERATING AT LEVEL 56.0 OR HIGHER.
1.
Replace the ARKEM (RKE) module as described in the appropriate service manual.
2.
Hook up the DRBIII(R) Scan Tool to the Data Link Connector (DLC).
3.
With the key in the ignition, turn the key to the RUN position.
4.
After the DRBIII(R) Scan Tool initialization, perform the following:
NEXT PAGE >