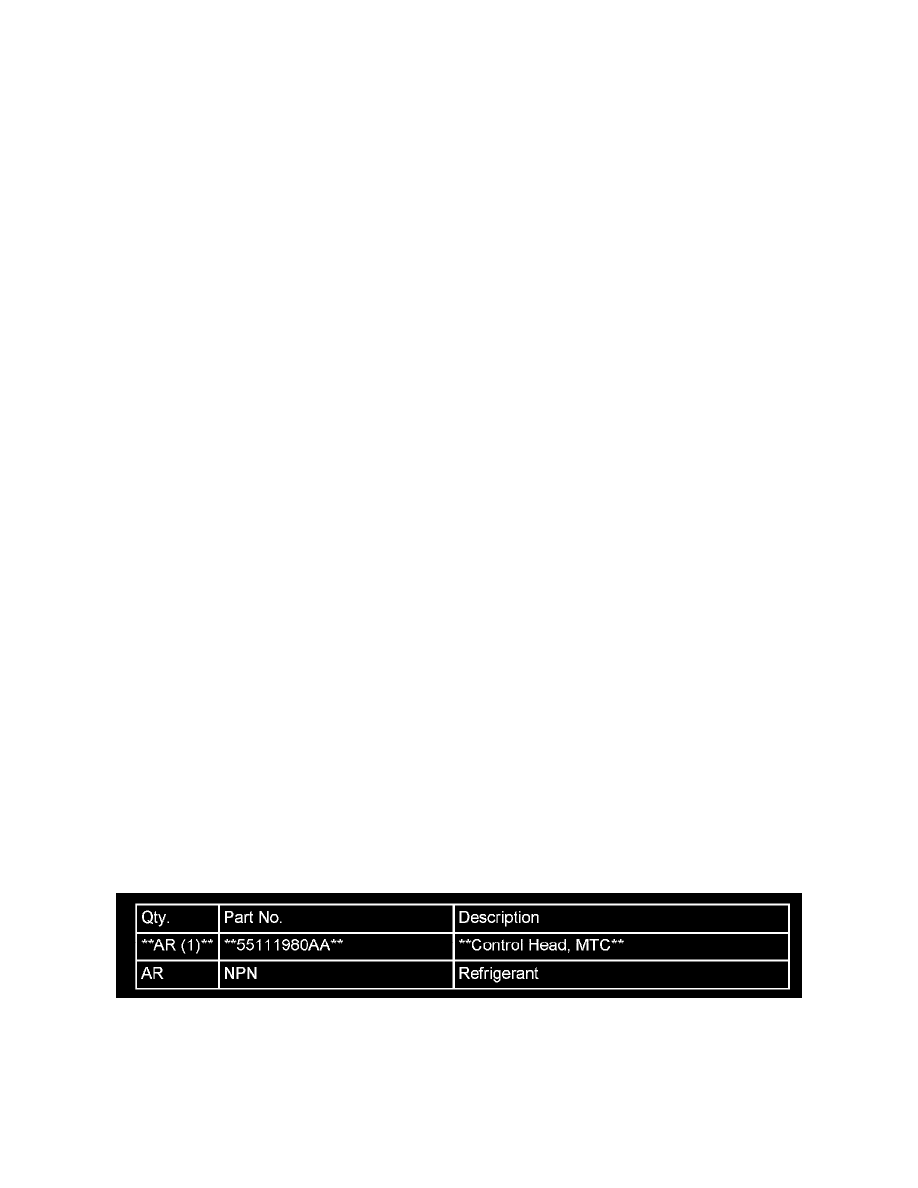 Control Module HVAC: Customer Interest
A/C - Not Cooling/Poor Performance
NUMBER: 24-007-08 REV. A
GROUP: Heating & Air Conditioning
DATE: October 29, 2008
THIS BULLETIN SUPERSEDES TECHNICAL SERVICE BULLETIN 24-007-08, DATED AUGUST 9, 2008. ALL REVISIONS ARE
HIGHLIGHTED WITH **ASTERISKS** AND INCLUDE AN ADDITIONAL MODEL YEAR.
StarSCAN(R) SOFTWARE LEVEL MUST BE AT RELEASE 9.030R HIGHER.
StarMOBILE(R) DESKTOP CLIENT MAY ALSO BE USED TO PERFORM THIS PROCEDURE.
SUBJECT:
FLASH: ATC/MTC Poor Performance / Vehicle Not Cooling Enough and/or A/C System Recovery and Recharge
OVERVIEW:
This bulletin involves reprogramming the Automatic Temperature Control Module (ATC) or Manual Temperature Control Module (MTC) -AND/OR-
performing an A/C system recovery and recharge with a revised refrigerant level. **2007 Model Year vehicles require a MTC module replacement.**
MODELS:
**2007** - 2008
(KA)
Nitro
2008
(KK)
Liberty
SYMPTOM/CONDITION:
Some customers may complain that A/C performance is poor and that the A/C is not cooling enough or fails to keep the passenger compartment cool.
This update will provide customers with improved A/C performance.
DIAGNOSIS:
1.
**Is the vehicle a 2007 model year vehicle?
a.
Yes >> Replace the Temperature Control Module with PN 55111884AF. Follow the procedures in TechCONNECT > 24 - Heating & Air
Conditioning > Controls > Control, A/C and Heater > Removal/Installation. Door calibration will be performed automatically once the new
control module detects key on.
b.
No >> Proceed to Step # 2.**
2.
**Is the vehicle build date before May 30, 2008?
a.
Yes >> Perform the Flash Repair Procedure and A/C system recovery and recharge.
b.
No >> For vehicles built between May 30, 2008 and before July 2, 2008, perform Step 7 of the Repair Procedure.**
PARTS REQUIRED: