NEXT PAGE >
< PREV PAGE
RAM 1500 Truck 4WD V8-5.9L VIN Z (2002)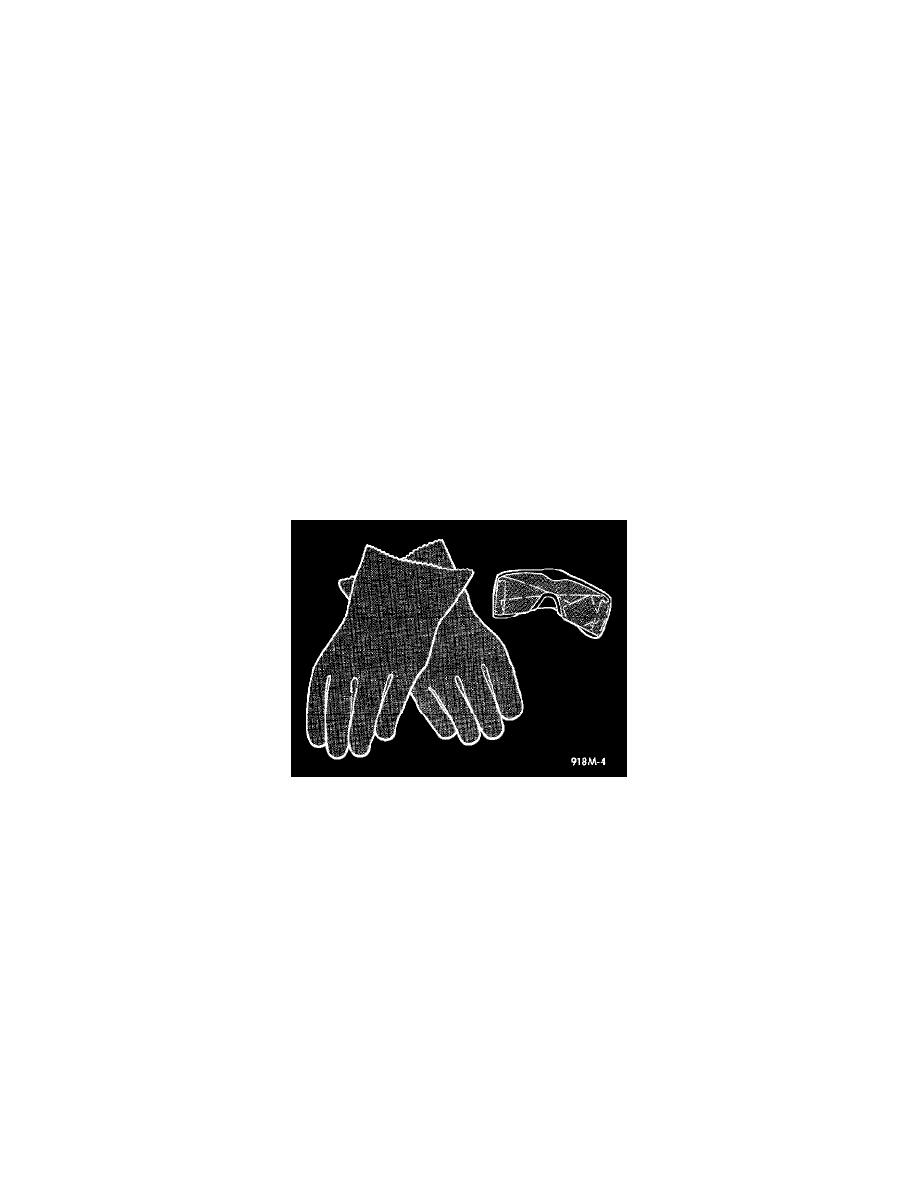 Repairs and Inspections Required After a Collision: Service and Repair
Air Bag System
SUPPLEMENTAL RESTRAINT SYSTEM
WARNING: ON VEHICLES EQUIPPED WITH AIRBAGS, DISABLE THE SUPPLEMENTAL RESTRAINT SYSTEM BEFORE
ATTEMPTING ANY STEERING WHEEL, STEERING COLUMN, DRIVER AIRBAG, PASSENGER AIRBAG, SEAT BELT
TENSIONER, SIDE CURTAIN AIRBAG, OR INSTRUMENT PANEL COMPONENT DIAGNOSIS OR SERVICE.
DISCONNECT AND ISOLATE THE BATTERY NEGATIVE (GROUND) CABLE, THEN WAIT TWO MINUTES FOR THE
SYSTEM CAPACITOR TO DISCHARGE BEFORE PERFORMING FURTHER DIAGNOSIS OR SERVICE. THIS IS THE
ONLY SURE WAY TO DISABLE THE SUPPLEMENTAL RESTRAINT SYSTEM. FAILURE TO TAKE THE PROPER
PRECAUTIONS COULD RESULT IN ACCIDENTAL AIRBAG DEPLOYMENT AND POSSIBLE PERSONAL INJURY.
STANDARD PROCEDURE - SERVICE AFTER A SUPPLEMENTAL RESTRAINT DEPLOYMENT
Any vehicle which is to be returned to use following a supplemental restraint deployment, must have the deployed restraints replaced. In addition, if the
driver airbag has been deployed, the clockspring must be replaced. If the passenger airbag is deployed, the passenger airbag door must be replaced. The 
seat belt tensioners are deployed by the same signal that deploys the driver and passenger airbags and must also be replaced if either front airbag has
been deployed. If a side curtain airbag has been deployed, the complete airbag unit, the headliner, as well as the upper A, B, and C-pillar trim must be
replaced. These components are not intended for reuse and will be damaged or weakened as a result of a supplemental restraint deployment, which may
or may not be obvious during a visual inspection.
It is also critical that the mounting surfaces and/or mounting brackets for the Airbag Control Module (ACM) and Side Impact Airbag Control Module (
SIACM) be closely inspected and restored to their original conditions following any vehicle impact damage. Because the ACM and SIACM each contain
impact sensors that are used by the supplemental restraint system to monitor or confirm the direction and severity of a vehicle impact, improper
orientation or insecure fastening of these components may cause airbags not to deploy when required, or to deploy when not required. All other vehicle
components should be closely inspected following any other supplemental restraint deployment, but are to be replaced only as required by the extent of
the visible damage incurred.
Wear Safety Glasses and Rubber Gloves - Typical
Cleanup Procedure
Following a supplemental restraint deployment, the vehicle interior will contain a powdery residue. This residue consists primarily of harmless
particulate by-products of the small pyrotechnic charge that initiates the propellant used to deploy a supplemental restraint. However, this residue may
also contain traces of sodium hydroxide powder, a chemical by-product of the propellant material that is used to generate the inert gas that inflates the 
airbag. Since sodium hydroxide powder can irritate the skin, eyes, nose, or throat, be certain to wear safety glasses, rubber gloves, and a long-sleeved
shirt during cleanup.
WARNING: IF YOU EXPERIENCE SKIN IRRITATION DURING CLEANUP, RUN COOL WATER OVER THE AFFECTED AREA.
ALSO, IF YOU EXPERIENCE IRRITATION OF THE NOSE OR THROAT, EXIT THE VEHICLE FOR FRESH AIR UNTIL
THE IRRITATION CEASES. IF IRRITATION CONTINUES, SEE A PHYSICIAN.
1. Begin the cleanup by using a vacuum cleaner to remove any residual powder from the vehicle interior. Clean from outside the vehicle and work
your way inside, so that you avoid kneeling or sitting on a non-cleaned area.
NEXT PAGE >
< PREV PAGE