< PREV PAGE
NEXT PAGE >
RAM 1500 Van V8-5.9L VIN Z LDC (2001)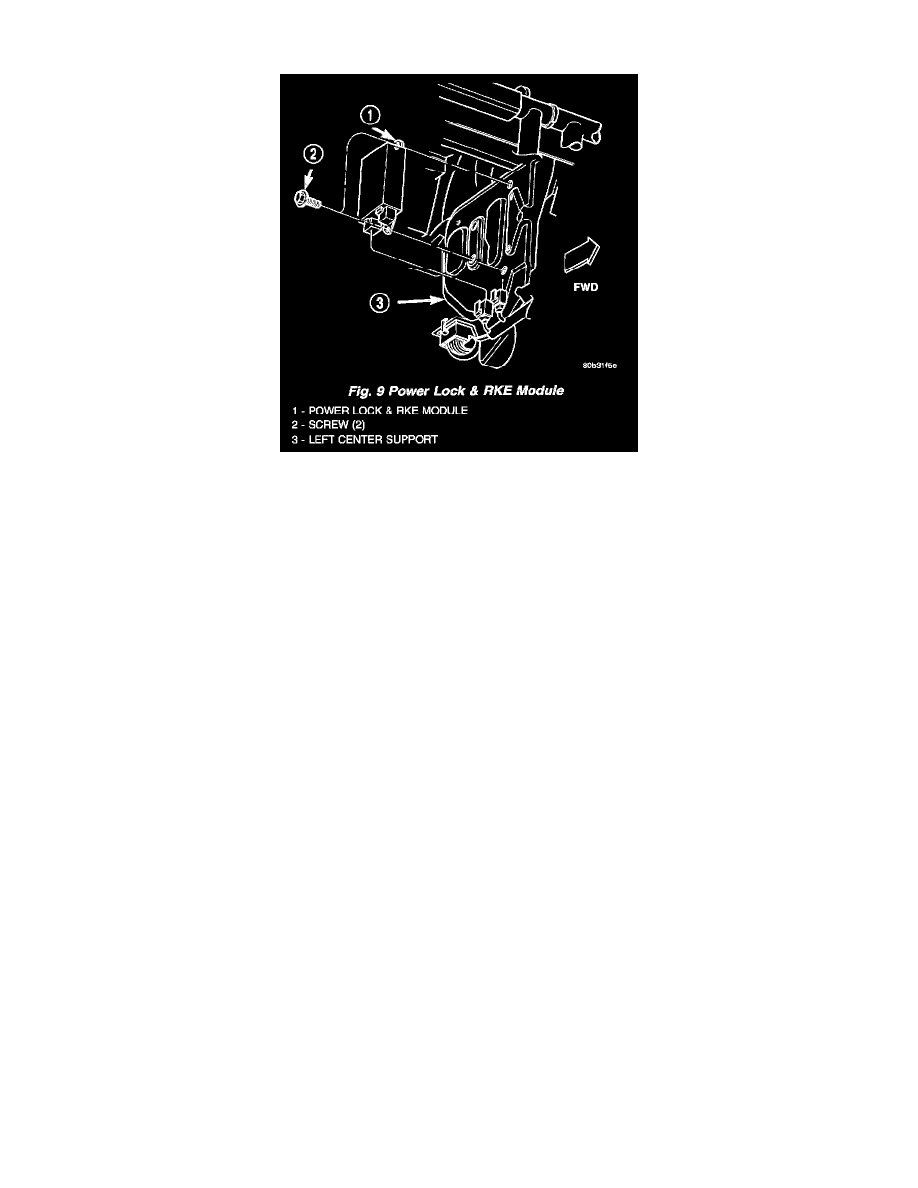 Keyless Entry Module: Description and Operation
Fig. 9 Power Lock & RKE Module
POWER LOCK & REMOTE KEYLESS ENTRY MODULE
The power lock and Remote Keyless Entry (RKE) module is used on models that are not equipped with the optional Vehicle Theft Security
System (VTSS). This module is secured with two screws to the inboard side of the left center instrument panel support above the engine housing.
The module contains a Radio Frequency (RF) receiver and integrated circuitry to control all of the power lock and RKE system features. The RKE
receiver has a memory function to retain the vehicle access code of at least one, but no more than two transmitters. The RKE receiver is designed
to retain the transmitter codes in memory, even if the battery is disconnected.
The power lock and RKE module provides an illuminated entry feature, which turns ON the courtesy lamps for a timed interval (about thirty-five
seconds), when the power locks are unlocked using the RKE transmitter. The module also provides a delay lock feature which, if a side or rear
door is still open when a lock request is received by the module, will automatically cycle all of the power lock motors to the lock position five
seconds after all of the doors are closed.
The power lock and RKE module cannot be adjusted or repaired and, if faulty or damaged, it must be replaced.
The power lock and Remote Keyless Entry module is connected to the vehicle electrical system through two take outs and connectors of the
instrument panel wire harness. The module operates on battery current received through a non-switched fused B(+) circuit so the power lock and
RKE systems remain functional at all times. The module receives inputs from the ignition switch, the power door lock switches, and both the side
and rear door ajar switches. It also receives the Radio Frequency (RF) signal inputs from the RKE transmitter. In response to those inputs, it is
programmed to control outputs to the power lock motors and the courtesy lamp circuits.
Because of the active electronic elements within the power lock and RKE module, it cannot be tested with conventional automotive electrical test
equipment. If the module is believed to be faulty, test the hard wired power lock system inputs to and outputs from the module. Then replace the
module with a known good unit to confirm system operation.
< PREV PAGE
NEXT PAGE >