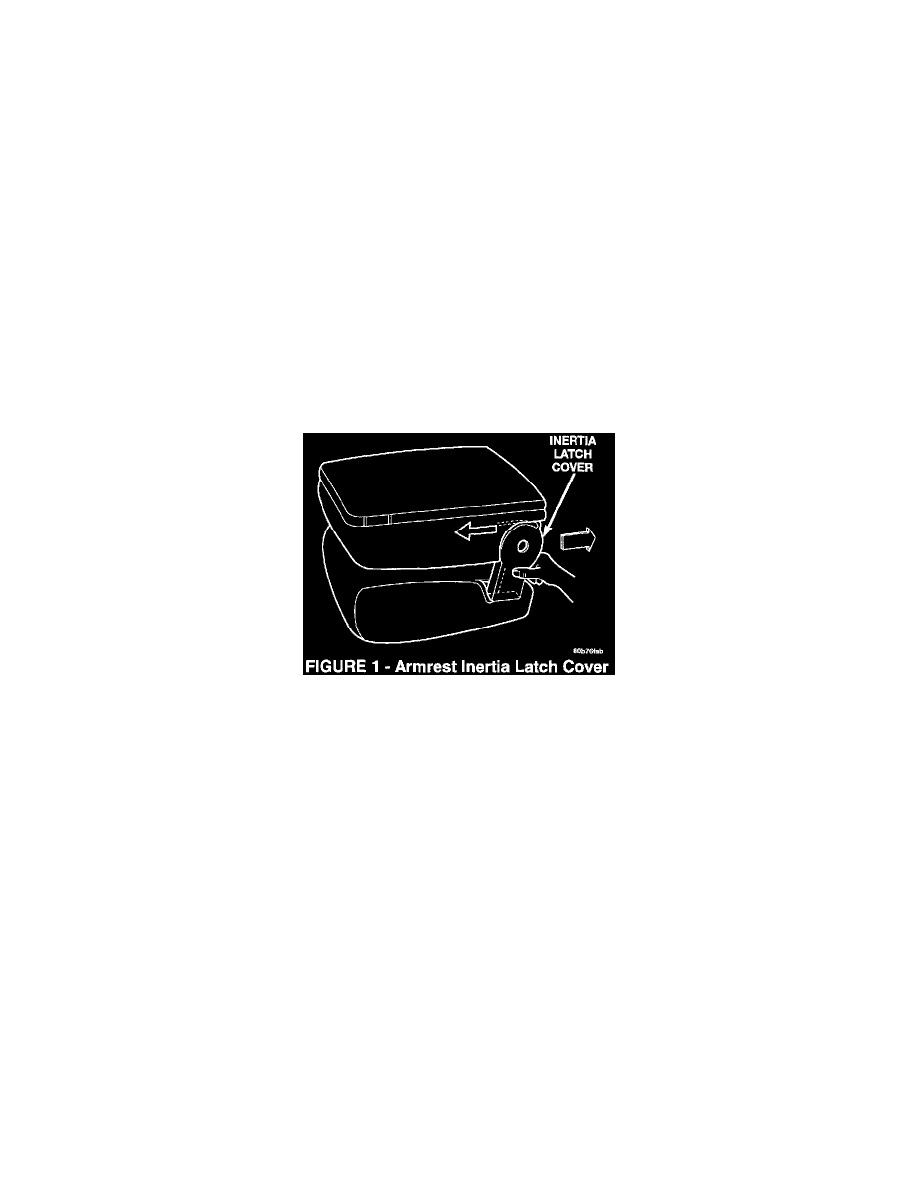 Technical Service Bulletin # 23-17-98
Date: 980501
Center Armrest Hinge Cover - Broken
NO.: 23-17-98
GROUP: Body
DATE: May 1, 1998
SUBJECT:
Center Armrest Driver Side
Hinge Cover Broken
NOTE:
THIS REPAIR IS COMPATIBLE WITH CHRYSLER'S MOBILE SERVICE PROGRAM AND DOES NOT REQUIRE HOISTS OTHER FULL
SERVICE FACILITY SPECIAL EQUIPMENT.
MODELS:
1994 - 1998 (BR/BE) Ram Truck
SYMPTOM/CONDITION:
The center armrest upper inertia latch cover (driver side hinge cover) is broken.
DIAGNOSIS:
Inspect the center armrest inertia latch/hinge cover (Figure 1) on the driver side of the armrest at the rear flange for a cracked or broken condition. If the
upper strap becomes bent, cracked, broken, or comes out of the track, there may be resistance when raising and lowering the armrest. If the upper strap is
bent, cracked, broken, or comes out of the track, perform the Repair Procedures as shown.
PARTS REQUIRED:
1
04773419
Cover, Inertia Latch
POLICY: Reimbursable within the provisions of the warranty.
TIME ALLOWANCE:
Labor Operation No:
23-14-19-90
0.2 Hrs.
FAILURE CODE: P8 - New Part
Repair Procedure
This bulletin involves installing a new inertia latch cover.
1.
Move the driver seat to a full forward position with the seat back full forward.
2.
Place the center armrest in the up position.
3.
Remove the screw securing the cover to the inertia latch.