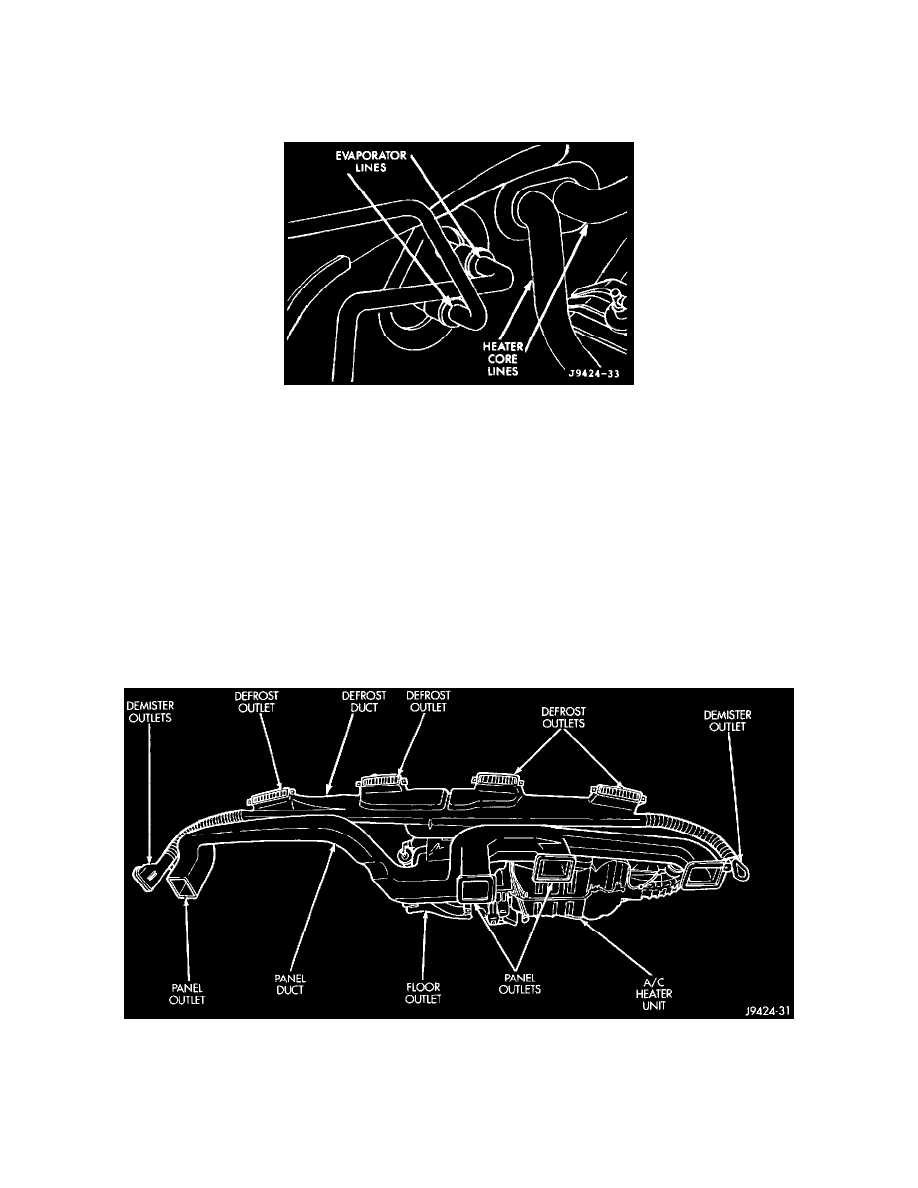 Housing Assembly HVAC: Service and Repair
This procedure may require the removal and installation of the instrument panel and/or some its components.  For these procedures. Refer to:  Body and
Frame, Interior Trim, Dashboard/Instrument Panel, Service and Repair, Instrument Panel Assembly Replacement, See: Body and Frame/Interior
Moulding / Trim/Dashboard / Instrument Panel/Service and Repair/Instrument Panel Assembly Replacement
Fig 45  Evaporator And Heater Core Lines
REMOVAL
1. Disconnect and isolate the battery negative cable.
2. Recover the refrigerant from the refrigerant system. Refer to:  Heating and Air Conditioning, Service and Repair, Refrigerant Recovery, See:
Service and Repair/Refrigerant Recovery
3. Disconnect the refrigerant lines from the evaporator tubes. Install plugs in, or tape over all of the open refrigerant fittings.
4. Drain the cooling system.
5. Disconnect the heater hoses from the heater core tubes.
6. Remove the coolant reserve/overflow bottle.
7. Remove the Powertrain Control Module )PCM) and set it aside. Do not unplug the PCM wire harness connectors.
8. Remove the nuts that secure the heater-A/C housing mounting studs on the engine compartment side of the dash panel.
9. Remove the instrument panel, Refer to:  Body and Frame, Interior Trim, Dashboard/Instrument Panel, Service and Repair, Instrument
Panel Assembly Replacement, See: Body and Frame/Interior Moulding / Trim/Dashboard / Instrument Panel/Service and Repair/Instrument
Panel Assembly Replacement
Fig 46  Defroster Duct
10. Remove the defroster duct from the heater- A/C housing.
11. Unplug the heater-A/C housing wire harness connectors.