Alarm System - Erroneous Horn Chirp/Alarm Siren|Page 12 >
RAM 3500 Truck 2WD L6-5.9L DSL Turbo VIN 7 (2002)
Relays and Modules
Relays and Modules - Accessories and Optional Equipment
Alarm Module, (Vehicle Antitheft)
Component Information
Technical Service Bulletins
Customer Interest for Alarm Module:
08-016-02
Sep
02
Alarm System - Erroneous Horn Chirp/Alarm Siren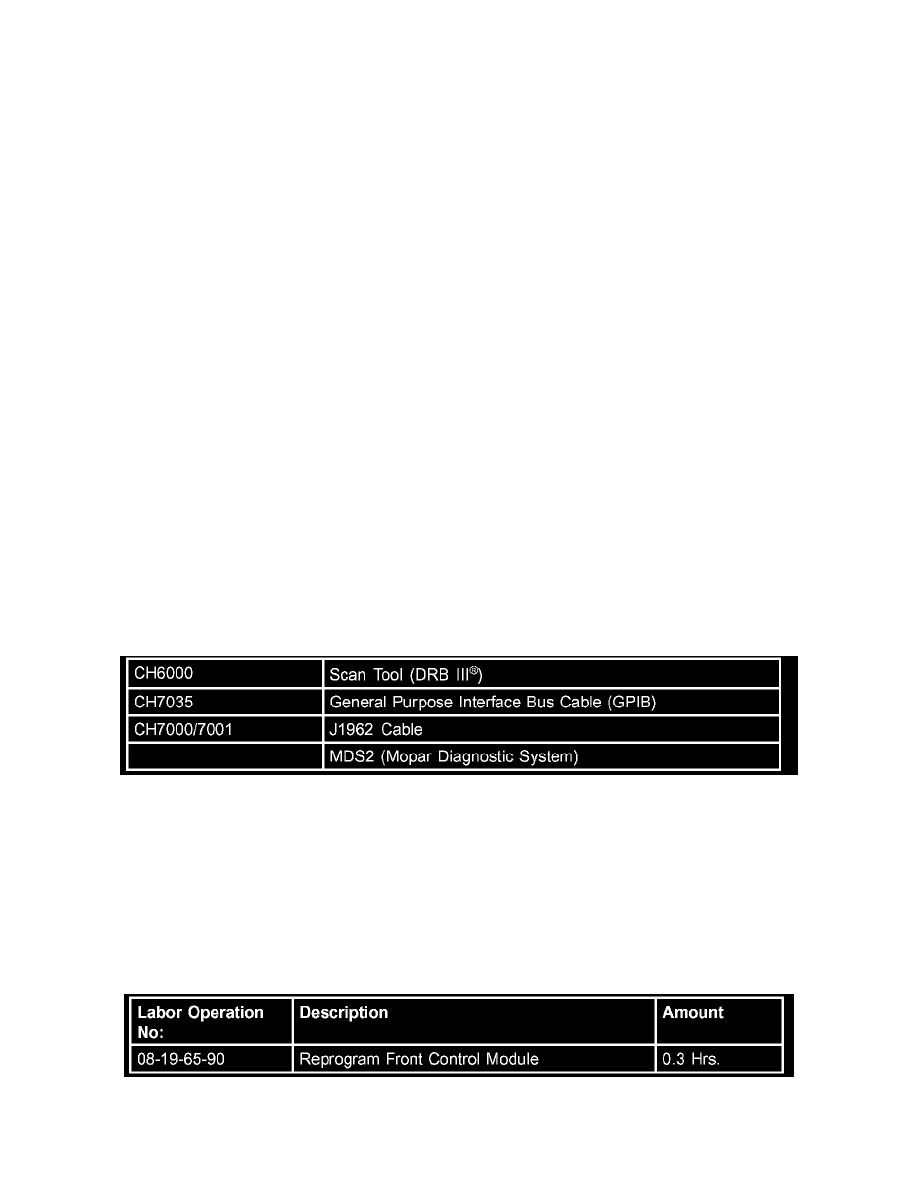 Alarm Module: Customer Interest
Alarm System - Erroneous Horn Chirp/Alarm Siren
NUMBER: 08-016-02
GROUP: Electrical
DATE: September 2, 2002
SUBJECT:
Horn Chirp and Erroneous Alarm
OVERVIEW:
This bulletin involves reprogramming the Forward Control Module (FCM)
MODELS:
2002 - 2003 (DR) Ram Truck
SYMPTOM/CONDITION:
Two conditions have been identified which could be caused by electronic communication errors between the Forward Controller Module (FCM) and
other electronic modules on the vehicle:
The first condition can occur after a vehicle has been turned off and allowed to sit for more than a three minutes. A very brief horn chirp can sometimes
be heard when a door is opened. When the engine is turned off the electronic modules continue to function, or stay awake for two to three minutes after
shut down. After two to three minutes of inactivity the modules deactivate or go into a sleep mode. When a door is opened, the modules are activated or
wake up. The brief horn chirp will occur at the time the modules wake up or when the door is opened. This can occur due to a communication error in
the FCM. The second condition involves vehicles NOT equipped with Vehicle Theft Security System (VTSS) exhibiting an alarm with the horn
sounding and lights flashing. This can also be caused by communication errors involving the FCM.
Both of these condition have been corrected with software revisions in the FCM. Reprogramming the FCM with the latest software revision (version 5.4)
will correct the conditions.
DIAGNOSIS:
If the vehicles exhibit either of the conditions described above, perform the Repair Procedure and reprogram the Front Controller Module (FCM).
EQUIPMENT REQUIRED
REPAIR PROCEDURE:
1.
Connect a Battery Charger and set as close to 14 volts charge as possible.
2.
Flash reprogram the Front Controller Module (FCM) using the MDS2 (Mopar Diagnostic System) and the DRBIII(R) (Scan Tool). The FCM
software must be version 5.4 or later.
POLICY:
Reimbursable within the provisions of the warranty.
TIME ALLOWANCE
Relays and Modules
Relays and Modules - Accessories and Optional Equipment
Alarm Module, (Vehicle Antitheft)
Component Information
Technical Service Bulletins
Customer Interest for Alarm Module:
08-016-02
Sep
02
Alarm System - Erroneous Horn Chirp/Alarm Siren
Alarm System - Erroneous Horn Chirp/Alarm Siren|Page 12 >