< PREV PAGE
NEXT PAGE >
RAM 3500 HD Truck 4WD L6-6.7L DSL Turbo VIN A (2007)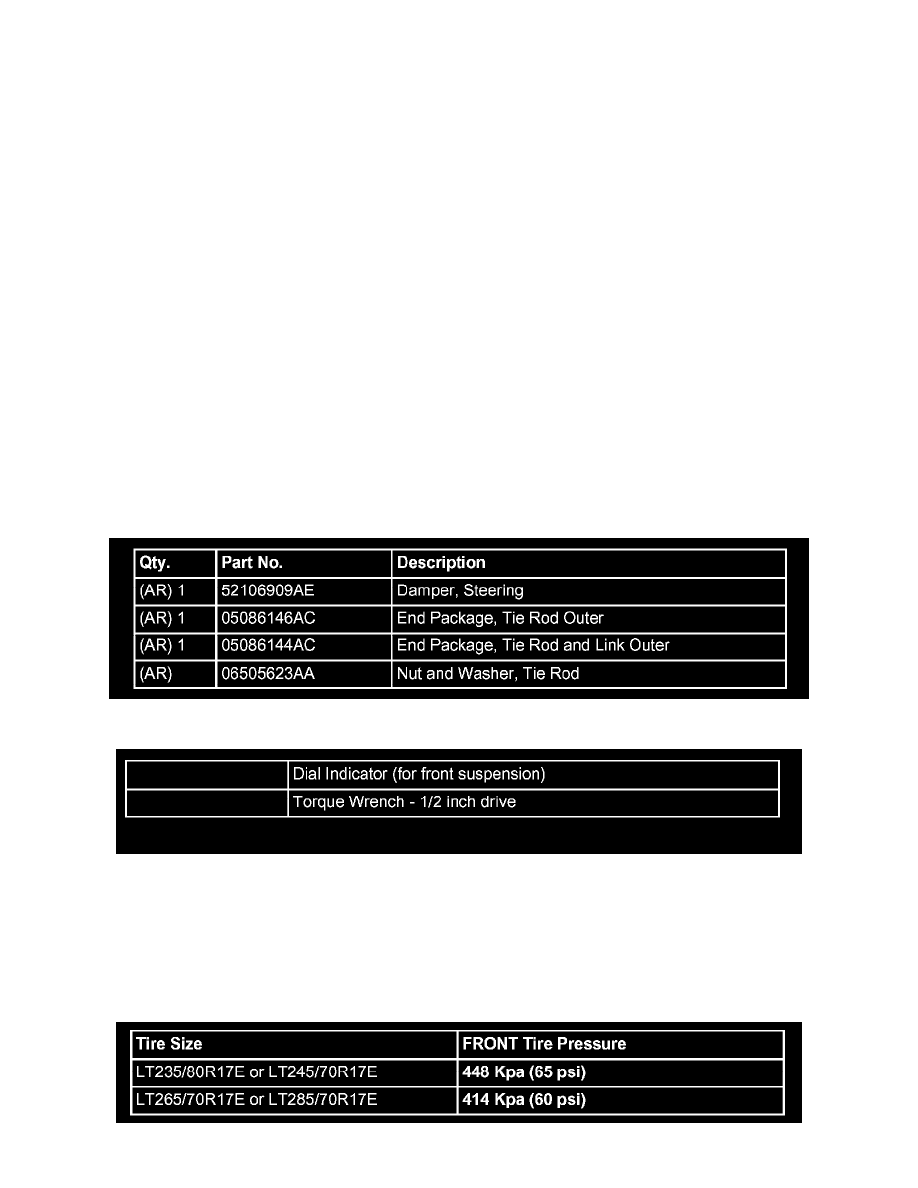 Alignment: Customer Interest
Steering - Front End Shimmy On Rough Roads
NUMBER: 22-005-06
GROUP: Tire & Wheels
DATE: October 07, 2006
SUBJECT:
Front End Shimmy On 4x4 Vehicles When Traveling Over Rough Surfaces In The Road
OVERVIEW:
This bulletin involves verifying the condition of the vehicle front suspension and steering components, and adjusting the front tire pressure.
MODELS:
2003 - 2007
(DR/DH/D1/DC)
Ram Truck (2500/3500)
NOTE: 
This bulletin applies to four wheel drive (4x4) 2500 and 3500 model vehicles.
SYMPTOM/CONDITION:
The customer may experience a self sustaining vibration (shimmy) felt in the front end of the vehicle after striking a bump or pothole.
DIAGNOSIS:
If the customer experiences the above condition perform the Repair Procedure.
PARTS REQUIRED:
SPECIAL TOOLS/EQUIPMENT REQUIRED:
REPAIR PROCEDURE:
1.
Raise the vehicle on an alignment rack (drive-on lift).
2.
Verify the road tires are correctly sized and the tire tread is not excessively worn. Replace any worn tire before proceeding. Any new or old
replacement tire should be equal to the original tires that came with the vehicle when it was new. Tire wear is not covered by the vehicle warranty.
< PREV PAGE
NEXT PAGE >