< PREV PAGE
NEXT PAGE >
Bronco L6-300 4.9L VIN Y 1-bbl (1983)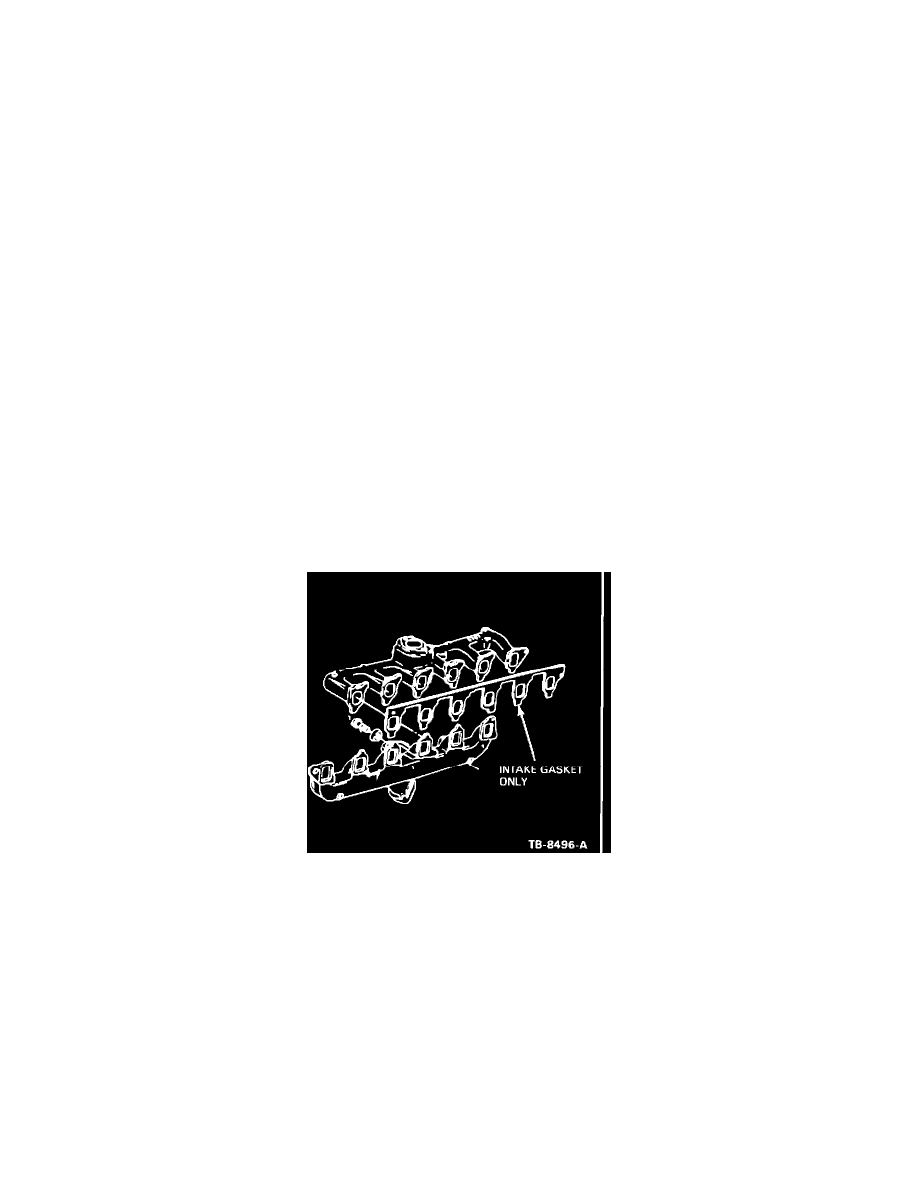 Exhaust Manifold Gasket: Technical Service Bulletins
Exhaust Manifold - Installation Procedure Revision
Article No. 86-6-23
EXHAUST MANIFOLD (REVISED) INSTALLATION PROCEDURE (4.9L)
LIGHT TRUCK 1976-86 E, F, P SERIES, BRONCO
Exhaust manifold gaskets (including one-piece intakeexhaust manifold gaskets) must not be used when replacing an exhaust manifold. Premature
cracking or warping of the manifold can result if the gasket is used.
When a gasket is used, it insulates the exhaust manifold from the cylinder block. The heat from the manifold then cannot be dissipated to the cylinder
block. So the manifold cracks or warps from the excess heat.
Perform the following procedure when replacing an exhaust manifold.
1.
Clean the mating surfaces of the cylinder heads and manifolds.
2.
If one of the manifolds is to be replaced, remove the tube fittings from the discarded manifold and install them in the new manifold, as required.
3.
If a new exhaust manifold is installed, a new choke insert and adaptor must be used.
4.
Replace the choke tubes if they are rusted.
5.
If the intake and exhaust manifolds have been separated, coat the mating surfaces lightly with graphite grease (C3AZ-19578-A).
6.
Install two new bolts (part number 390530-S2) and a stud (part number 390528-S2) in the intake manifold.
7.
Assemble the exhaust manifold to the intake manifold using the lock washers and nuts. Tighten them only finger-tight. The final torque will be
performed in Step 12.
Figure 22
8.
Install a new intake manifold gasket (C5AZ-9461- A). The combination intake/exhaust gasket is NOT to be used on a new exhaust manifold. (See
Figure 22)
9.
Coat mating surfaces lightly with graphite grease. Place the manifold assemblies in position against the cylinder head. Make sure that the intake
manifold gaskets have not become dislodged.
10.
Install new attaching washer clamps, bolts, nuts and studs.
< PREV PAGE
NEXT PAGE >