< PREV PAGE
NEXT PAGE >
Bronco L6-300 4.9L VIN Y 1-bbl (1983)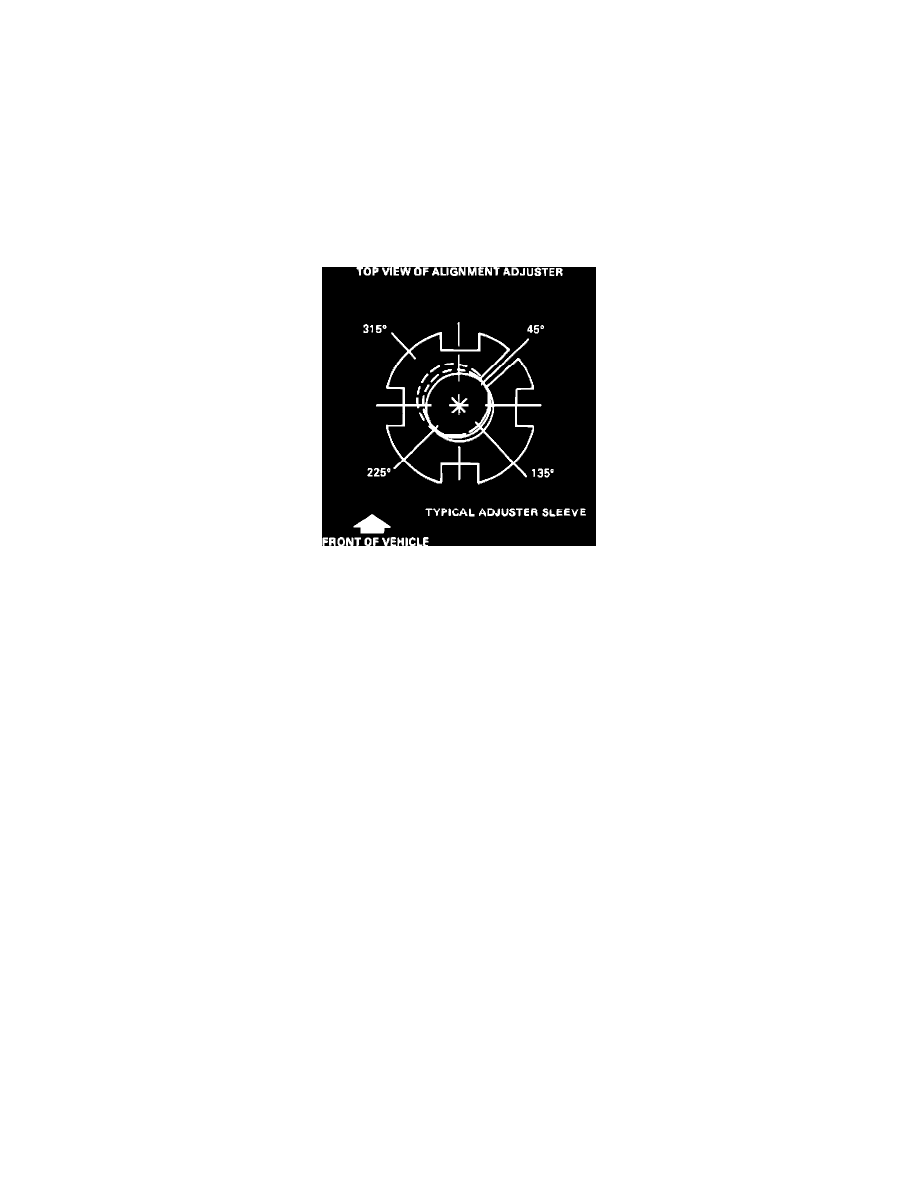 Alignment: Customer Interest
Steering - Pull or Drift
Article No. 89-21-10
^
STEERING - PULL OR DRIFT - CASTER SPLIT - NEW
SERVICE ADJUSTERS - 4X4 MODELS
^
SUSPENSION - FRONT - NEW SERVICE CASTER ADJUSTERS - 4X4 MODELS
LIGHT TRUCK:
1980-89 BRONCO, F-150, F-250, F-350 1983-89 RANGER 1984-89 BRONCO II
Figure 1
This TSB article is being republished in its entirety to correct the service parts for the Caster Adjusters.
ISSUE:
Two new alignment adjusters are now available for service. These new parts provide one degree of caster adjustment along with one degree
of camber. Steering pull may be caused by caster split. The affected trucks are 4x4 Twin Traction Beam vehicles.
ACTION:
Use the following procedure to determine the position of the service adjuster sleeve. Refer to the appropriate Light Truck Shop Manual,
Section 14-21 for installation details.
The new alignment adjusters are similiar to the current camber adjusters. The one exception is the rotational position of the adjuster sleeve to obtain the
desired adjustment.
ADJUSTER SLEEVE APPLICATION FOR RANGER BRONCO II, BRONCO, AND F-150
1.
Measure and record the alignment readings.
2.
Determine what alignment adjuster sleeves are on the truck.
NOTE:
IF AFTERMARKET ADJUSTER SLEEVES HAVE BEEN INSTALLED, IT WILL BE NECESSARY TO FIND OUT WHAT CASTER
AND CAMBER SLEEVES WERE USED.
If the adjuster sleeve is not marked or cannot be identified, install a 0 degree adjuster sleeve to use as a reference point.
3.
Determine what adjuster sleeve change is required. Take your desired alignment (what you want to end up with) and compare it to the readings
taken in Step 1 to determine the change.
4.
Pick the adjuster sleeve that will get you the closest to the desired alignment.
5.
Install and position the adjuster sleeve, Figure
1.
Refer to the appropriate Light Truck Shop Manual, Section 14-21 for service details. See the following caster adjuster sleeve chart and
camber adjuster sleeve chart for the correct service parts.
CAMBER ADJUSTER SLEEVE APPLICATION CHART
< PREV PAGE
NEXT PAGE >