< PREV PAGE
NEXT PAGE >
Bronco L6-300 4.9L VIN Y 1-bbl (1983)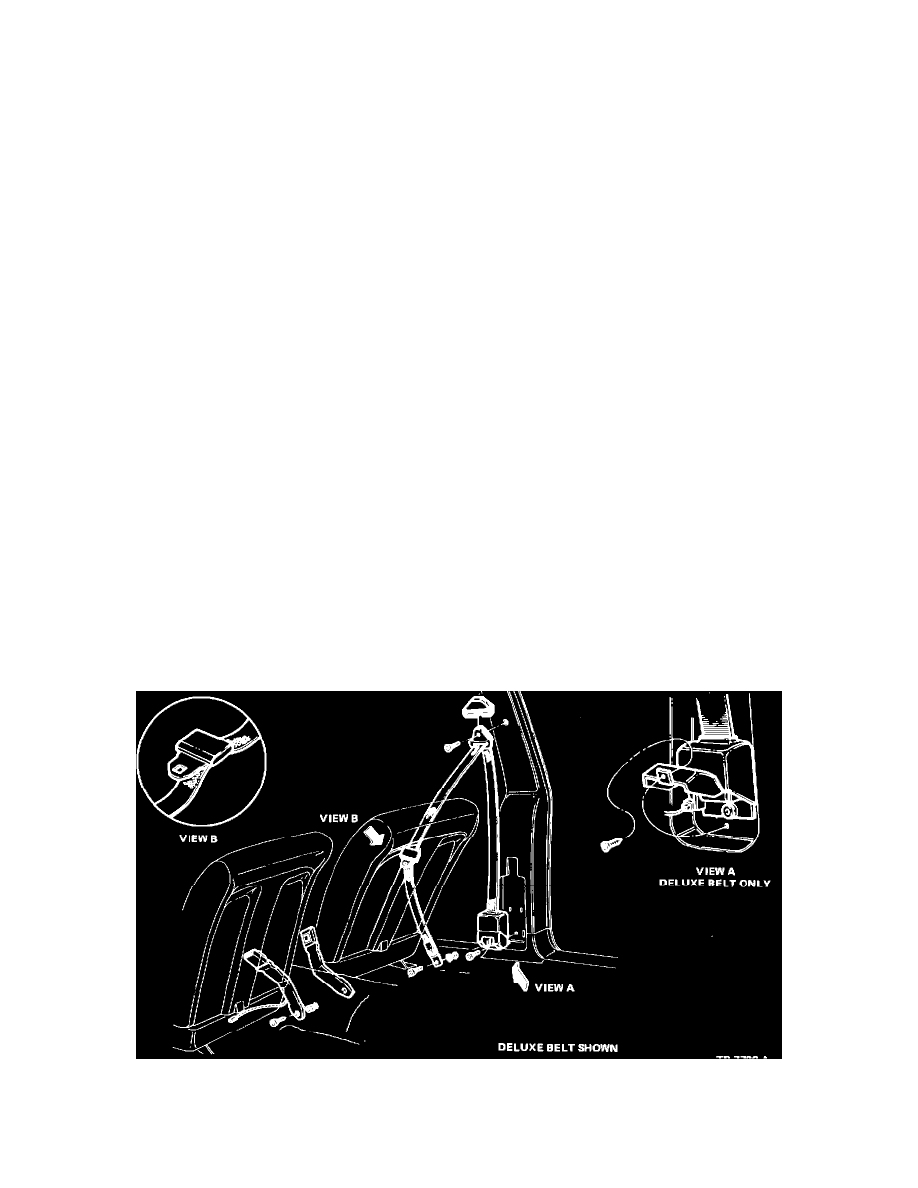 Technical Service Bulletin # 8524
Date: 850124
Seat/Shoulder Belts - General Service Information
Article No. 85-2-4
SEAT/SHOULDER BELTS - GENERAL SERVICE INFORMATION
FORD ALL - 1974-85
LINCOLN-MERCURY ALL - 1974-85
LIGHT TRUCKS ALL - 1974-85
MEDIUM/HEAVY TRUCKS ALL - 1974-85
The States of New York, New Jersey and Illinois recently enacted a mandatory seat belt usage law. With these laws and impending similar belt usage
legislation in other states, dealers can expect customer inquiries regarding seat belts. The following information is being published in an effort to
refamiliarize dealership service personnel with seat and shoulder belt systems utilized over the past several model years. Previous Service Recall and
TSB articles pertaining to seat belt usage and servicing are also included.
Section 1 -Identification of Seat Belt System Types For Model Years 1974-1985
There are three distinct types of seat belt systems. Two of the systems are three-point anchoring systems. One three-point system has dual retractors; one
retractor for the lap and one for the shoulder belt. The other three-point system is the continuous loop single retractor system for the lap and shoulder
belts. The third system is a two-point system that contains a lap belt only which is used for rear seat and front center passenger restraint.
Continuous Loop Three-Point System The continuous loop system has a moveable tongue on the front outboard lap/shoulder belt and only one retractor.
Dual Retractor Three-Point System
The dual retractor system has a fixed tongue on the front outboard lap/shoulder belt. (Note that on the Econoline for 1982-85 model years, the two
retractors are on one frame attached to the seat pedestal.)
Front Center/Rear Seat Two-Point System A 2-point system provides a lap belt only and applies to the front seat center position and all rear seat
positions. Rear outboard belts are equipped with retractors, while front and rear center belts are not.
A.Continuous Loop Three-Point Shoulder/Lap Belt - System With Moveable Tongue and One
Retractor - 1976 to Present Cars and Ligh
Figure 5
The continuous loop three-point system (Figure 5) is used for front outboard passengers. The outboard lap/shoulder belt uses a common moveable
tongue. To fasten the seat belt, the tongue is inserted into the inboard buckle. The webbing of the lap belt is anchored to the side of the body without a
< PREV PAGE
NEXT PAGE >