< PREV PAGE
NEXT PAGE >
Crown Victoria V8-4.6L SOHC VIN 6 (1996)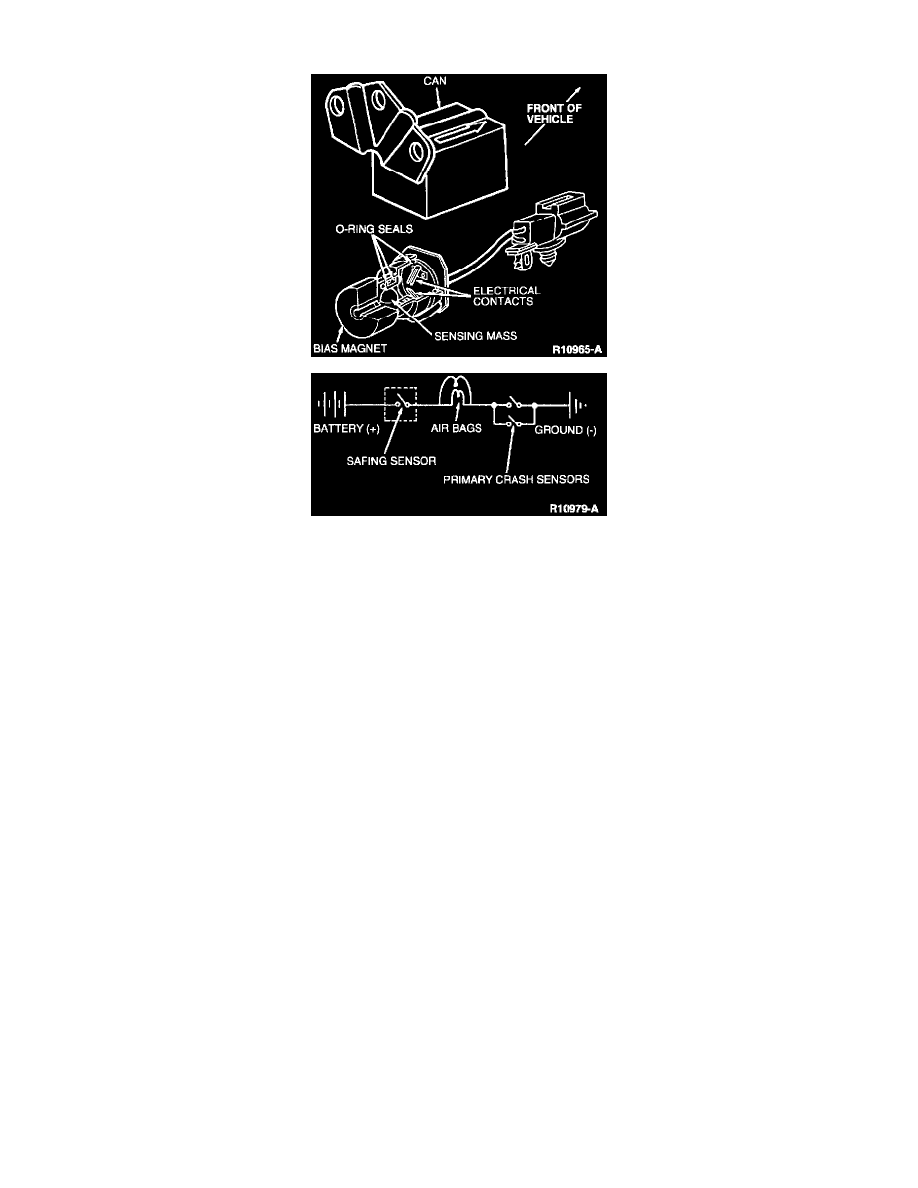 Safing Sensor: Description and Operation
Sensors
The sensor is an electrical switch which operates as follows:
-
It reacts to impacts according to direction and force.
-
It discriminates between impacts that require air bag inflation and impacts that do not require air bag inflation.
-
When an impact occurs that requires air bag inflation, the sensor contacts close, completing the electrical circuit necessary for system operation.
Three sensors are mounted in the vehicle. Their locations are as follows:
-
a primary crash front air bag sensor and bracket at the RH front radiator support
-
a primary crash front air bag sensor and bracket at the LH front radiator support
-
a safing sensor inside the air bag diagnostic monitor
The safing and one of the primary crash sensors must be activated simultaneously to inflate the air bag.
The air bag system is designed to:
-
operate in frontal or front- angled collisions.
-
activate the air bags in a crash with severe frontal deceleration, more severe than hitting a parked car of similar size and weight head-on at about 
45 km/h (28 mph).
-
sense the severity of the crash rather than vehicle speed, thus some frontal collisions at speeds above 45 km/h (28 mph) may not be severe enough
to require air bag inflation.
The sensors in the vehicle determine if air bag inflation is required in the following manner:
1. During severe frontal deceleration caused by an impact that decelerate the vehicle in the forward direction, both a prima crash sensor and a safing
sensor will activate.
2. When a primary and safing sensor are closed at the same time, electrical current will flow igniting the driver side air bag module and passenger
side air bag module.
The primary sensors measure the crash severity while the safing sensor confirms the crash. The safing sensor is used to prevent inadvertent
deployments possibly caused by a malfunction in the primary crash sensor circuits or crash sensors.
< PREV PAGE
NEXT PAGE >