< PREV PAGE
NEXT PAGE >
E 150 V8-4.6L SOHC VIN W (2004)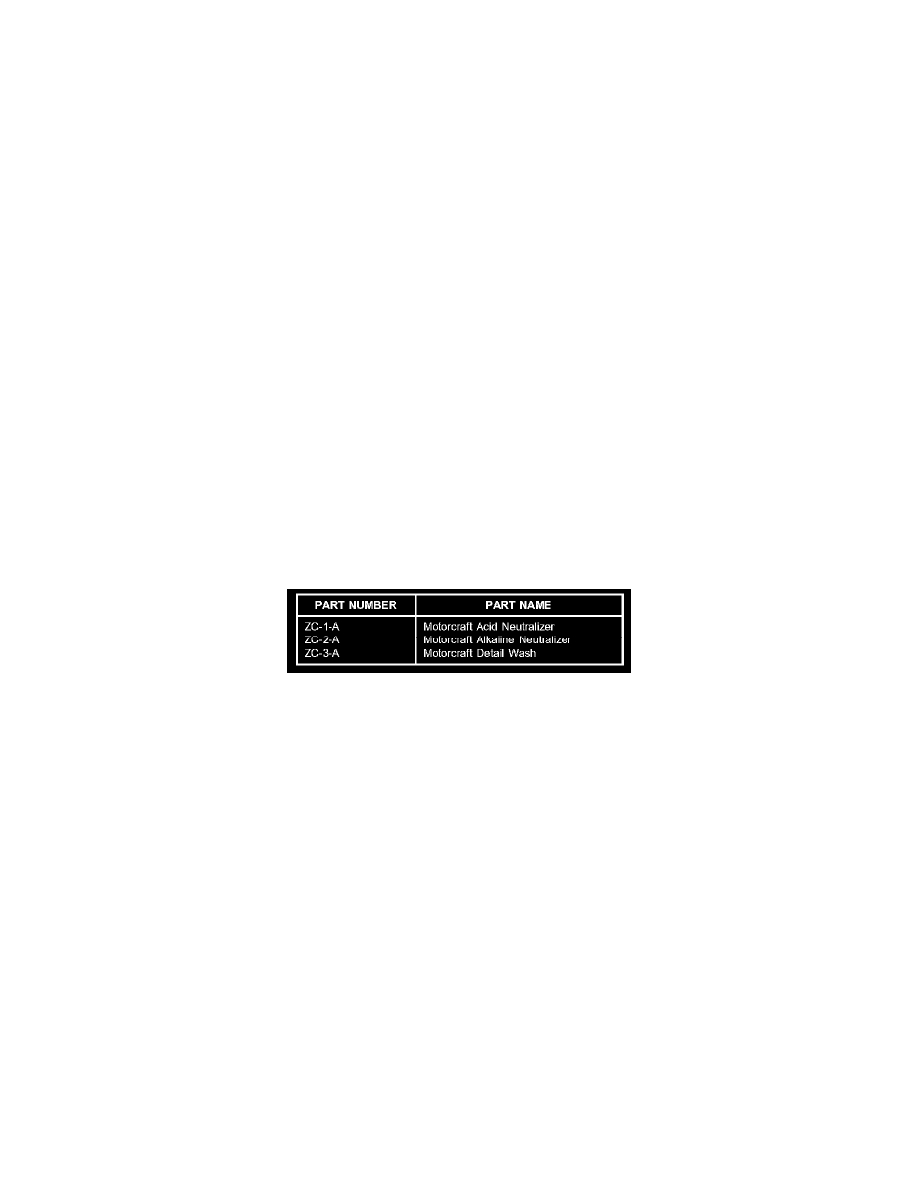 Paint: Technical Service Bulletins
Paint - Repair Due To Iron Particles/Acid Rain
Article No. 04-9-6
BODY - PAINT - IRON PARTICLE REMOVAL - INDUSTRIAL FALLOUT - ACID RAIN NEUTRALIZATION
FORD:  2004-2005 CROWN VICTORIA, ESCORT ZX2, FOCUS, MUSTANG, TAURUS, THUNDERBIRD
2005 FIVE HUNDRED, FORD GT
2005 FIVE HUNDRED, FORD GT 2004-2005 ECONOLINE, ESCAPE, EXCURSION, EXPEDITION,EXPLORER SPORT TRAC,
EXPLORER, F SUPER DUTY, FREESTAR, RANGER, F SERIES, F-650, F-750
LINCOLN:  2004-2005 LS, TOWN CAR, AVIATOR, NAVIGATOR 
MERCURY:  2004-2005 GRAND MARQUIS, SABLE
2005 MONTEGO
2004-2005 MONTEREY, MOUNTAINEER
2005 MARINER
This article supersedes TSB 99-12-10 to update the vehicle lines, model years and service procedure.
ISSUE
Ford Motor Company has released a private labeled material to be used for iron particle/acid rain service repairs.
ACTION
To remove these particles/contaminates, use ONLY the following Motorcraft products and procedure. No polishing, compounding, color sanding, or
repainting should be done before this procedure is performed. This procedure uses products that are acidic, alkaline, and neutral and must be properly
mixed and used in their specific order. Refer to the following Service Procedure for details.
SERVICE PROCEDURE
NOTE
ANY CHANGES TO THIS PROCEDURE WILL CAUSE AN INCOMPLETE OR UNSATISFACTORY REPAIR. THE USE OF ANY
OTHER PRODUCT OR PROCEDURE MAY CAUSE DAMAGE TO ALUMINUM OR PAINTED SURFACES.
NOTE
THE PRODUCTS USED TO REMOVE SURFACE CONTAMINATION FROM PAINT ARE DESIGNED FOR VEHICLES, WHICH HAVE
EXPERIENCED EXPOSURE FOR LESS THAN 120 DAYS. VEHICLES THAT EXCEED 120 DAYS OF EXPOSURE MAY REQUIRE THE
PROCEDURE BE REPEATED TO RESOLVE THE CONCERN. ONCE THIS PROCEDURE IS COMPLETED, IT MAY BE NECESSARY
TO PERFORM POLISHING OR REFINISHING PROCEDURES AFTER VEHICLE INSPECTION.
IDENTIFICATION
Ferrous metal particles (hot iron dust) are generated by manufacturing facilities, rail shipments, etc. Moisture and heat combine with particles to create a
chemical reaction. This reaction creates an acid, causing the iron to corrode and etch into the paint surface. Additionally, industrial fallout and acid rain
generate corrosive compounds that fall on the vehicle's painted surfaces. When subjected to moisture and temperature, chemical compounds are created
that etch the paint surface. To assist in identifying surface contamination, use a (Tandy-Radio Shack #63-851) 30x lighted magnifier.
CONCERN DESCRIPTION
Ferrous Metal
-
Light Colored Vehicles:  Small orange stains the size of "mechanical pencil lead." The surface is rough to the touch.
-
Dark Colored Vehicles:  Small white or silver appearing dots with a rainbow ring around the dot. The surface is rough to the touch.
Industrial Fallout
-
Water spots containing ferrous metal are present and the surface is rough to the touch.
Acid Rain/Etching
< PREV PAGE
NEXT PAGE >