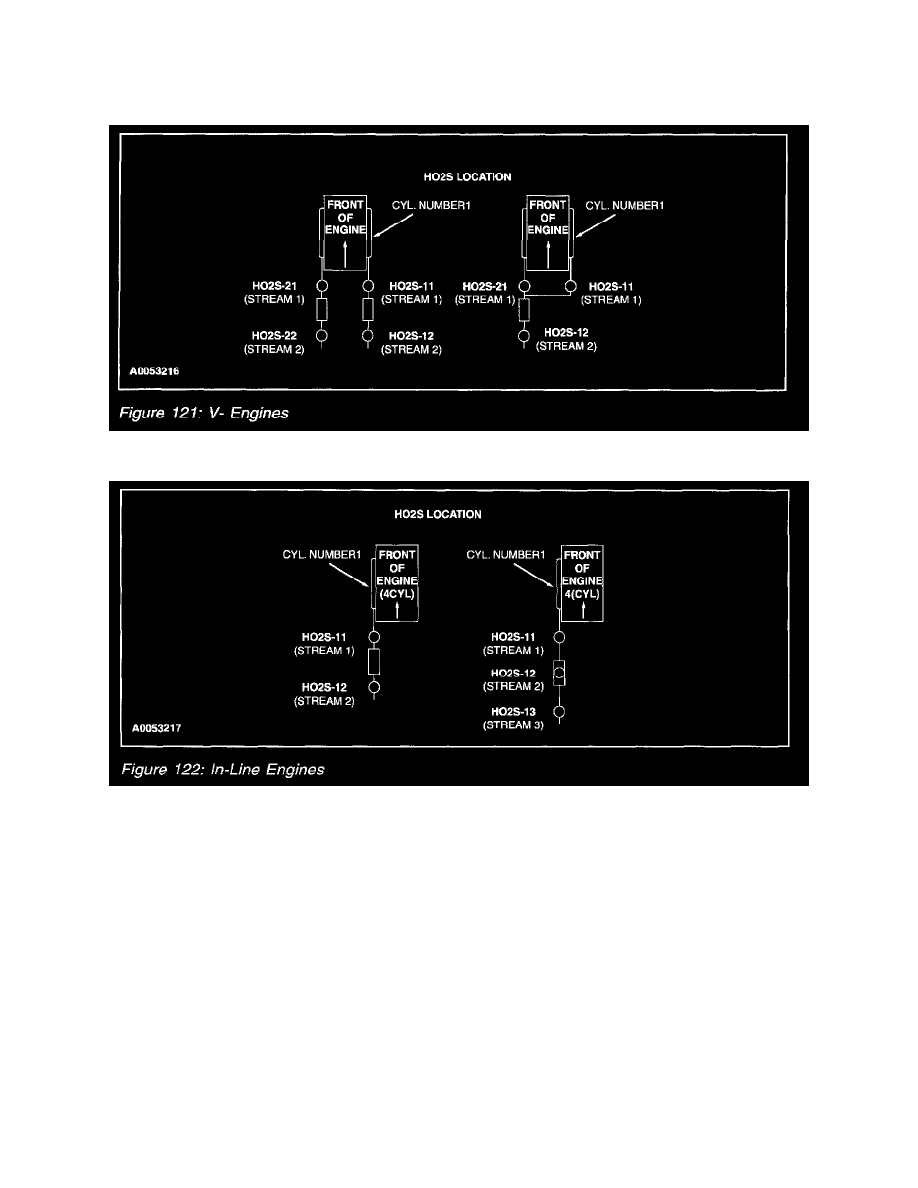 Catalytic Converter: Description and Operation
CATALYST AND EXHAUST SYSTEMS
Overview
V-Engines
In-Line Engines
The Catalytic Converter and Exhaust Systems work together to control the release of harmful engine exhaust emissions into the atmosphere. The
engine exhaust gas consists mainly of nitrogen (N), carbon dioxide (CO2) and water vapor (H2O). However, it also contains carbon monoxide (CO),
oxides of nitrogen (NOx), hydrogen (H), and various unburned hydrocarbons (HCs). CO, NOx, and HCs are major air pollutants, and their emission
into the atmosphere must be controlled.
The exhaust system generally consists of an exhaust manifold, front exhaust pipe, front heated oxygen sensor (HO2S), rear exhaust pipe, catalyst
HO2S, a muffler and an exhaust tailpipe. The catalytic converter is typically installed between the front and rear exhaust pipes. On some vehicle
applications, more than one catalyst will be used between the front and rear exhaust pipes. Catalytic converter efficiency is monitored by the On Board
Diagnostic (OBD) system strategy in the PCM. Refer to the Catalyst Efficiency Monitor-Federal Test Procedure at the beginning of Description and
Operation for specific OBD catalyst monitor information.
The number of HO2S(s) used in the exhaust stream and the location of these sensors depend on the vehicle emission certification level (i.e. LEV,
ULEV, PZEV). Refer to (Figure 121) and (Figure 122) for typical HO2S stream locations and naming convention. On most vehicles only two HO2S
are used in an exhaust stream. The front sensors (HO2S11/HO2S21) before the catalyst will be used for primary fuel control while the ones after the
catalyst (HO2S12/HO2S22) will be utilized to monitor catalyst efficiency. However, some Partial Zero Emission Vehicles (PZEV) will utilize three
HO2S sensors for each engine bank. The stream 1 sensors (HO2S11/HO2S21) before the catalyst will be used for primary fuel control, the next group
of sensors or stream 2 (HO2S12/HO2S22) is utilized to monitor the light-off catalyst and the last group of sensors or stream 3 (HO2S13/HO2S23) is
utilized for long term fuel trim control to optimize catalyst efficiency (Fore Aft Oxygen Sensor Control). Currently Ford's PZEV vehicles use only a