< PREV PAGE
NEXT PAGE >
E 150 V8-4.6L SOHC VIN W (2004)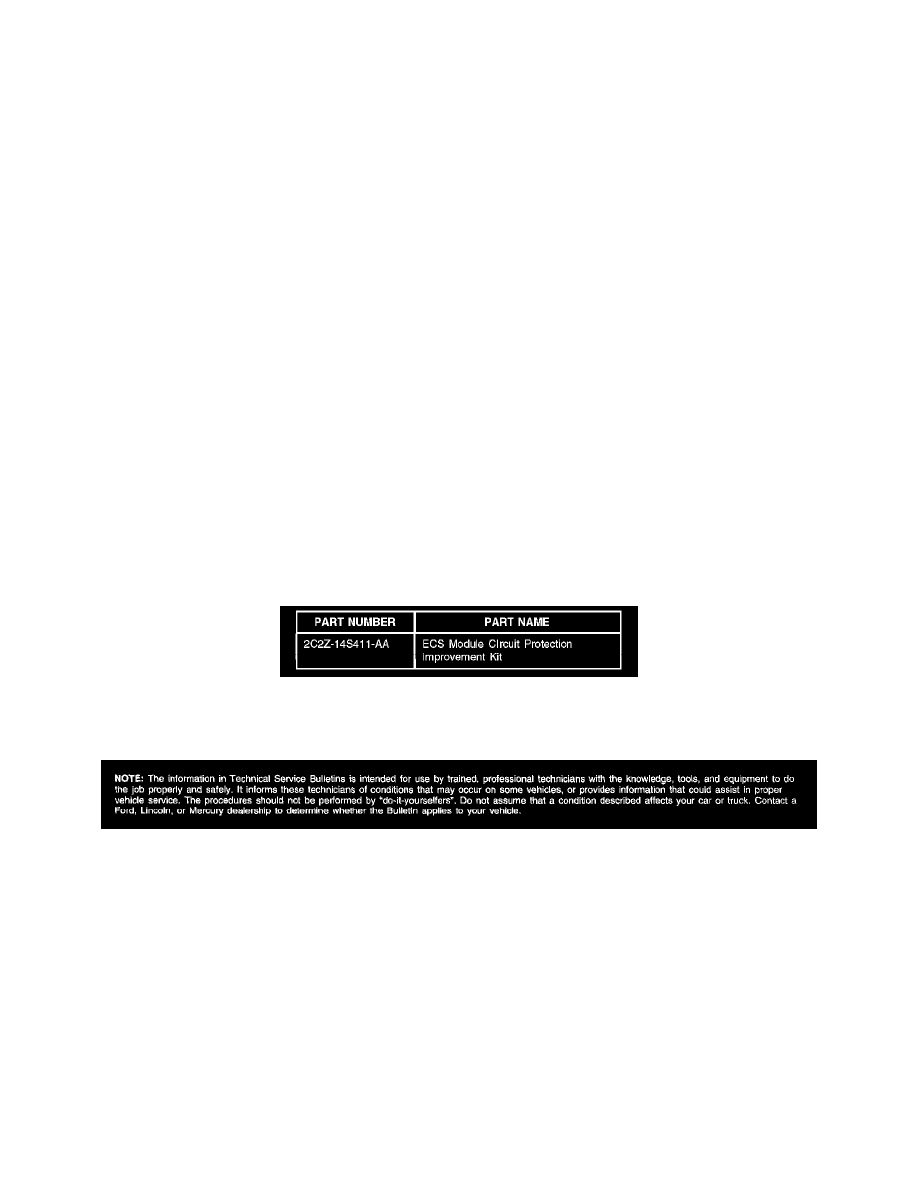 Air Bag Control Module: Customer Interest
Restraints - Air Bag Lamp ON/DTC's B1876/B1880/B1920
TSB 06-21-18
10/30/06
DTC B1876, B1880, B1915 AND/OR B1920 IN THE
ECS MODULE DUE TO HIGH CURRENT
AFTERMARKET DEVICES
FORD:
1997-2006 E-Series
This article supersedes TSB 05-2-8 to update the vehicle model years.
ISSUE
Some vehicles with high-current aftermarket devices (such as motors for wheel chair lifts) operating at 75 amps or higher may cause electrical transients
(voltage spikes), leading to damage of the airbag electronic crash sensor (ECS) module. If this occurs, the airbag lamp will turn on indicating a fault in
the airbag system and diagnostic trouble codes (DTC) B1876, B1880, B1915 and/or B1920 will be present.
ACTION
Follow normal diagnostics per Workshop Manual, Section 501-20B. If pinpoint tests lead to replacement of the ECS module, and the vehicle does
contain high-current aftermarket equipment, installation of an ECS module circuit protection improvement kit is recommended. This will prevent
recurring damage to the new ECS module.
SERVICE PROCEDURE
Refer to the kit installation instructions. Cost of the protection kit and installation expenses are the responsibility of the modifier or customer.
NOTE
READ AND FOLLOW ALL WARNINGS LOCATED IN WORKSHOP MANUAL, SECTION 501-20B BEFORE PERFORMING ANY
PROCEDURE OR TESTS ON THE RESTRAINTS SYSTEM.
Parts Block
WARRANTY STATUS: Information Only - Not Warrantable
Disclaimer
< PREV PAGE
NEXT PAGE >