< PREV PAGE
NEXT PAGE >
Escape 2WD L4-2.5L Hybrid (2010)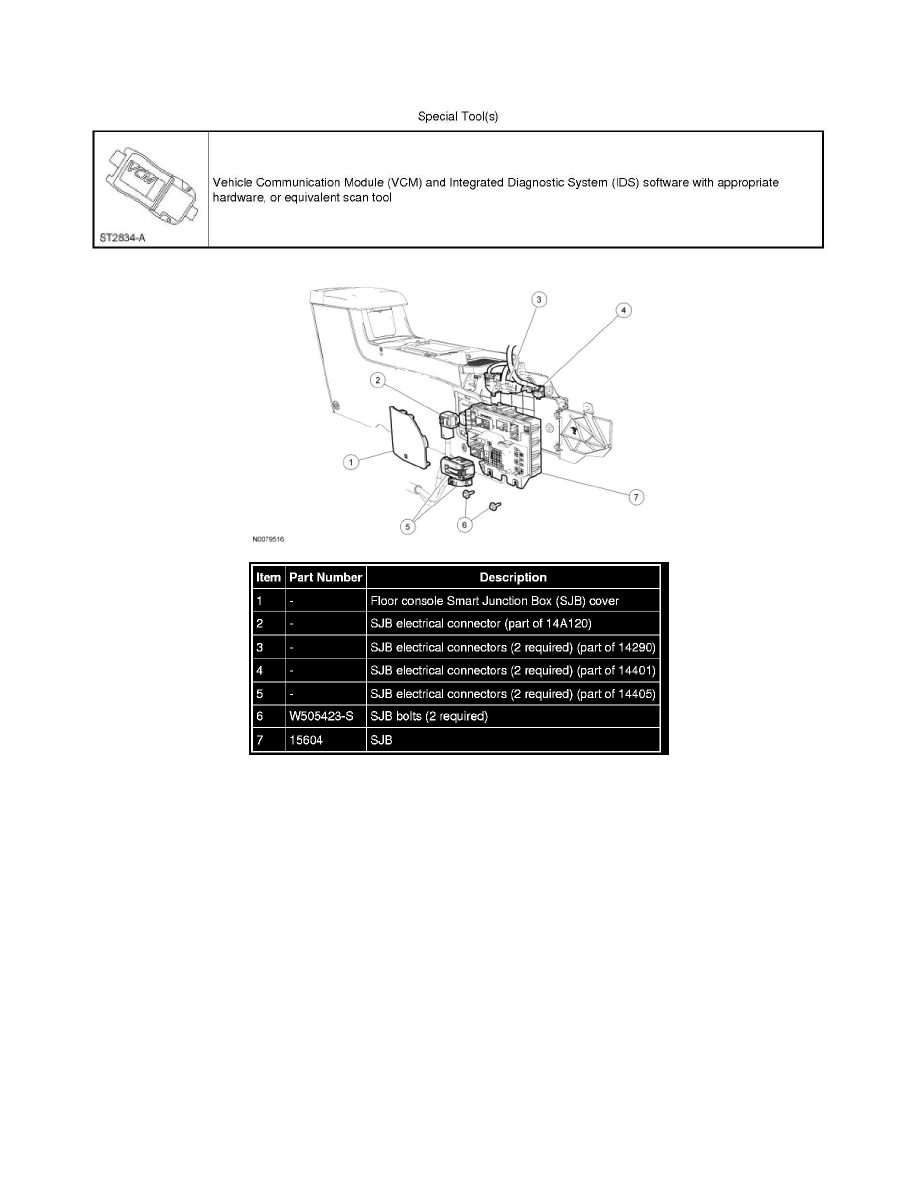 Body Control Module: Service and Repair
Smart Junction Box (SJB)
Removal
NOTICE:  Electronic modules are sensitive to static electrical charges. If exposed to these charges, damage may result.
NOTE:  Prior to the replacement of the module, it is necessary to upload the module configuration information to a scan tool. This information must be
downloaded into the new Smart Junction Box (SJB) after installation. For additional information, refer to Information Bus. In the event that As-Built
data is required (SJB does not communicate), all Remote Keyless Entry (RKE) devices must be programmed to the new SJB. A minimum of 2 RKE
devices are necessary to complete the configuration and turn off the flashing interior lights. The Tire Pressure Monitoring System (TPMS) functionality
is integral to the SJB.
NOTE:  The steps included in the SJB removal and installation procedure are critical to restoring the vehicle security and tire pressure monitoring
systems to normal operation. A new SJB is delivered in a manufacturing mode with 8 pre-set DTCs related to the TPMS. To clear the 8 DTCs,
successful configuration of the SJB must occur, followed by successful TPMS sensor training, and a successful self-test. The 8 pre-set DTCs are as
follows:
-
B106D (Tire Pressure Monitor System [TPMS] Initiators Not Configured)
-
B2477 (Module Configuration Failure)
-
B2868 (Left Front Tire Pressure Sensor Fault)
-
B2869 (Right Front Tire Pressure Sensor Fault)
-
B2870 (Right Rear Tire Pressure Sensor Fault)
-
B2871 (Left Rear Tire Pressure Sensor Fault)
-
B2A21 (One or More Configuration Files Missing or Corrupt)
-
C2780 (ECU in Manufacturer Sub-State)
< PREV PAGE
NEXT PAGE >