< PREV PAGE
NEXT PAGE >
Escape 2WD L4-2.5L Hybrid (2010)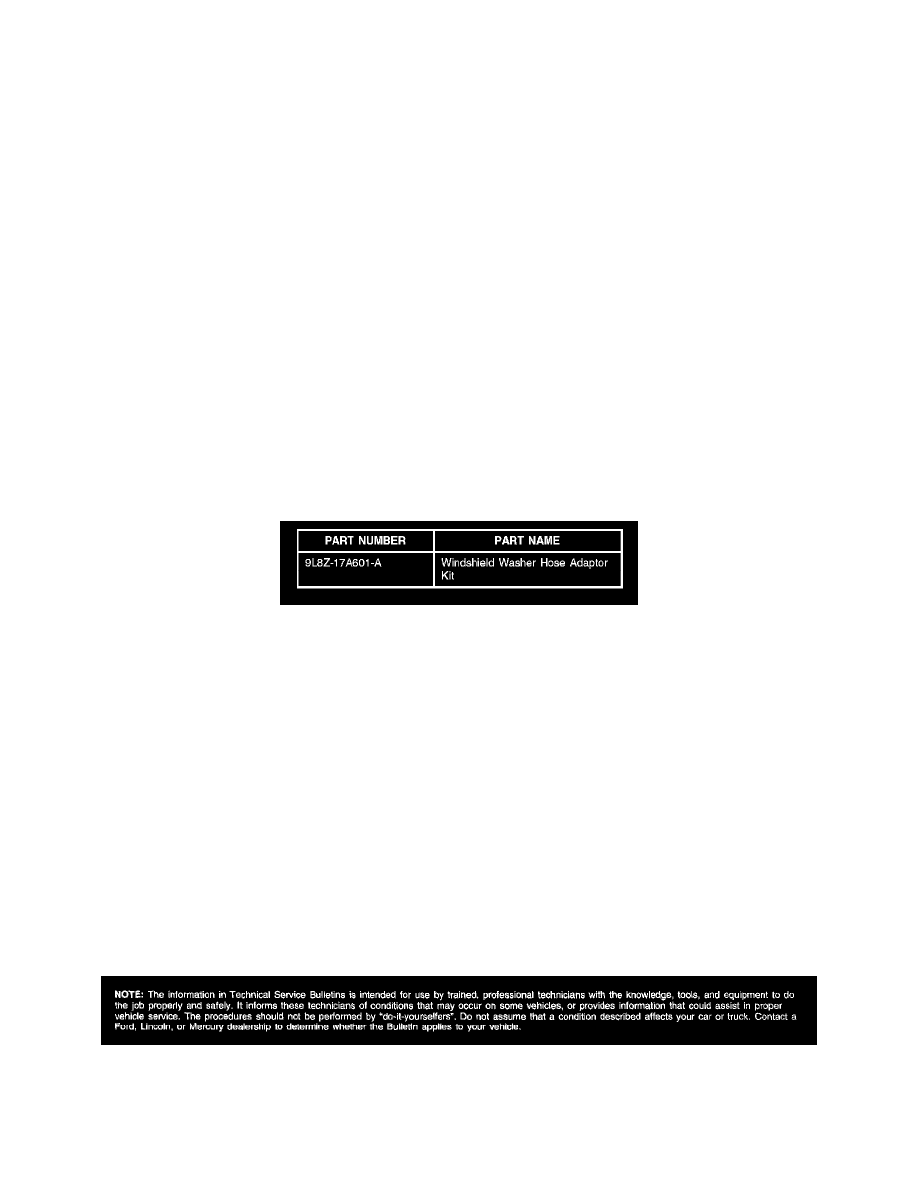 Check Valve: Customer Interest
Wipers/Washers - Washer Nozzles Leak Fluid Onto Hood
TSB 10-13-1
07/19/10
WASHER NOZZLES LEAKING FLUID ONTO HOOD WHILE DRIVING
FORD:
2008-2010 Escape
MERCURY:
2008-2010 Mariner
This article supersedes TSB 10-12-5 to update the Part List
ISSUE
Some 2008-2010 Escape and Mariner vehicles may exhibit the washer nozzles leaking washer fluid onto the hood while driving. A service kit is now
available for this condition.
ACTION
Follow the Service Procedure steps to correct the condition.
SERVICE PROCEDURE
Install check valves and elbows to the hood hose. Add check valve to liftgate hose. Reverse washer pump motor polarity and swap hoses at the pump.
Refer to the instruction sheets included in the kit.
Parts Block
WARRANTY STATUS: Eligible Under Provisions Of New Vehicle Limited Warranty Coverage 
IMPORTANT: Warranty coverage limits/policies are not altered by a TSB. Warranty coverage limits are determined by the identified causal part.
OPERATION
DESCRIPTION
TIME
101301A
2008-2010 Escape,
0.9 Hr.
Mariner: Install Service Kit
Includes Time To Remove
And Install The High
Mount Stop Lamp (Do Not
Use With Any Other Labor
Operations)
DEALER CODING
CONDITION
BASIC PART NO.
CODE
17K605
07
Disclaimer
< PREV PAGE
NEXT PAGE >