< PREV PAGE
NEXT PAGE >
Escape 4WD L4-2.5L (2010)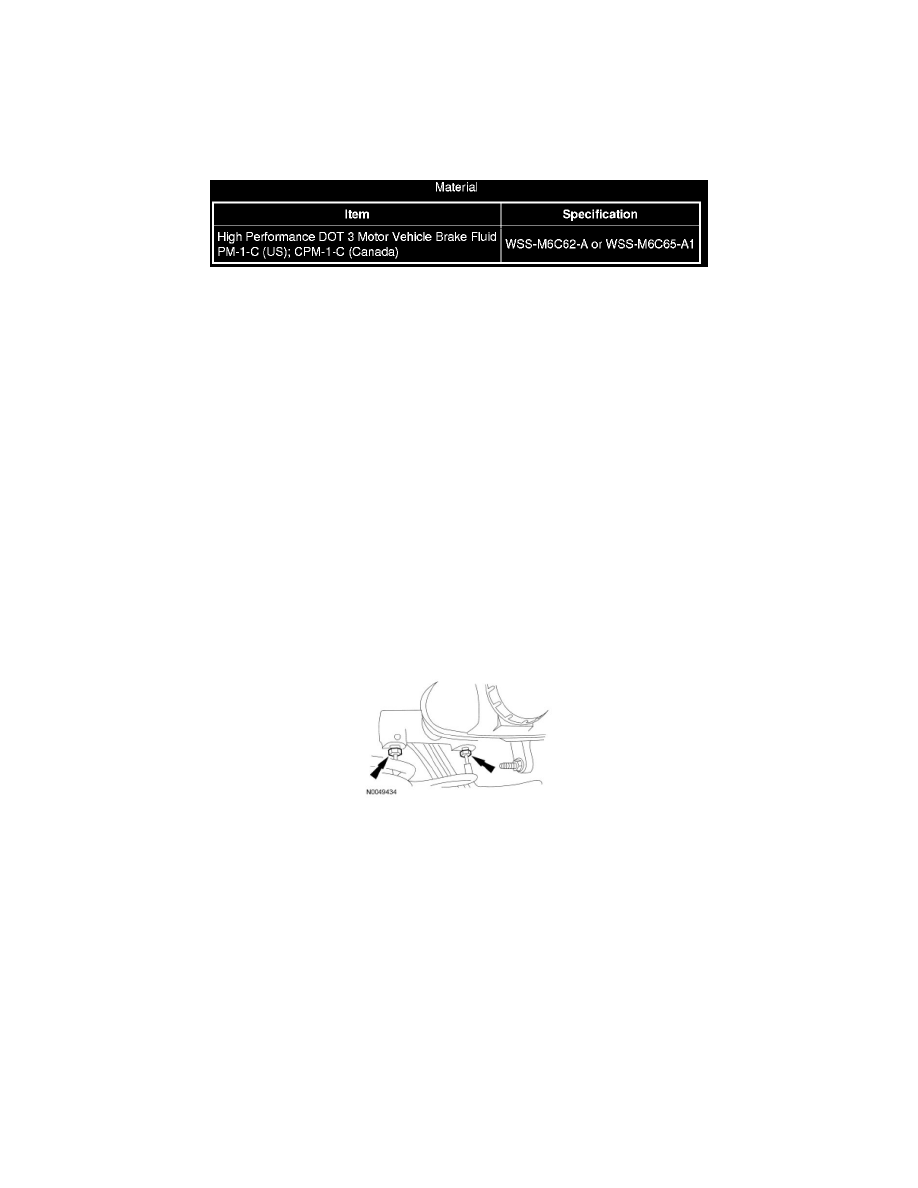 Brake Bleeding: Service and Repair
Component Bleeding
Master Cylinder
Component Bleeding
Master Cylinder
WARNING: Do not use any fluid other than clean brake fluid meeting manufacturer's specification. Additionally, do not use brake fluid that
has been previously drained. Following these instructions will help prevent system contamination, brake component damage and the risk of
serious personal injury.
WARNING: Carefully read cautionary information on product label. For EMERGENCY MEDICAL INFORMATION seek medical advice. In
the USA or Canada on Ford/Motorcraft products call: 1-800-959-3673. For additional information, consult the product Material Safety Data
Sheet (MSDS) if available. Failure to follow these instructions may result in serious personal injury.
WARNING: Do not allow the brake master cylinder to run dry during the bleeding operation. Master cylinder may be damaged if operated
without fluid, resulting in degraded braking performance. Failure to follow this instruction may result in serious personal injury.
NOTICE:  Do not spill brake fluid on painted or plastic surfaces or damage to the surface may occur. If brake fluid is spilled onto a painted or
plastic surface, immediately wash the surface with water.
NOTE:  When a new brake master cylinder has been installed or the system has been emptied or partially emptied, it must be primed to prevent air from
entering the system.
Hybrid vehicles
1. Disconnect the brake tubes from the master cylinder.
2. Install short brake tubes onto the primary and secondary ports of the master cylinder with the ends submerged in the brake master cylinder
reservoir.
3. Fill the brake reservoir with clean, specified brake fluid.
4. NOTE: On hybrid vehicles, the brake booster push rod has an elongated slot that attaches to the brake pedal with a clevis pin. The elongated slot
allows for a small amount of pedal travel (free play) to occur without the brake pedal applying pressure on the booster push rod. When performing
a bleed procedure, it is important to push the pedal through the air gap, so that the clevis pin is contacting the brake booster push rod. Except when
required by the scan tool, the ignition key must remain off during the bleed procedure to allow minimal force required to push through the gap.
Have an assistant pump the brake pedal until clear fluid flows from both brake tubes, without air bubbles.
< PREV PAGE
NEXT PAGE >