< PREV PAGE
NEXT PAGE >
Expedition 4WD V8-5.4L VIN 5 (2006)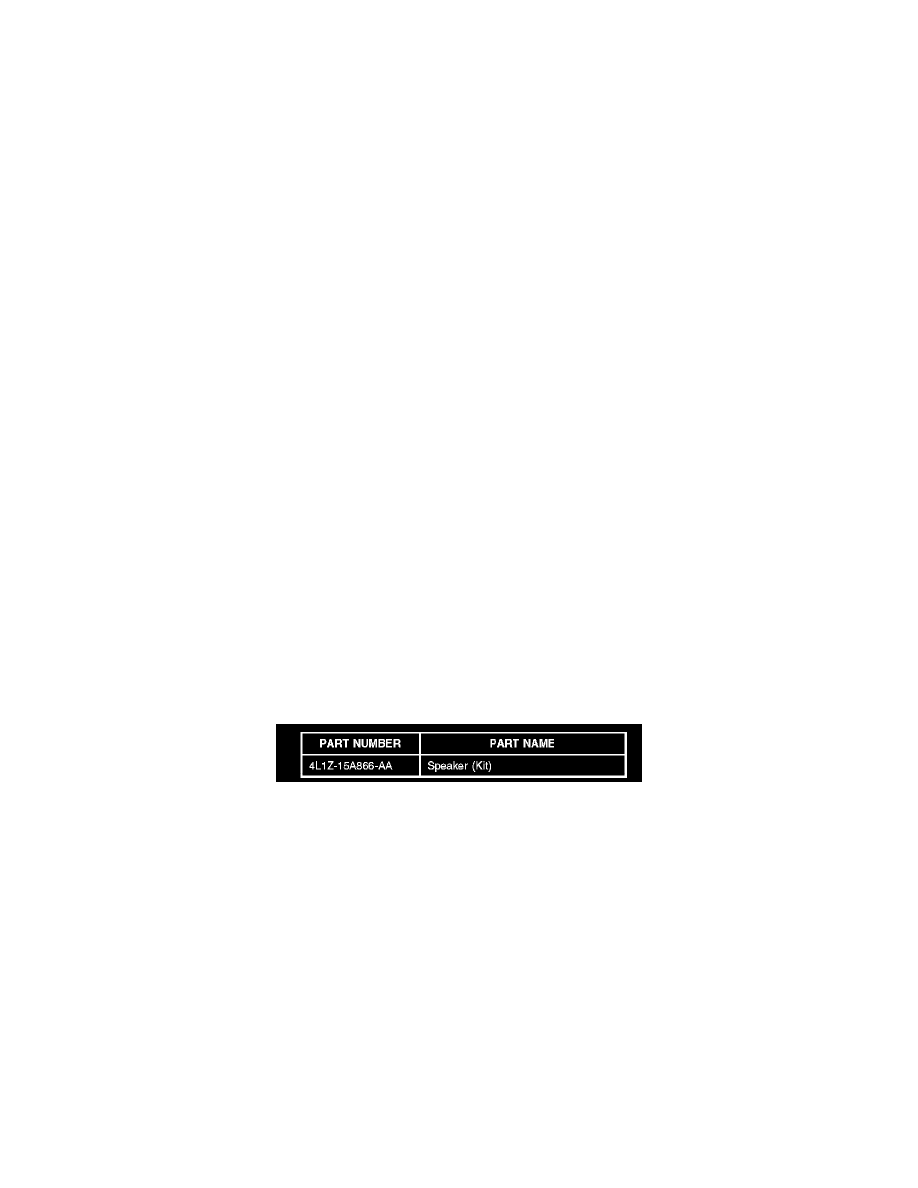 Parking Assist Control Module: Customer Interest
Parking Assist System - Speaker Inop./DTC C1742/C1743
TSB 06-20-5
10/16/06
PARKING AID SPEAKER INOPERATIVE - DTCS C1742 
AND C1743
FORD:
2005-2007 Five Hundred, Freestyle
2004-2006 Escape, Expedition, Explorer,
F-150
2004-2007 F-250, F-350
MERCURY:
2005-2007 Montego
2004-2006 Mountaineer
2005-2006 Mariner
ISSUE
Some 2004-2007 vehicles equipped with the parking aid reverse sensing system (RSS) may experience low or no audible sound due to speaker issues
related to the RSS. The speaker is attached to the module which may exhibit diagnostic trouble codes (DTCs) C1742 (Rear Sounder Circuit Fault) and/or
C1743 (Rear Sounder Short).
ACTION
Follow the Service Procedure steps to correct the condition.
SERVICE PROCEDURE
1.
Verify that DTCs C1742 and/or C1743 are present. Also, low audible or intermittent audible warning condition may exist as well.
2.
If DTCs C1742 and/or C1743 are present, replace parking aid speaker on module with speaker in Speaker Kit. Follow instructions in Speaker Kit.
3.
Clear DTCs and repeat check for DTCs C1742 and/or C1743.
4.
If DTCs C1742 and/or C1743 go away and speaker sounds, the repair is complete.
5.
If DTCs remain, follow normal diagnostics in the appropriate Workshop Manual, Section 413-13 Pinpoint Test F.
Parts Block
WARRANTY STATUS: Eligible Under Provisions Of New Vehicle Limited Warranty Coverage
OPERATION
DESCRIPTION
TIME
062005A
2004-2006 Expedition:
1.2 Hrs.
Replace Parking Aid
Speaker, Includes Time To
Access Module (Do Not
Use With 31012AR,
31012AL, 31012AT)
062005A
2004-2007 Super Duty
0.6 Hr.
250/350: Replace Parking
Aid Speaker, Includes
Time To Access Module
(Do Not Use With
31012AR, 31012AL,
31012AT)
< PREV PAGE
NEXT PAGE >