< PREV PAGE
NEXT PAGE >
F 150 2WD Pickup V8-5.4L SOHC VIN 3 (1999)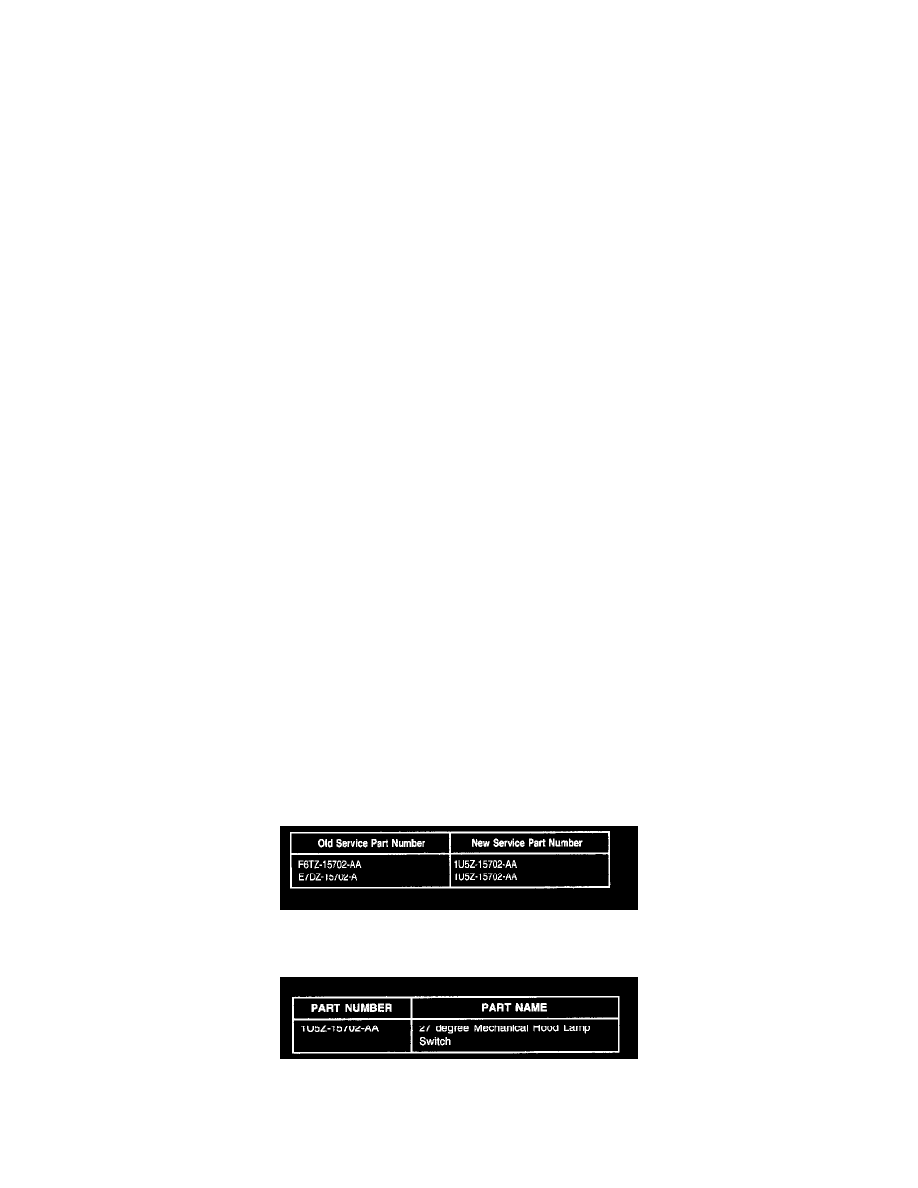 Underhood Lamp Switch: Technical Service Bulletins
Hood Lamp Switch - Revised
Article No.
01-21-6
10/29/01
ELECTRICAL - REVISED MECHANICAL HOOD LAMP
SWITCH TO REPLACE OLD STYLE MERCURY HOOD
LAMP SWITCH
FORD:
1987-1995 TAURUS
1988-1991 CROWN VICTORIA
1989 THUNDERBIRD
1989-1996 MUSTANG
1994-1996 THUNDERBIRD
1990 BRONCO II
1990-1996 RANGER
1991-1996 BRONCO
1994-2001 EXPLORER
1997-2001 F-150
2000-2001 EXCURSION
2002 EXPEDITION
LINCOLN:
1989-1994 CONTINENTAL
1990-1992 MARK VII
1990-1996 TOWN CAR
1993-1995 MARK VIII
2002 NAVIGATOR
MERCURY:
1987-1995 SABLE
1988-1991 GRAND MARQUIS
1989 COUGAR
1994-1996 COUGAR
1997-2001 MOUNTAINEER
ISSUE
This article is to provide information on replacement hood lamp switches. The 27 degree Mercury style hood switches will no longer be available.
Replacement 27 degree Mechanical switches will be available as a service replacement.
ACTION
For vehicles requiring hood lamp switch replacement, replace the 27 degree Mercury switch with new 27 degree Mechanical switch. Replace hood lamp
switch per the appropriate model year Workshop Manual as needed.
Parts Block
OTHER APPLICABLE ARTICLES: NONE
WARRANTY STATUS: INFORMATION ONLY
< PREV PAGE
NEXT PAGE >