< PREV PAGE
NEXT PAGE >
F 250 4WD Super Duty V10-6.8L VIN Z CNG (2003)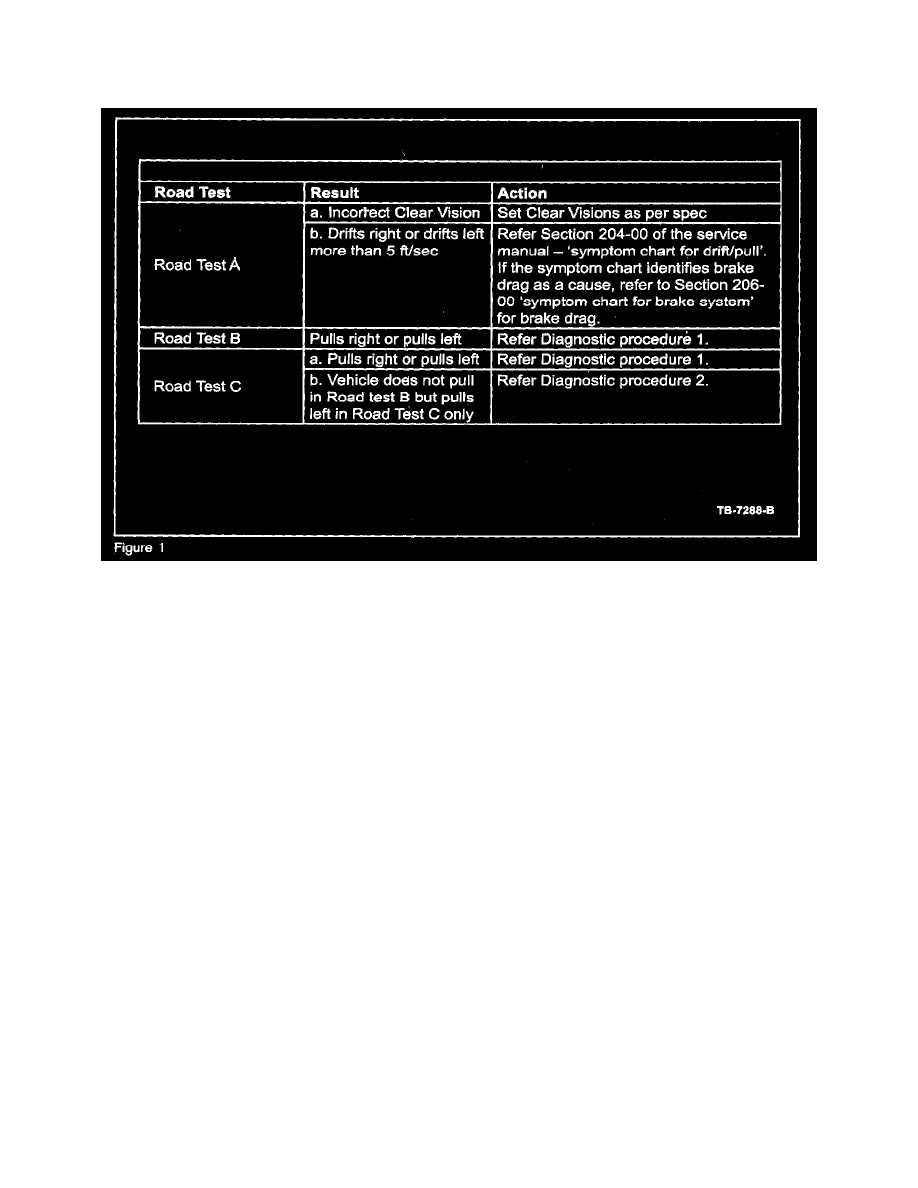 observed or reported condition. If found, correct the cause and check if the condition is corrected. If not continue with the Service Procedure
diagnostics.
Road Test - Diagnostic
Perform all three of the following Road Tests (A, B and C). Compare test results to the table in Figure 1 to determine appropriate actions to take.
NOTE
IT IS IMPORTANT TO COMPLETE THE ROAD TEST BEFORE BEGINNING ANY REPAIRS SINCE THERE MAY BE MULTIPLE
CAUSES THAT NEED TO BE IDENTIFIED. THE ROAD TEST SHOULD BE PERFORMED ON A FLAT, STRAIGHT ROAD AND SHOULD
BE PERFORMED IN BOTH DIRECTIONS TO ACCOUNT FOR WIND. AFTER EACH REPAIR, THE VEHICLE MUST BE RE-EVALUATED
TO ASSESS THE IMPACT OF REPAIRS PERFORMED.
Road Test A: Straight Road Driving
1.
Maintain a steady speed of about 50-55 MPH (80-88 km/h) DO NOT BRAKE.
2.
Is the clear vision OK?
3.
Does the vehicle drift? If yes, which way does it drift?
Road Test B: Low Speed Braking
Road test B should be performed on a road with no crown.
1.
Make a series of stops (10-15) from speeds of 35-40 MPH (56-64 km/h) with light to moderate braking.
2.
Does the vehicle pull? If yes, which way does it pull?
Road Test C: High Speed Braking
3.
Maintain a speed of about 55-65 MPH (88-104 km/h) in a safe clear area. While firmly holding the steering wheel from rotating, apply the brakes
moderately hard, but not to the point of engaging the Antilock Brake System (ABS).
2.
Does the vehicle pull? If yes, which way does it pull?
Diagnostic Procedure 1
NOTE
ACTION ITEMS FROM ROAD TEST "A", IF ANY, SHOULD BE COMPLETED AND VERIFIED BEFORE PROCEEDING WITH
< PREV PAGE
NEXT PAGE >