< PREV PAGE
NEXT PAGE >
F 350 2WD Pickup V8-7.3L DSL (1988)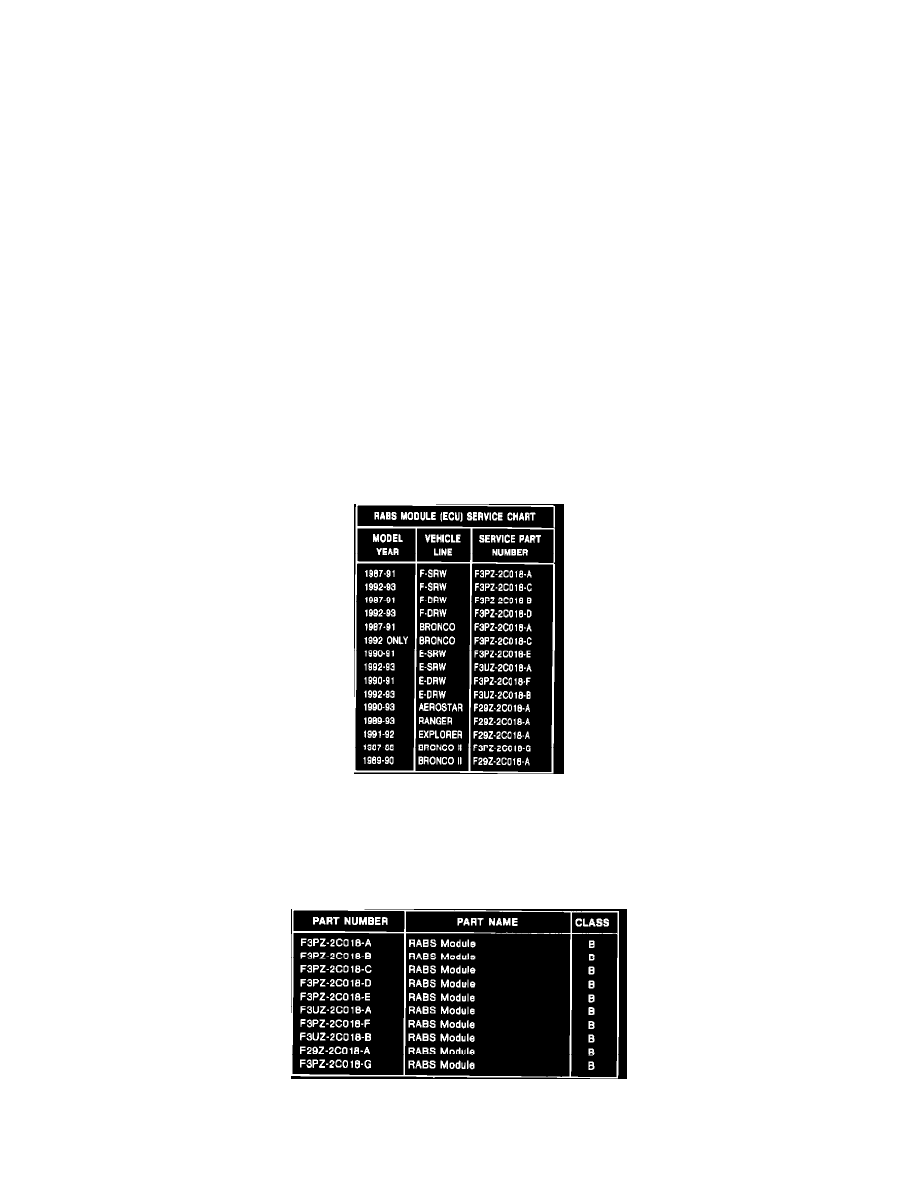 Electronic Brake Control Module: Technical Service Bulletins
Antilock Brakes - Service Tips
Article No. 
93-15-16
07/21/93
^
BRAKES - REAR ANTI-LOCK BRAKE SYSTEM (RABS) - ADVERSE BRAKING CHARACTERISTICS - RABS WARNING LIGHT NOT
ON, MAY OCCUR WHEN INCORRECT RABS MODULE IS INSTALLED - SERVICE TIP
^
BRAKES - REAR ANTI-LOCK BRAKE SYSTEM (RABS) - INCORRECT (RABS I) ELECTRONIC CONTROL UNIT INSTALLED IN RABS
II EQUIPPED VEHICLES - SERVICE TIP
LIGHT TRUCK:
1987-90 BRONCO II 
1987-92 BRONCO 
1987-93 F-150 
1989-93 RANGER 
1990-93 AEROSTAR, E SERIES 
1991-92 EXPLORER
ISSUE:
Adverse braking characteristics and failure of the RABS light to indicate a RABS failure may be caused by improper servicing of RABS II equipped
vehicles with RABS I electronic control units.
ACTION:
When replacing a RABS electronic control unit, refer to the following RABS Module Chart for correct parts usage.
RABS II modules have been designed with Keep Alive Memory and are to be used to service all prior year RABS I systems, except for 1987 and 1988
Bronco II vehicles.
SRW = SINGLE REAR WHEEL; DRW = DUAL REAR WHEEL
Parts Block
OTHER APPLICABLE ARTICLES: NONE
< PREV PAGE
NEXT PAGE >