< PREV PAGE
NEXT PAGE >
Probe V6-153 2.5L DOHC (1994)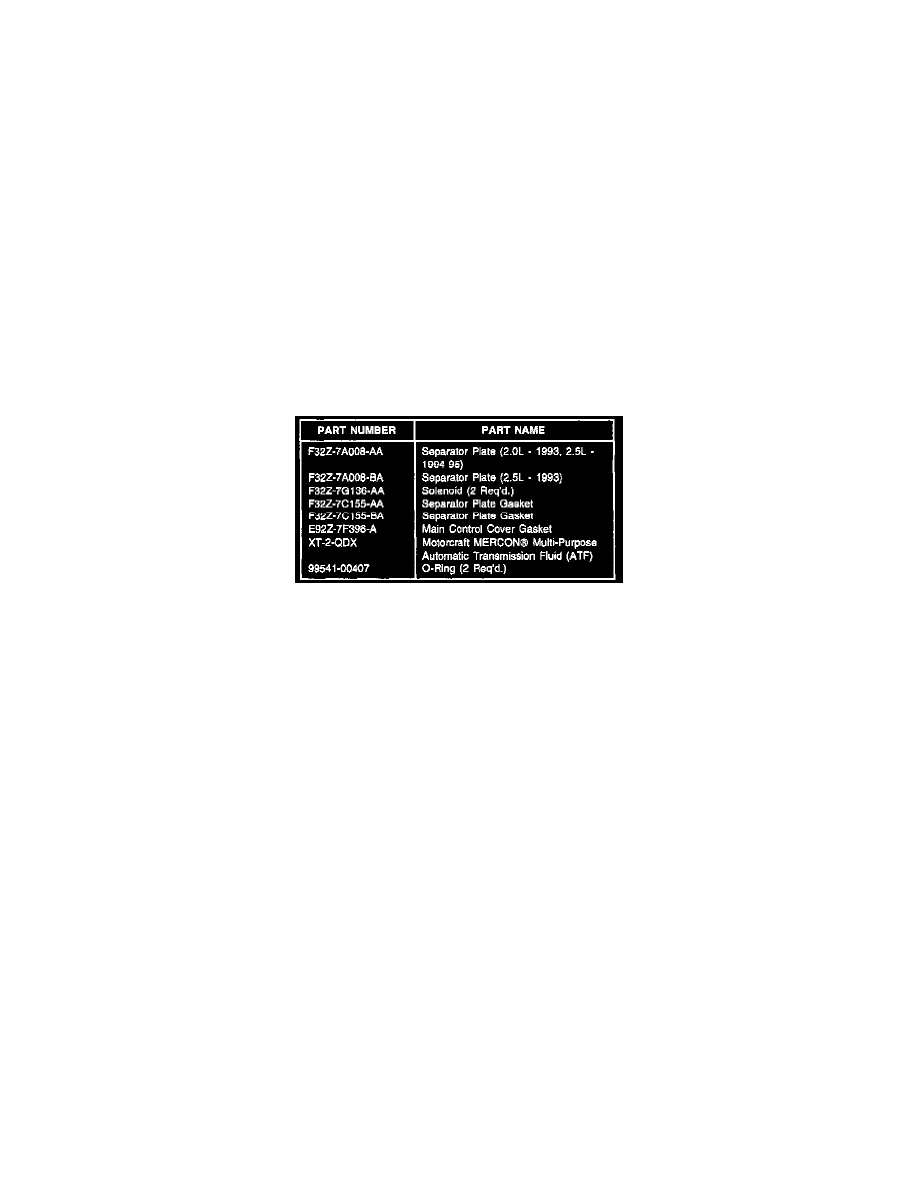 Technical Service Bulletin # 9774
Date: 970331
A/T - 4EAT Harsh 1-2 Upshift
Article No. 
97-7-4
03/31/97
TRANSAXLE - 4EAT - HARSH SHIFT FROM 1ST TO 2ND GEAR - 2.0L (1993 ONLY) AND 2.5L (1993-95) ENGINES
FORD: 
1993-95 PROBE
This TSB article is being republished in its entirety to revise the service procedure and part number application.
ISSUE: 
A harsh shift when shifting from 1st to 2nd gear, at normal operating temperatures, may be felt on some vehicles. This may be caused by a higher than
normal control pressure passing through the main control separator plate.
ACTION: 
Replace the main control separator plate, Torque Converter Clutch (TCC) solenoid and the line pressure solenoid with a revised plate and solenoids.
Refer to the following Diagnostic and Repair Procedures for details.
Parts Block
OTHER APPLICABLE ARTICLES: NONE
SUPERSEDES: 97-5-8 
WARRANTY STATUS: Eligible Under The Provisions Of Bumper To Bumper Warranty Coverage
OPERATION
DESCRIPTION
TIME
970704A
Remove And Install Main
1.9 Hrs.
Control, Replace Separator
Plate, Torque Converter
Clutch (TCC) Solenoid And
Line Pressure Solenoid
DEALER CODING
CONDITION
BASIC PART NO.
CODE 
7A008
30
OASIS CODES: 501000, 504000
Diagnostic Procedure
NOTE: 
BEFORE PERFORMING THE DIAGNOSTIC PROCEDURE, CHECK TO MAKE SURE THE ENGINE IS OPERATING PROPERLY.
DRIVEABILITY CONCERNS CAN CAUSE THE TRANSAXLE TO SHIFT ERRATICALLY.
1.
Check Throttle Position (TP) sensor by moving throttle from closed to wide open and monitoring voltage (normal is 0.5 volts at closed throttle).
Test drive vehicle after TP sensor adjustment, if needed. If concern is resolved, return vehicle to owner. If concern is still present, proceed to the
following Step 2.
< PREV PAGE
NEXT PAGE >